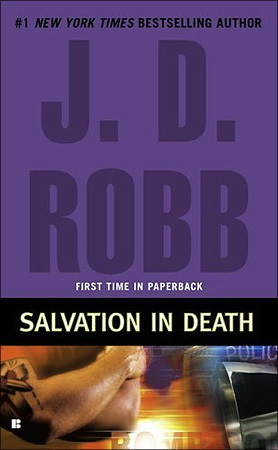 Salvation in Death by JD Robb; Narrated by Susan Ericksen
(In Death #27)
For Ages 18+ (Language, Violence, Sensuality)
Romantic Suspense -- Futuristic

Berkeley -- Published on November 4, 2008
Audiobook, 13 hours and 55 minutes
Read in June 2015
Purchased from Audible

Rating: 4 Stars
THEMES/TROPES
Murder Mystery, Alpha Hero, Kick-Ass Heroine, Futuristic Setting
SUMMARY
At the most solemn moment of a Catholic funeral Mass, the priest brings the chalice to his lips. Seconds later, he is dead on the altar.

For the mourners packed into the pews, Father Miguel Flores's sudden demise is an unimaginable shock. When Detective Lieutenant Eve Dallas confirms that the consecrated wine contained enough potassium cyanide to kill a rhino, she's prepared to plunge in and find out why, despite her discomfort with her surroundings. It's not the bodegas and pawnshops of East Harlem that bother her, though the neighborhood is a long way from the stone mansion she shares with her billionaire husband, Roarke. It's all that holiness flying around at St. Cristobal's that makes her uneasy.

A search of the victim's simple, sparsely furnished room reveals few personal touches, except for a carefully hidden religious medal with a mysterious inscription, and a couple of underlined Bible passages. The autopsy reveals much more: faint scars of knife wounds, a removed tattoo - and evidence of plastic surgery suggesting "Father Flores" may not have been the man his parishioners thought. Now, as Eve pieces together clues that suggest identity theft, gang connections, and a deeply personal act of revenge, she hopes to track down whoever committed this unholy act. Until a second murder - in front of an even larger crowd of worshippers - knocks the whole investigation sideways.

The way Eve sees it, vengeance may be the Lord's business, but if there's going to be any earthly justice in this case, it's up to her.


FIRST LINE
"At the mass of the dead, the priest placed the wafer of unleavened bread and the cheap red wine on the linen corporal draping the altar."
I found Salvation in Death to be an interesting installment though it is far from my favorite in the series. Things start off with a bang (not literally) when a Catholic priest, Father Flores, dies after drinking Holy Communion wine in the middle of a funeral. Lieutenant Eve Dallas and her partner Detective Delia Peabody are assigned to case which gets weirder when it is discovered that the body in the medical examiner's office does not match the DNA of Father Miguel Flores.

In terms of the murder investigation, Eve and Peabody have to figure out who was impersonating Father Flores so that they can then discover the motive and culprit of the murder. Most of the book involves identifying the victim which takes quite a bit of man power. Thankfully, Eve has her trusty team to help with McNab, Mira, and, of course, Roarke dealing with mountains of information and theories. I also love the community involvement in these books since it allows me to revisit some favorite side characters and embrace their special skills.

Another aspect I liked about this book was the careful way that Eve and Peabody had to take as they investigated the death of a priest. They had to interact with both higher ups in the Catholic Church and with Flores's colleagues and parishioners. The idea of faith and its place in society plays a big role in this book, but it never seemed preachy or disrespectful. While Eve herself is not religious and is baffled by it, she ends up befriending one of Flores's colleagues who helps her look at it in a different way. Most of the characters in this book have something to say about faith, justice, and salvation and the author allows them to reveal their opinions without judgment.

My main issue with this story was the resolution. It seemed very rushed and a lot of information was thrown in at the last minute. I understand that, once the identity was revealed, it made it easier for Eve to figure out the murderer, but I wish that there had been better pacing. I also would have liked a little more development on the part of the murderer beyond what we got.

But, even though I had some problems with storyline, Salvation in Death was an entertaining read that I will be happy to re-read again. Susan Ericksen, as always, is an amazing narrator who helps the story come alive on my morning and afternoon commute. JD Robb knows what she is doing with this series and I am happy to be along for the ride.
"I don't get it. Scratch, bite, squeal, slap. Why do women fight like that? They've got fists. It's embarrassing to our entire gender."