This is part of a new weekly feature I'm going to be doing on my blog. Basically, I am going to be focusing one a specific theme (or trope) that I have found in my years as a voracious reader/blogger. I love finding commonalities between my favorite books and how that helps define me as a reader.
Please note this is not meant to be a comprehensive list. I am just picking a few examples of this trope. So, if you have a favorite example of this theme, let me know about it in the comments. I'm always on the lookout for more books to be added to my wishlist.
TEACHERS/GOVERNESSES
I almost became a teacher a few years ago so I have the highest respect for those who work with children day in and day out. So it should come as no surprise that I almost always enjoy books that feature either teachers or governesses. In historicals, the stories often include class issues and the always sticky employee-employer relationships. Contemporaries and paranormals don't normally have those conflicts, but this important and public occupation does cause some issues for potential romance.
Normally, for my Theme Thursday lists, I showcase books that I have and haven't read. But, for this particular theme, I am featuring only books that I have read due to the large number of them. I will be putting my personal rating and links to my reviews in the entry. Also, when making this list, I realized that I haven't read, or can't remember reading, books featuring tutors in the historical period. If you have recs for that theme, please give them to me in the comments!
The Secret Pearl by Mary Balogh -- I gave it 4.5 stars.
Historical Romance
He first spies her in the shadows outside a London theatre, a ravishing creature forced to barter her body to survive.

To the woman known simply as Fleur, the well-dressed gentleman with the mesmerizing eyes is an unlikely savior. And when she takes the stranger to her bed, she never expects to see him again. But then Fleur accepts a position as governess to a young girl…and is stunned to discover that her midnight lover is a powerful nobleman. As two wary hearts ignite–and the threat of scandal hovers over them–one question remains: will she be mistress or wife?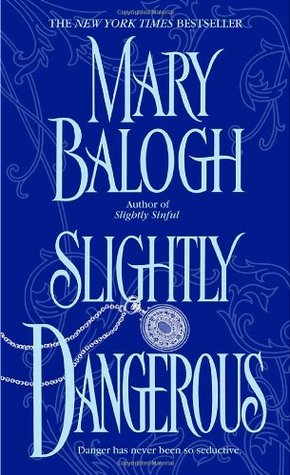 Slightly Dangerous by Mary Balogh -- I gave it 5+ stars.
Historical Romance
All of London is abuzz over the imminent arrival of Wulfric Bedwyn, the reclusive, cold-as-ice Duke of Bewcastle, at the most glittering social event of the season. Some whisper of a tragic love affair. Others say he is so aloof and passionless that not even the greatest beauty could capture his attention.

But on this dazzling afternoon, one woman did catch the duke's eye—and she was the only female in the room who wasn't even trying. Christine Derrick is intrigued by the handsome duke…all the more so when he invites her to become his mistress.

What red-blooded woman wouldn't enjoy a tumble in the bedsheets with a consummate lover—with no strings and no questions asked. An infuriating lady with very definite views on men, morals, and marriage, Christine confounds Wulfric at every turn. Yet even as the lone wolf of the Bedwyn clan vows to seduce her any way he can, something strange and wonderful is happening. Now for a man who thought he'd never lose his heart, nothing less than love will do.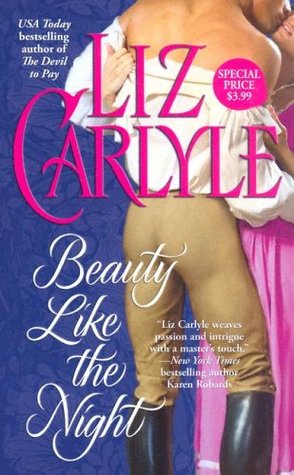 Beauty Like the Night by Liz Carlyle -- I gave it 4 stars.
Historical Romance
The daughter of London's wickedest widow, Helene de Severs has struggled to overcome her heritage. Renowned within Europe's emerging psychiatric field, Helene has a gift for healing children. When fate sends her back to England, the country she left in disgrace, Helene is confident she has learned to govern her own reckless emotions.
Ruthlessly, Treyhern has dragged his notorious family from the brink of ruin. But a disastrous marriage has left him with a traumatized child, and his rebellious brother is just one step ahead of the bailiffs. When his dissolute father drops dead while debauching the governess, Treyhern's infamous temper is truly tested.
But the forceful earl means to straighten everyone out - as soon as he has hired a reputable governess. Yet the moment she steps from his carriage, Treyhern's cold reserve is melted by a rush of desire he had long thought dead. With her elegant clothing and mountain of luggage, the woman is not who he expected. Or is she? Sometimes the workings of the mind are as dangerous as those of the heart. And soon, danger is truly everywhere...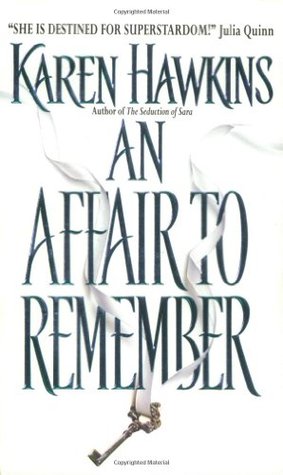 An Affair to Remember by Karen Hawkins -- I gave it 5 stars.
Historical Romance
Saddled with five unruly orphans, the Earl of Greyley, Anthony Elliot, is at his wits' end. Unfortunately, the only person willing to deal with the adorable little terrors is Anna Thraxton, governess "extraordinaire" --- and the one woman Anthony can't abide. She's too outspoken, too opinionated, and far too beautiful for his peace of mind. A woman should be meek and mild --- words that perfectly describe his prospective bride, not the flame-haired temptress who haunts his dreams.
Anna knew this job would be trouble the moment she set foot in the door --- but it's Anthony who's the problem, not the children! He's too arrogant, too sure of himself, and far, far too wonderfully big and masculine. The young girl he's courting will never be able to handle him, so someone clearly needs to teach Anthony a few things about women. But when lectures turn to kisses, igniting a passion they can't ignore, how will they resolve the battle between honour and their hearts.
Let Sleeping Rogues Lie by Sabrina Jeffries -- I gave it 5 stars.
Historical Romance
When Madeline Prescott took a teaching position at Mrs. Harris's School for Young Ladies, it was to help restore her father's reputation. Instead, she's in danger of ruining her own. The devilishly handsome Anthony Dalton, Viscount Norcourt, has agreed to provide "rake lessons" to Mrs. Harris's pupils so they can learn how to avoid unscrupulous gentlemen, and Madeline is to oversee his classes. She has always believed that attraction is a scientific matter, easily classified and controlled — until she's swept into the passionate desire that fiercely burns between her and Anthony. Nothing could be more illogical than risking everything for a dalliance with a rake — even one who's trying to behave himself. Yet nothing could be more tempting....
Wed Him Before You Bed Him by Sabrina Jeffries -- I gave it 4 stars.
Historical Romance
At eighteen, Charlotte Page made a life-altering mistake. She wronged a man in an impulsive act that she came to deeply regret, though it led her to her present life as Mrs. Charlotte Harris, owner of Mrs. Harris's School for Young Ladies. Unbeknownst to her, that man is now her anonymous benefactor, the mysterious "Cousin Michael." His masquerade began as preparation for a devastating revenge, but became a labor of love. Now Charlotte desperately needs his help. Can he save her from disaster as his real self without revealing the ugly secret behind his charade? Or will the mistakes of both their pasts tear them apart forever?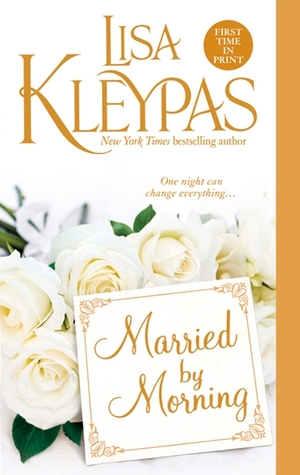 Married by Morning by Lisa Kleypas -- I gave it 5 stars.
Historical Romance
He is everything she wants to avoid...
For two years, Catherine Marks has been a paid companion to the Hathaway sisters—a pleasant position, with one caveat. Her charges' older brother, Leo Hathaway, is thoroughly exasperating. Cat can hardly believe that their constant arguing could mask a mutual attraction. But when one quarrel ends in a sudden kiss, Cat is shocked at her powerful response—and even more so when Leo proposes a dangerous liaison.
She is not at all what she seems...
Leo must marry and produce an heir within a year to save his family home. Catherine's respectable demeanor hides a secret that would utterly destroy her. But to Leo, Cat is intriguing and infernally tempting, even to a man resolved never to love again. The danger Cat tried to outrun is about to separate them forever—unless two wary lovers can find a way to banish the shadows and give in to their desires...
A Night Like This by Julia Quinn -- I gave it 4 stars.
Historical Romance
Anne Wynter might not be who she says she is . . .
But she's managing quite well as a governess to three highborn young ladies. Her job can be a challenge—in a single week she finds herself hiding in a closet full of tubas, playing an evil queen in a play that might be a tragedy (or might be a comedy—no one is sure), and tending to the wounds of the oh-so-dashing Earl of Winstead. After years of dodging unwanted advances, he's the first man who has truly tempted her, and it's getting harder and harder to remind herself that a governess has no business flirting with a nobleman.
Daniel Smythe-Smith Might be in mortal danger . . .
But that's not going to stop the young earl from falling in love. And when he spies a mysterious woman at his family's annual musicale, he vows to pursue her, even if that means spending his days with a ten-year-old who thinks she's a unicorn. But Daniel has an enemy, one who has vowed to see him dead. And when Anne is thrown into peril, he will stop at nothing to ensure their happy ending . . .
Everything and the Moon by Julia Quinn -- I gave it 4 stars.
Historical Romance
Seven years ago she broke his heart...
When Robert Kemble stumbles across Victoria Lyndon in hedgerow maze, he can't believe his eyes. The girl who'd torn him in two, who let him plan on elopement and then left him standing by the side of the road, was suddenly within arm's reach, and even though his fury still knew no bounds, she was impossible to resist...
Seven years ago he left her all but ruined...
Victoria's father had told her an earl would never marry a vicar's daughter, and he was right. Robert had promised her marriage, then danced off to London while she suffered the shame of a foiled elopement. But even though Victoria doesn't particularly enjoy her new life as a governess, when Robert offers her a job of a different sort—his mistress—she refuses, unable to sacrifice her honor, even for him.
But Robert won't take no for an answer, and he vows to make her his, through any means possible. Can these star-crossed lovers learn to trust again? And is love really sweeter the second time around?
The Governess Affair by Courtney Milan -- I gave it 5 stars.
Historical Romance
She will not give up…
Three months ago, governess Serena Barton was let go from her position. Unable to find new work, she's demanding compensation from the man who got her sacked: a petty, selfish, swinish duke. But it's not the duke she fears. It's his merciless man of business—the man known as the Wolf of Clermont. The formidable former pugilist has a black reputation for handling all the duke's dirty business, and when the duke turns her case over to him, she doesn't stand a chance. But she can't stop trying—not with her entire future at stake.
He cannot give in…
Hugo Marshall is a man of ruthless ambition—a characteristic that has served him well, elevating the coal miner's son to the right hand man of a duke. When his employer orders him to get rid of the pestering governess by fair means or foul, it's just another day at the office. Unfortunately, fair means don't work on Serena, and as he comes to know her, he discovers that he can't bear to use foul ones. But everything he has worked for depends upon seeing her gone. He'll have to choose between the life that he needs, and the woman he is coming to love…
Devil's Bride by Stephanie Laurens -- I gave it 4 stars.
Historical Romance
When Devil, the most infamous member of the Cynster family, is caught in a compromising position with plucky governess Honoria Wetherby, he astonishes the entire town by offering his hand in marriage. No one dreamed this scandalous rake would ever take a bride. And as society mamas swooned at the loss of England′s most eligible bachelor, Devil′s infamous Cynster cousins began to place wagers on the wedding date.
But Honoria wasn′t about to bend society′s demands and marry a man "just" because they′d been found together virtually unchaperoned. No, she craved adventure, and while solving the murder of a young Cynster cousin fit the bill for a while, she decided that once the crime was solved she′d go off to see the world. But the scalding heat of her unsated desire for Devil soon had Honoria craving a very different sort of excitement. Could her passion for Devil cause her to embrace the enchanting peril of a lifelong adventure of the heart?
Thief of Shadows by Elizabeth Hoyt -- I gave it 5 stars.
Historical Romance
A MASKED MAN . . .Winter Makepeace lives a double life. By day he's the stoic headmaster of a home for foundling children. But the night brings out a darker side of Winter. As the moon rises, so does the Ghost of St. Giles-protector, judge, fugitive. When the Ghost, beaten and wounded, is rescued by a beautiful aristocrat, Winter has no idea that his two worlds are about to collide.
A DANGEROUS WOMAN . . .
Lady Isabel Beckinhall enjoys nothing more than a challenge. Yet when she's asked to tutor the Home's dour manager in the ways of society-flirtation, double-entendres, and scandalous liaisons-Isabel can't help wondering why his eyes seem so familiar-and his lips so tempting.
A PASSION NEITHER COULD DENY
During the day Isabel and Winter engage in a battle of wills. At night their passions are revealed . . . But when little girls start disappearing from St. Giles, Winter must avenge them. For that he might have to sacrifice everything-the Home, Isabel . . . and his life.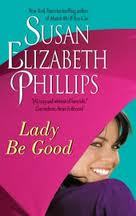 Lady Be Good by Susan Elizabeth Phillips -- I gave it 4.5 stars.
Contemporary Romance
A British Lady.Lady Emma Wells-Finch, the oh-so-proper headmistressof England's St. Gertrude's School for Girls, is a woman on a mission—she has two weeks to lose her reputation. Arriving in Texas with skirts flying, umbrella pointing, and beautiful mouth issuing orders, she knows only one thing will save her from losing everything she holds dear: complete and utter disgrace!
A Texas Rascal.World-famous playboy-athlete Kenny Traveler has kickedup his boot heels one too many times, and now he's suspended from the sport he loves. Only one thing will restore his career:complete and utter respectability! Unfortunately, he's been blackmailed into chauffeuring bossy, single-minded Lady Emma, and she's hell-bent on visiting honkytonks,chasing down tattoo parlors, and worse.. lots worse.
Love, All-American Style..When a gorgeous man who can't afford another scandal meets a hardheaded woman who's determined to cause one, anything can happen. But love? Oh, dear. That's impossible.That's outrageous. That's... inevitable!
Nobody's Baby But Mine by Susan Elizabeth Phillips -- I gave it 4 stars.
Contemporary Romance
Genius physics professor Dr. Jane Darlington desperately wants a baby. But finding a father won't be easy. Jane's super-intelligence made her feel like a freak when she was growing up, and she's determined to spare her own child that suffering. Which means she must find someone very special to father her child. Someone who's more comfortable working out his muscles than exercising his brain.
Cal Bonner, the Chicago Stars' legendary quarterback, seems like the perfect choice. But his champion good looks and down-home ways are deceiving. Dr. Jane is about to learn a little too late that this good ol' boy is a lot smarter than he lets on—and he's not about to be used and abandoned by a brainy, baby-mad schemer.
The Cinderella Deal by Jennifer Crusie -- I gave it 3 stars.
Contemporary Romance
Daisy Flattery is a free spirit with a soft spot for strays and a weakness for a good story. Why else would she agree to the outrageous charade offered by her buttoned-down workaholic neighbor, Linc Blaise? The history professor needs to have a fiancée in order to capture his dream job, and Daisy is game to play the role. But something funny happens on their way to the altar that changes everything. Now, with the midnight hour approaching, will Daisy lose her prince, or will opposites not only attract but live happily ever after?
Dark Desires After Dusk by Kresley Cole -- I gave it 4 stars.
Paranormal Romance
A seductive beauty he can never have, yet can't resist...Cadeon Woede will stop at nothing to atone for the one wrong that will haunt him forever. But once he secures the key to his redemption, the halfling Holly Ashwin, Cade finds that the woman he thought he could use for his own ends and then forget haunts him as much as his past.
A tormented warrior she should fear, but can't deny...
Raised as a human, Holly never knew that some frightening legends are real until she encounters a brutal demon who inexplicably guards her like a treasure. Thrust into a sensual new world of myth and power, with him as her protector, she begins to crave the demon's wicked touch.
Surrender to dark desires...Yet just when he earns Holly's trust, will Cade be forced to betray the only woman who can sate his wildest needs -- and claim his heart?
"Stroke of Enticement" from Wild Invitation by Nalini Singh -- I gave it 3.5 stars.
Paranormal Romance
In Stroke of Enticement , a wary young teacher, skeptical about love, arouses the man—and the animal—in an aggressive leopard changeling who must prove his affections are true.
Promises by Marie Sexton -- I gave it 4.5 stars.
Male/Male Contemporary
Jared Thomas has lived his whole life in the small mountain town of Coda, Colorado. He can't imagine living anywhere else. Unfortunately, the only other gay man in town is twice his age and used to be his teacher, so Jared is resigned to spending his life alone. Until Matt Richards walks into his life, that is. Matt has just been hired by the Coda Police Department, and he and Jared immediately become friends. Matt claims he is straight, but for Jared, having a sexy friend like Matt is way too tempting. Facing Matt's affair with a local woman, his disapproving family, and harassment from Matt's co-workers, Jared fears they'll never find a way to be together-if he can even convince Matt to try.
Caught Running by Madeleine Urban and Abigail Roux -- I gave it 4 stars.
Male/Male Contemporary
Ten years after graduation, Jake "the jock" Campbell and Brandon "the nerd" Bartlett are teaching at their old high school and still living in separate worlds. When Brandon is thrown into a coaching job on Jake's baseball team, they find themselves learning more about each other than they'd ever expected.
High school is all about image - even for the teachers. Brandon and Jake have to get past their preconceived notions to find the friendship needed to work together. And somewhere along the way, they discover that perceptions can always change for the better.
Admit One by Jenna Hilary Sinclair -- I gave it 4 stars.
Male/Male Contemporary
When high school teacher Tom Smith meets Kevin Bannerman at a gay club, he violates his own rule: one-night stands only. But when the weekend is over, he walks away, reminding himself that he lives a deeply closeted life for painful, compelling reasons. He keeps his secrets, his heart, and the cause of his crippled arm to himself, but almost immediately he bitterly regrets leaving Kevin. Months later, while Tom serves as reluctant assistant director for his school's production of Rent, he fears that the show's same-sex love angle will somehow out him. Protests against the play begin, one of the student actors is harassed, and during a parents' meeting, Tom encounters Kevin again. This time Tom can't fight the attraction between them, and he and Kevin begin a tentative relationship. Within Rent's message of acceptance and support, and as local churches oppose the play, Tom struggles to find the strength to admit one man into his heart.