This is part of a new weekly feature I'm going to be doing on my blog. Basically, I am going to be focusing one a specific theme (or trope) that I have found in my years as a voracious reader/blogger. I love finding commonalities between my favorite books and how that helps define me as a reader.
Please note this is not meant to be a comprehensive list. I am just picking a few examples of this trope. So, if you have a favorite example of this theme, let me know about it in the comments. I'm always on the lookout for more books to be added to my wishlist.
Lily Spencer-Churchill, Duchess of Marlborough
AMERICAN HEIRESSES IN GREAT BRITAIN
This is a theme that I recently realized was one that I always gravitated towards. There is just so much room for drama with the hero (more often than not) needing the heroine's money and then figuring out that he needs much more than that from her. Plus the clash of American and British cultures is always a ton of fun. For more information about real-life American heiresses, check out the Smithsonian Channel's documentary,
Million Dollar American Princesses
.
It Happened One Autumn
by Lisa Kleypas
It happened at the ball...
Where beautiful but bold Lillian Bowman quickly learned that her independent American ways weren't entirely "the thing." And the most disapproving of all was insufferable, snobbish, and impossible Marcus, Lord Westcliff, London's most eligible aristocrat.
It happened in the garden...
When Marcus shockingly—and dangerously—swept her into his arms. Lillian was overcome with a consuming passion for a man she didn't even like. Time stood still; it was as if no one else existed...thank goodness they weren't caught very nearly in the act!
It happened one autumn...
Marcus was a man in charge of his own emotions, a bedrock of stability. But with Lillian, every touch was exquisite torture, every kiss an enticement for more. Yet how could he consider taking a woman so blatantly unsuitable...as his bride?
Trouble at the Wedding
by Laura Lee Guhrke
Annabel is about to marry the perfect man . . .
The last thing Miss Annabel Wheaton desires is true love. She learned the hard way that love makes a woman foolish and leads only to heartache. That's why she agreed to marry an earl who needs her money. He's got a pedigree and a country estate, and he won't ever break her heart. There's only one problem . . .
Christian isn't about to let her marry that pompous prig . . .
Christian Du Quesne, Duke of Scarborough, thinks the stubborn heiress is about to make the biggest mistake of her life, and he's determined to stop her. Tempting beautiful women is Christian's forte, after all. When her family offers him a nice sum of money to stop the wedding, he's happy to accept.
Falling in love with Annabel was never supposed to be part of the bargain . . .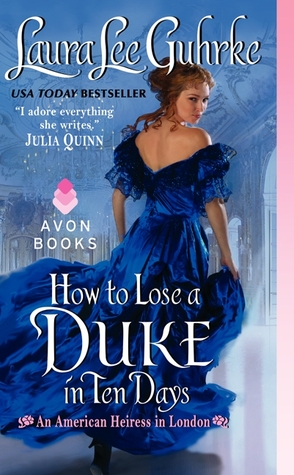 How to Lose a Duke in Ten Days
by Laura Lee Guhrke
They had a deal...
From the moment she met the devil-may-care Duke of Margrave, Edie knew he could change her life. And when he agreed to her outrageous proposal of a marriage of convenience, she was transformed from ruined American heiress to English duchess. Five years later, she's delighted with their arrangement, especially since her husband is living on another continent.
But deals are made to be broken...
By marrying an heiress, Stuart was able to pay his family's enormous debts, and Edie's terms that he leave England forever seemed a small price to pay. But when a brush with death impels him home, he decides it's time for a real marriage with his luscious American bride, and he proposes a bold new bargain: ten days to win her willing kiss. But is ten days enough to win her heart?
The Truth About Lord Stoneville
by Sabrina Jeffries
In the two decades since a tragic "accident" took the lives of his parents, Oliver Sharpe, the Marquess of Stoneville, has survived the scandal surrounding that fateful night by living as an unrepentant rakehell. And with his grandmother vowing to disinherit him if he doesn't settle down and wed, he plans to fulfill the bargain in true Sharpe style—by bringing home a fake fiancée from a brothel! But his scheme is derailed when he rescues an American beauty in a dire predicament instead.

Maria Butterfield came to London to track down her groom-to-be, who's gone missing, but her engagement won't stop Oliver from getting what he wants: her, in his bed. His rebellious masquerade may call his grandmother's bluff, but it's soon made all too real—by a love that tempts him to be a hellion no more.
Splendid
by Julia Quinn
There are two things everyone knows about Alexander Ridgely. One, he's the Duke of Ashbourne. And two, he has no plans to marry anytime soon...
That is until a redheaded American throws herself in front of a carriage to save his young nephew's life. She's everything Alex never thought a woman could be—smart and funny, principled and brave. But she's a servant, completely unsuitable for a highborn duke—unless, perhaps, she's not quite what she seems...
American heiress Emma Dunster might be surrounded by Englishmen, but that doesn't mean she intends to marry one—even if she has agreed to participate in one London Season. When she slipped out of her cousins' home, dressed as a kitchen maid, all she wanted was one last taste of anonymity before her debut. She never dreamed she'd find herself in the arms of a dangerously handsome duke... or that he'd be quite so upset when he discovered her true identity. But true love tends to blossom just when one least expects it, and passion can melt even the most stubborn of hearts.
To Marry an Heiress
by Lorraine Heath
The breathtakingly handsome Earl of Huntdon is determined to take a bride, and equally determined that his marriage to Miss Georgina Pierce will be a business arrangement only--after all, he has been wounded in love before. But there is unexpected passion in his innocent wife, and he soon begins to look forward to many days--and nights--with her ... until he shockingly discovers that her promised fortune has been squandered. Though Georgina rightly protests that she knew nothing of it, Huntingdon is wounded to the core.
Spirited Georgina surprised herself by agreeing to marry the earl--a man she's just met. The handsome nobleman proposes that she exchange her fortune for his title, but from the moment Georgina first waltzes across the ballroom floor in his arms, she realizes she can easily give this handsome, haunted lord her heart.... But first she must teach him that there is one thing far more important than money and position--and that is love.
Between the Devil and Ian Eversea
by Julie Anne Long
She might look like an angel...

The moment orphaned American heiress Titania "Tansy" Danforth arrives on English shores she cuts a swath through Sussex, enslaving hearts and stealing beaux. She knows she's destined for a spectacular titled marriage—but the only man who fascinates her couldn't be more infamous...or less interested.
...but it takes a devil to know one...

A hardened veteran of war, inveterate rogue Ian Eversea keeps women enthralled, his heart guarded and his options open: why should he succumb to the shackles of marriage when devastating good looks and Eversea charm make seduction so easy?
...and Heaven has never been hotter.

When Ian is forced to call her on her game, he never dreams the unmasked Tansy—vulnerable, brave, achingly sensual—will tempt him beyond endurance. And fight as he will, this notorious bachelor who stood down enemies on a battlefield might finally surrender his heart...and be brought to his knees by love.

The Daring Exploits of a Runaway Heiress
by Victoria Alexander
To Do:Swim naked in the moonlightPlay in a high stakes card gameRide an elephantBe painted sans clothing.Take a lover…
Lucy Merryweather has inherited a fortune—and her great-aunt's list of unfulfilled wishes. What better way to honor her memory than by accomplishing as many of them as possible? And with Lucy's family an ocean away in New York, nothing stands in her way—if one ignores the private investigator hired to spy on her.
Yet Cameron Effington is infuriatingly difficult to ignore…
As a reporter, Cameron is always looking for a good story. An American heiress running rampant between Millworth Manor and Mayfair is the perfect subject. Not to mention captivating. And extremely kissable. And if Lucy believes he's a detective? Well, the truth should never get in the way of a good story—or hinder delicious, impetuous passion…
To Marry the Duke
by Julianne MacLean
My dear sister Clara,
London society is so much more complicated than I could ever have known! Every night is a different ball or assembly, and a different swirl of glittering jewels and rustling gowns. Though I fear I am making social blunders left and right I am having some measure of success in my (or rather, Mother's) objective. Mother is beside herself with glee at the attentions I have been receiving from a few gentlemen she finds supremely suitable as husband material.
But my dearest sister, it is so hard for me to even look at any gentleman but a certain duke, who, if I may confess, makes my heart beat so that I fear it can be seen across a ballroom. He is James Langdon, the Duke of Wentworth, and though I may sound dramatic, he makes me feel as no man ever has before.
But I must push these feelings away. I sometimes hear whispers about his dark past, and he is quietly called the Dangerous Duke. Oh Clara! I am secretly overjoyed that he may love me, and at the same time terrified of his attentions. I have waited so long for my true love, and now I must resist him to protect my heart.
If only I knew how to proceed…
Your devoted sister,Sophia
A Midsummer Bride
by Amanda Forester
Miss Harriet Burton, a horrendously rich American heiress, laughs too loud, states her opinion directly, and even conducts science experiments. Her uncle is desperate to get her off his hands and is offering a king's ransom to anyone able to arrange a suitable marriage that comes with a title.

To avoid marriage, Harriet swears off all men, until she meets Duncan Maclachlan, Earl of Thornton. But when Thornton is falsely accused of being a traitor, Harriet must use her knowledge of chemistry to find the real culprit and spark true romance.
The MacGregor's Lady
by Grace Burrowes
Asher MacGregor has returned from years wandering the Canadian wilderness to assume an earldom he's avoided, and to seek a bride he does not want. He's saddled with an additional family obligation in the form of Boston heiress Hannah Cooper, whom he is to escort about the London ballrooms so she might find an English husband.

Hannah is no more interested in settling in Britain than Asher is in returning to the New World, and yet their sympathy for one another soon turns to passion. With Hannah anxious to return to the family she's trying to protect in Boston, and Asher bound to his earldom in the Highlands, they must trust in love to span an ocean of differences and difficulties.