A great feature hosted by Tynga's Reviews where bloggers get to feature the new books they received over the past week.
~BOUGHT~
That Scandalous Summer (Rules for the Reckless #1) by Meredith Duran (historical romance)
One Daring Widow...In the social whirl of Regency England, Elizabeth Chudderley is at the top of every guest list, the life of every party, and the belle of every ball. But her friends and admirers would be stunned to know the truth: that the merriest widow in London is also the loneliest. Behind the gaiety and smiles lies a secret longing -- for something, or someone, to whisk her away ...
One Reluctant Suitor...Raised in scandal, Lord Michael de Grey is convinced that love is a losing gamble -- and seduction the only game worth playing. But when duty threatens to trump everything he desires, the only way out is marriage to a woman of his brother's choosing. Elizabeth Chudderley is delightful, delicious -- and distressingly attractive. With such a captivating opponent, Michael isn't quite sure who is winning the game. How can such passionate players negotiate a marriage of necessity -- when their hearts have needs of their own?
Attraction (Elements of Chemistry #1) by Penny Reid (NA contemporary)
One week.Private beach.Invisible girl.Jerk-faced bully.What's the worst that could happen?Kaitlyn Parker has no problem being the invisible girl, which is why she finds herself hiding in various cabinets and closets all over her college campus. Despite her best efforts, she can't escape the notice of Martin Sandeke—bad boy, jerkface bully, and the universe's hottest, wealthiest, and most unobtainable bachelor—who also happens to be Kaitlyn's chemistry lab partner.Kaitlyn might be the only girl who isn't interested in exploiting his stunning rower's build, chiseled features, and family's billionaire fortune. Kaitlyn wants Martin for his brain, specifically to tabulate findings of trace elements in surface water.When Kaitlyn saves Martin from a nefarious plot, Martin uses the opportunity to push Kaitlyn out of her comfort zone: spring break, one week, house parties, bathing suits, and suntan lotion. Can she overcome her aversion to being noticed? Will he be able grow beyond his self-centered nature? Or, despite their obvious chemistry, will Martin be the one to drive Kaitlyn into the science cabinet of obscurity for good?
Getting Out of Hand (Sapphire Falls #1) by Erin Nicholas (contemporary romance)
Genius scientist Mason Riley can cure world hunger, impress the media and piss off the Vice President of the United States all before breakfast. But he's not sure he can get through his high school class reunion.

Then he meets the new girl in town.

Adrianne Scott loves Sapphire Falls. The sleepy little town has been the perfect place to escape her fast-paced, high stress lifestyle. Her only plans now include opening her candy shop and living a quiet, drama-free life.

Until Mason Riley bids four hundred dollars just to dance with her.

Mason sure doesn't look—or kiss—like a genius scientist geek. In fact, he makes Adrianne's heart pound like nothing she's ever experienced. Passion like this with a guy who travels the world and parties at the White House should probably be a red flag for a girl who wants a simple boring life.

Good thing no one falls in love in a weekend.
Charley Davidson Books 2-6 by Darynda Jones (urban fantasy)
Charlotte "Charley" Davidson, a part-time private investigator helping the police with her ability to contact the dead in her full-time role as the Grim Reaper, in Albuquerque, New Mexico, in a paranormal romantic suspense series:
~BORROWED FROM THE LIBRARY~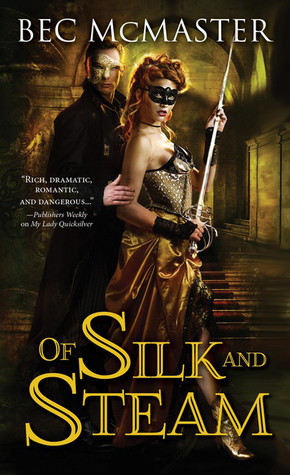 Enemies. Allies. Lovers.
When her beloved father was assassinated, Lady Aramina swore revenge. The man responsible is well beyond her grasp, but his dangerously seductive heir, Leo Barrons, is fair game. When Mina obtains evidence proving that Leo is illegitimate, she has the means to destroy both the killer and his son, a man who troubles her heart and tempts her body.
A woman of mystery, Mina's long driven Leo crazy with glimpses of a fiery passion that lurks beneath her icy veneer. He knows she's hiding something, and he's determined to unravel her layer by silken layer. He just doesn't expect the beautiful liar to be the key to overthrowing the corrupt prince consort… or to saving his own carefully walled-off heart.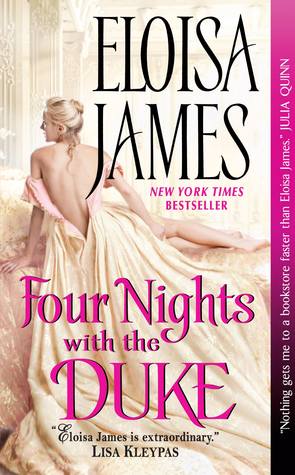 Four Nights with the Duke (Desperate Duchesses #8) by Eloisa James (historical romance)
As a young girl, Emilia Gwendolyn Carrington told the annoying future Duke of Pindar that she would marry any man in the world before him—so years later she is horrified to realize that she has nowhere else to turn.
Evander Septimus Brody has his own reasons for agreeing to Mia's audacious proposal, but there's one thing he won't give his inconvenient wife: himself.
Instead, he offers Mia a devil's bargain...he will spend four nights a year with her. Four nights, and nothing more. And those only when she begs for them.
Which Mia will never do.
Now Vander faces the most crucial challenge of his life: he must seduce his own wife in order to win her heart—and no matter what it takes, this is the one battle he can't afford to lose.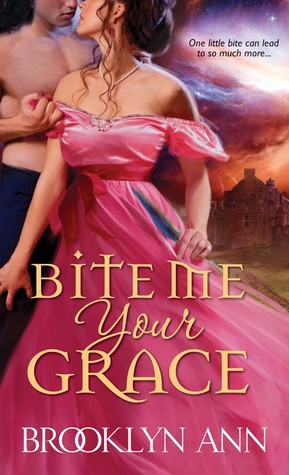 Bite Me, Your Grace (Scandals with Bite #1) by Brooklyn Ann (historical/paranormal romance)
England's "vampire craze" causes much vexation for the Lord Vampire of London, Ian Ashton. To save his reputation, Ian enlists aspiring authoress Angelica Winthrop without realizing she has hidden plans of her own.
Angelica Winthrop's life goal is to ruin her reputation, avoid marriage, and become a gothic authoress like her idol, Mary Shelley. To find inspiration for her new story, she breaks into the home of Ian Ashton, Duke of Burnrath, not knowing she will be coming up against the Lord Vampire of London. Romance sparks and reputations are at stake. But who knows the real difference between fact and fiction?
Karen Abbott illuminates one of the most fascinating yet little known aspects of the Civil War: the stories of four courageous women—a socialite, a farmgirl, an abolitionist, and a widow—who were spies.
After shooting a Union soldier in her front hall with a pocket pistol, Belle Boyd became a courier and spy for the Confederate army, using her charms to seduce men on both sides. Emma Edmonds cut off her hair and assumed the identity of a man to enlist as a Union private, witnessing the bloodiest battles of the Civil War. The beautiful widow, Rose O'Neale Greenhow, engaged in affairs with powerful Northern politicians to gather intelligence for the Confederacy, and used her young daughter to send information to Southern generals. Elizabeth Van Lew, a wealthy Richmond abolitionist, hid behind her proper Southern manners as she orchestrated a far-reaching espionage ring, right under the noses of suspicious rebel detectives.
Using a wealth of primary source material and interviews with the spies' descendants, Abbott seamlessly weaves the adventures of these four heroines throughout the tumultuous years of the war. With a cast of real-life characters including Walt Whitman, Nathaniel Hawthorne, General Stonewall Jackson, detective Allan Pinkerton, Abraham and Mary Todd Lincoln, and Emperor Napoleon III, Liar, Temptress, Soldier, Spy draws you into the war as these daring women lived it.
Straight from the library--the strange and bizarre, ready to be checked out!
From a patron's missing wetsuit to the scent of crab cakes wafting through the stacks, I Work at a Public Library showcases the oddities that have come across Gina Sheridan's circulation desk. Throughout these pages, she catalogs her encounters with local eccentrics as well as the questions that plague her, such as, "What is the standard length of eyebrow hairs?" Whether she's helping someone scan his face onto an online dating site or explaining why the library doesn't have any dragon autobiographies, Sheridan's bizarre tales prove that she's truly seen it all.
Stacked high with hundreds of strange-but-true stories, I Work at a Public Library celebrates librarians and the unforgettable patrons that roam the stacks every day.
HE THOUGHT HE'D SEEN IT ALL . . .The rogue's life has been good to William Somerhall: He has his fortune, his racehorses, and his freedom. Then he moves in with his mother. It seems the eccentric Dowager Duchess of Worth has been barely skirting social disaster-assisted by one Miss Jenna Hughes, who is far too bright and beautiful to be wasting her youth as a paid companion. Now home to keep his mother from ruin, William intends to learn what's afoot by keeping his friends close-and the tempting Miss Hughes closer still.
. . . UNTIL HE MEETS HER
He's tall, dark, and damnably intelligent-unfortunately for Jenna. She and the duchess are in the "redistribution business," taking from the rich and giving to the poor, and it's going great - until he shows up. But even as William plots to make an honest woman out of her, Jenna will use all her wiles to reveal just how bad a rogue he can be . . .


The Last True Vampire (True Vampire #1) by Kate Baxter (paranormal romance)
Soul Survivor...
He is the last of his race. The one true king of the vampires. Michael Aristov roams the nightclubs of L.A. after dark, haunted by his past and driven by his hunger. The last of the Ancient Ones, he alone has survived the destruction of his race at the hands of the slayers. Now he is forced to hunt and feed like a common vampire, a creature of lust. Nothing in this world can fulfill his needs…until he meets a woman who's everything he's ever wanted. And more.
Sweet Salvation...
Her name is Claire Thompson. Her blood is so sweet, so intoxicating—the smell alone draws Michael to her like a moth to the flame. Sly, sexy, and seductive, Claire seems to be the only mortal who can satisfy his craving and seal his fate…forever. Can she be trusted? From their very first kiss, the last true vampire sweeps Claire into a world in which darkness rules desire—and where falling in love is the greatest danger of all…