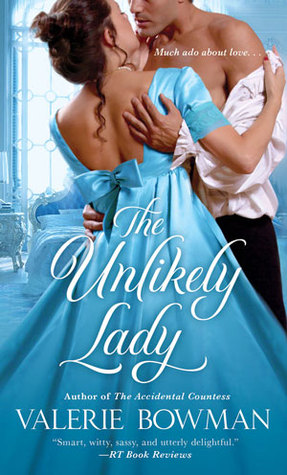 The Unlikely Lady by Valerie Bowman
(Playful Brides #3)
For Ages 18+ (Language, Sensuality)
Historical Romance -- Regency England

St. Martin's Press -- Published on May 5, 2015
eARC, 352 pages
Read in April 2015
Received from Netgalley
THEMES/TROPES
Bluestocking Heroine, Masquerade, House Party, Friendships
SUMMARY
Miss Jane Lowndes is a confirmed bluestocking. She's convinced that if she can wait out her parents' demand that she marry, someday she can be a confirmed spinster and hold intellectual salons, her fondest dream. No man wants a bluestocking for a wife, after all. And that's exactly the way Jane likes it. In fact, she's invented a fictitious chaperone to help her achieve that purpose.

Lord Garrett Upton is a devil-may-care confirmed bachelor. He's lived through the war, and now that he's back in London, he intends to enjoy life to the fullest. Marriage is certainly not a part of that plan. He's known Miss Lowndes for years, and the two of them have long engaged in a war of words. Jane's latest scheme to pretend she has a fake chaperone is none of his business . . . until her desire to involve herself in a scandal becomes all too personal.

When Garrett and Jane mistakenly kiss at a wedding party masquerade, their well-documented dislike for each other is turned on its ear. And when a devious widow, who will stop at nothing to have Garrett, plots to keep them apart, will their desire for each other overcome their dreams of remaining unattached?
FIRST LINE
"Oh, for heaven's sakes, Mrs. Cat, show yourself and let's get this over with, shall we?"


MY THOUGHTS
I received a free copy of this book from St. Martin's Press via Netgalley in exchange for an honest review.
Jane Lowndes and Garrett Upton have been circling around each other for the past two books in the Playful Brides series. Now, in
The Unlikely Lady
, their bickering comes to a head and an unexpected attraction emerges. I found this book to be the most well-developed and entertaining of the series and I am excited to read more from Valerie Bowman in the future.
Jane is a self-described bluestocking who is determined to remain unmarried and spend her days debating social issues with other intellectuals. But, as the only child, she is dealing with her mother's constant attentions so she invents a lady's companion to accompany her to a friend's wedding. This situation will allow her to create a small scandal so that she is able to accomplish her goal of being a permanent spinster. Garrett Upton is a former soldier in the Napoleonic Wars who is just trying to enjoy his life without ties. But, despite his best efforts, he finds himself constantly embroiled in the schemes of his cousin, Lucy (
The Unexpected Duchess
), and, by extension, her friend, Jane.
I love stories that have a tension-filled banter between characters who would be so perfect for one another if they just let it happen. Garrett and Jane have had some of the best lines in the Playful Brides series and most of them are at the other's expense. But, once a kiss at a masquerade throws them both for a loop, they are forced to really look at one another which was a blast. They had great chemistry and plenty of fun interactions. There is even a great homage to the library from
Beauty and the Beast
that had my book-loving fangirl sighing with happiness.
There are also plenty of side characters as one would expect from a house party themed book. Readers get to visit with Lucy and Derek from
The Unexpected Duchess
and Cass and Julian from
The Accidental Countess
. While there is some cliched "look how happy we are" moments between these couples, I rarely felt like they overshadowed the Garrett/Jane romance. I also enjoyed seeing Julian's sister, Daphne, who will be featured in the next book,
The Irresistible Rogue,
and Cass's brother, Owen.
If I had to be picky about
The Unlikely Lady
, I would have to say that I wish there hadn't been so much time spent on the widow of Garrett's friend that was killed in the war. I understand Isabella's storyline was there to force Garrett to forgive himself for his friend's death, but I just felt like it was out of place. She was an obvious threat to Jane and Garrett's happiness and then everything got fixed in a tidy little bow which irritated me.
But, despite the above problem, I thoroughly enjoyed
The Unlikely Lady
. Jane and Garrett were fabulously written characters who really felt like they belonged together. I also continued to love the depiction of Lucy, Cass, and Jane's friendship and that, despite their marriages, they are still loyal to one another. A definite winner from Valerie Bowman!