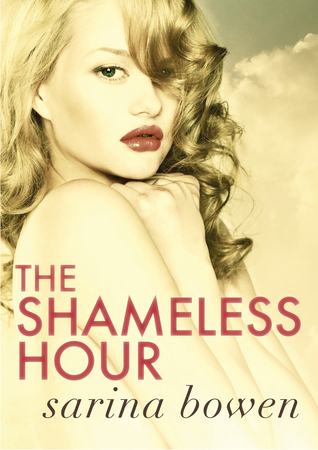 The Shameless Hour by Sarina Bowen
(The Ivy Years #4)
For Ages 16+ (Language, Sensuality)
New Adult -- Contemporary

Rennie Road Books -- Published in April 2015
Ebook, 317 pages
Read in April 2015
Purchased from Amazon
THEMES/TROPES
First Person Narrative, Dual Points of View, Beta Hero, Virgin Hero, Sports
SUMMARY
The girl who's had everyone meets the boy who has no one.

For Bella, the sweet-talking, free-loving, hip-checking student manager of the Harkness men's hockey team, sex is a second language. She's used to being fluent where others stutter, and the things people say behind her back don't (often) bother her. So she can't understand why her smoking hot downstairs neighbor has so much trouble staying friends after their spontaneous night together. She knows better than to worry about it, but there's something in those espresso eyes that makes her second guess herself.

Rafe is appalled with himself for losing his virginity in a drunken hookup. His strict Catholic upbringing always emphasized loving thy neighbor—but not with a bottle of wine and a box of condoms. The result is an Ivy League bout of awkwardness. But when Bella is leveled by a little bad luck and a downright sinister fraternity stunt, it's Rafe who is there to pick up the pieces.

Bella doesn't want Rafe's help, and she's through with men. Too bad the undeniable spark that crackles between the two of them just can't be extinguished.
FIRST LINE
It had been two hours since I blew out twenty candles on the cake Ma made for me, but my ass was still parked in a chair at Restaurante Tipico.


MY THOUGHTS
Bella is a character whose story I have been anticipating since the first book in this series.
The Shameless Hour
was an enjoyable read that had me staying up way too late into the night. Almost everything about it worked for me from the characters to the romance to the message that is very relevant nowadays.
Bella acts as the Harkness College hockey team's student manager and really enjoys her role. But, her perspective on things was thrown for a loop in
The Understatement of the Year
when her part-time lover (and secret crush) came out as gay. This down mood is where she finds herself when she connects with soccer player, Rafe, for one spectacular night. Rafe is the son of a Catholic single mother who has always viewed sex as something important to do with someone you love. He was preparing to have his first sexual experience with his long-time girlfriend, but things did not work out and he was left on the stairs of his dorm with a bottle of wine. Then Bella came along and the rest was history.
I absolutely loved Bella's character! She is smart, genuine, and a woman I would love to befriend. I also liked the fact that she makes it clear she enjoys sex and makes it a mission not to care what others think about her. There is a subplot of this book that forces her to really analyze that approach and I was very satisfied with the way that Sarina Bowen handled it. Sexual misconduct is a touchy, but important subject in today's society and I approved of the realistic reaction that Bella had to such a difficult situation.
Rafe is not the type of character that I envisioned for Bella when I first started the book, but he completely won me over. I loved the portrayal of a hero who had a strict moral code for himself yet never judged others' by it. He was very self-aware and knew that he personally couldn't handle random one night stands. Rafe is just such a nice guy that I was rooting for him to finally get Bella to acknowledge him. I also adored the moments with his family in New York and how their love shined through in his personality.
Readers of this series will also be happy to see some fun cameos with other Ivy Years couples. I was particularly happy with the way that Bella's former crush, Graham, still acted as her protector even though he wasn't in love with her. Bowen also provided some new side characters to enhance the Harkness College landscape. I was particularly intrigued by Bella's neighbor, Lianne, an actress who is also a computer genius, and Rafe's roommates (Mat and Bickley) who have some serious tension going on between them. I look forward to seeing what ends up happening with their characters in the future.
The Shameless Hour
was just a wonderful story of two unlikely people finding one another and going about their relationship in an unorthodox, but mature fashion. I never felt like there were huge communication issues though it did take time for Bella to truly understand where Rafe was coming from when he expressed discomfort with their first night together. I highly recommend this series for fans of New Adult romance or anyone who enjoys intelligent, savvy stories with an opposites attract theme.
4.5 STARS
Over the years, I'd heard people whisper about the fact that I never had female friends. People have told me to my face that I can't stand competition from other girls. Not true. The real reason I lacked female friends was that I don't speak lip gloss.