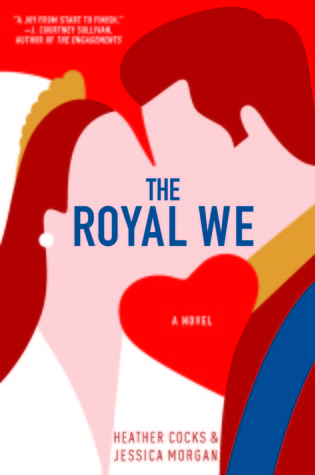 The Royal We by Heather Cocks and Jessica Morgan

For Ages 18+ (Language, Sensuality)
Contemporary Romance

Grand Central Publishing -- Published in April 2015
Hardcover, 464 pages
Read in May 2015
Borrowed from library
THEMES/TROPES
First Person Narrative, Alternate Universe, Royalty
SUMMARY
"I might be Cinderella today, but I dread who they'll think I am tomorrow. I guess it depends on what I do next."

American Rebecca Porter was never one for fairy tales. Her twin sister, Lacey, has always been the romantic who fantasized about glamour and royalty, fame and fortune. Yet it's Bex who seeks adventure at Oxford and finds herself living down the hall from Prince Nicholas, Great Britain's future king. And when Bex can't resist falling for Nick, the person behind the prince, it propels her into a world she did not expect to inhabit, under a spotlight she is not prepared to face.

Dating Nick immerses Bex in ritzy society, dazzling ski trips, and dinners at Kensington Palace with him and his charming, troublesome brother, Freddie. But the relationship also comes with unimaginable baggage: hysterical tabloids, Nick's sparkling and far more suitable ex-girlfriends, and a royal family whose private life is much thornier and more tragic than anyone on the outside knows. The pressures are almost too much to bear, as Bex struggles to reconcile the man she loves with the monarch he's fated to become.

Which is how she gets into trouble.

Now, on the eve of the wedding of the century, Bex is faced with whether everything she's sacrificed for love-her career, her home, her family, maybe even herself-will have been for nothing.

Spanning nearly a decade, The Royal We is a richly imagined, emotionally compelling novel that examines, with warmth and wit, what truly happens after your prince has come.
FIRST LINE
"I don't know what to do."
MY THOUGHTS
I have been a fan of Heather and Jessica's blog, Go Fug Yourself, for many years so, when they decided to imagine what it would be like for a commoner to marry into a royal family, I knew I had to check it out. The Royal We is obviously inspired by the much-publicized relationship between the Duke and Duchess of Cambridge, but the Fug Girls make the story their own and readers are left with an entertaining, surprisingly thought-provoking look into the life in the spotlight.
The narrator of The Royal We is Bex Porter, an American college student who heads to Oxford for a semester abroad. While there, she befriends one of the heirs to the British throne, Prince Nicholas, and eventually that friendship turns into something more. The book covers almost ten years of Bex and Nick's life together and apart. It is much more than a romance due to the fact that it shows that there is more to happiness than fancy clothes, exotic vacations, and a huge wedding. Happily ever after is a difficult thing to achieve and Bex and Nick have to go through major trials to find it.
I adored both Bex and Nick. Bex is the last person one would think of as the girlfriend of a prince due to her laid-back personality, but she captures Nick's attention with her lust for life and snarky sense of humor. For his part, Nick is much more than a Prince Charming-like stereotype. He is a genuinely nice guy who cares about his friends and his family, but he also has trust issues and is not the best at communication. Bex and Nick both have to grow a lot in this book and I appreciated how flawed they were which made them much more relatable.
There are other relationships in this book besides the obvious one between Bex and Nick. Readers are also given tons of information about their college friends with my personal favorite being Bex's best friend, Cilla, who is both protective of Bex and willing to call her out. Friendship is a very important component of The Royal We which I wasn't really expecting.
I also have to mention to wonderfully developed sibling portrayals. Bex is a twin and her sister, Lacey, is a huge part of her life. They have some issues to go through especially in relation to the media attention that is inevitable once Bex and Nick's relationship goes public. But, what I loved the most about them was their connection and that, in the end, they were there for one another. And then there's Nick's playboy younger brother, Freddie, who almost steals the entire book. I loved his devil-may-care persona that hides someone who has spent much of his life pushed to the side by his family and the rest of the country.
In conclusion, I found The Royal We to be a wonderful look at what it might be like to fall in love with a prince in today's society. There is much more than what the fairy tales showed us and I appreciated the way that the authors balanced the good and the bad. Love is important enough to sacrifice many things, but this book makes the reader think about whether it really is worth it in the end. I highly recommend this for fans of the Fug Girls or anyone who has ever dreamed of finding a prince (or princess) of their very own.
"He has kind of a homicidal face. Or is that just syphilis making him insane? British monarchs do love their syphilis."
"A prerequisite of the job," he agreed.