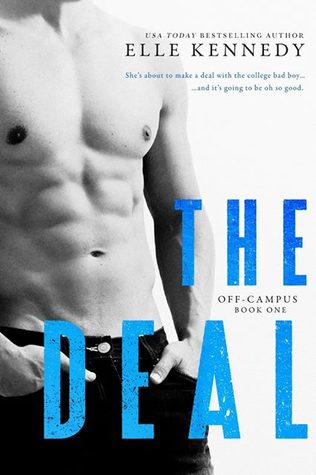 The Deal by Elle Kennedy
(Off Campus #1)
For Ages 17+ (Language, Sensuality)
New Adult -- Contemporary

Self-Published -- Published in February 2015
Ebook, 358 pages
Read in May 2015
Purchased from Amazon
THEMES/TROPES
First Person Narrative, Sports, Tormented Heroine, Tortured Hero
SUMMARY
She's about to make a deal with the college bad boy...

Hannah Wells has finally found someone who turns her on. But while she might be confident in every other area of her life, she's carting around a full set of baggage when it comes to sex and seduction. If she wants to get her crush's attention, she'll have to step out of her comfort zone and make him take notice... even if it means tutoring the annoying, childish, cocky captain of the hockey team in exchange for a pretend date.

...and it's going to be oh so good.

All Garrett Graham has ever wanted is to play professional hockey after graduation, but his plummeting GPA is threatening everything he's worked so hard for. If helping a sarcastic brunette make another guy jealous will help him secure his position on the team, he's all for it. But when one unexpected kiss leads to the wildest sex of both their lives, it doesn't take long for Garrett to realize that pretend isn't going to cut it. Now he just has to convince Hannah that the man she wants looks a lot like him.


FIRST LINE
"He doesn't know I'm alive."
MY THOUGHTS
I have never read Elle Kennedy before, but I have heard great things about her sexy contemporary romances. Since I adore sports-themed romances, I decided to give her debut New Adult book a try and am blown away by it.
The Deal
has a similar plot to other NA books I've read with a college sports star needing tutoring and simultaneously falling in love with their tutor. Garrett is the best player on his school's hockey team and usually has no problem balancing his classwork with his team commitments. But, his ethics course is currently kicking his ass and he finds himself very close to missing games due to his low grade. Hannah is the only student in the class who understands what the professor is wanting and this catches Garrett's attention. It quickly becomes obvious that Hannah has a crush on one of the football players so Garret and Hannah decide to make a deal. She will help him pass the class and he will pretend to date her in order to make Justin jealous.
While the plot is a little low on the creative side, what makes this book stand out for me is the characters. Garrett and Hannah both have tortured pasts that they are trying to deal with and the find themselves trusting one another with their secrets as they spend time together. I loved the way that the author had them growing as friends before jumping into bed. Their constant back-and-forth was so funny and really showed the development of their relationship. It was also fun to see Hannah interact with the rest of Garrett's housemates who I believe will be getting their own stories later in the series.
I recommend
The Deal
for anyone who loves mature NA with well-developed characters and a serious look at some current social issues like domestic violence and rape. I will definitely be continuing this series and will probably add her adult books to my wishlist.
4 STARS
"Just out of curiosity," she says, "after you wake up in the morning, do you admire yourself in the mirror for one hour or two?"
Two," I reply cheerfully.
"Do you high five yourself?"
"Of course not." I smirk. "I kiss each of my biceps and then point to the ceiling and thank the big man upstairs for creating such a perfect male specimen."