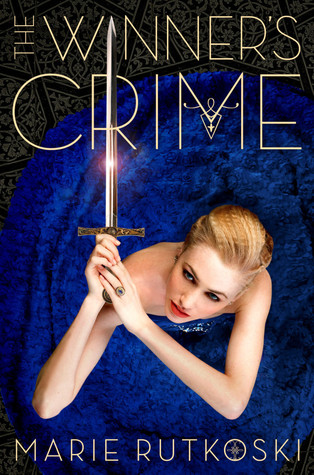 The Winner's Crime by Marie Rutkoski
(The Winner's Trilogy #2)
For Ages 14+ (Language, Violence)
Young Adult -- Fantasy

Farrar Straus Giroux -- Published on March 3, 2015
Hardcover, 402 pages
Read in April 2015
Borrowed from the Library
THEMES/TROPES
Alternate Universe, Brainy Heroine
SUMMARY
The engagement of Lady Kestrel to Valoria's crown prince means one celebration after another. But to Kestrel it means living in a cage of her own making. As the wedding approaches, she aches to tell Arin the truth about her engagement…if she could only trust him. Yet can she even trust herself? For—unknown to Arin—Kestrel is becoming a skilled practitioner of deceit: an anonymous spy passing information to Herran, and close to uncovering a shocking secret.

As Arin enlists dangerous allies in the struggle to keep his country's freedom, he can't fight the suspicion that Kestrel knows more than she shows. In the end, it might not be a dagger in the dark that cuts him open, but the truth. And when that happens, Kestrel and Arin learn just how much their crimes will cost them.
FIRST LINE
"She cut herself opening the envelope."
MY THOUGHTS
Warning! This review contains spoilers for the first book in the series, The Winner's Curse.
The first book in this trilogy ended with aristocrat, Lady Kestral, announcing her engagement to the prince of Valoria. This came on the heels of the Herrani rebellion that left hundreds of Valorian dead and Kestral under the control of her former slave, Arin. Now, Kestral is trying to maneuver through the complex world of the Valorian court while keeping her feelings for Arin a secret.
Kestral and Arin were amazing in the first book and I enjoyed learning more about them in this one. Kestral's intelligence is one of her greatest assets and I like seeing how she uses it to get what she wants. I also think it is interesting how the author doesn't always have Kestral doing the right thing. She is still a young lady and is just now learning the depths of the corruption in her country. Arin, on the other hand, must deal with his new status as the governor of Herran which forces him to deal with the Valorians in order to keep his country afloat. He has retained his rebellious nature, but is learning to go about his goals in a more subtle way.
I continue to be impressed with the scope of the world that Marie Rutkoski has built in this series. The first book focused on Herran with a few scenes in Valoria while this one takes place mostly in Valoria, but also introduces some of the other areas of the world like Dacra. I liked learning more about these fantasy countries and how they are all connected under Valorian rule. It also helps give hints of how things will ultimately be resolved.
While I enjoyed this book, I did have a hard time getting into it at the beginning. I had high expectations after falling in love with the characters and the world in
The Winner's Curse
and I needed to have a more realistic view. It took a bit of time for the players at the Valorian court to really get set and that was a bit tedious. Thankfully, things picked up halfway and I sped through the later chapters. I just wish it hadn't taken so long to get to the good stuff.
But, I was fairly happy with
The Winner's Crime
and am definitely excited to see how Marie Rutkoski ends the trilogy next year. There is a lot to be resolved and I am anxious about Kestral, Arin, and even Prince Verex.
BOOKS IN THE SERIES