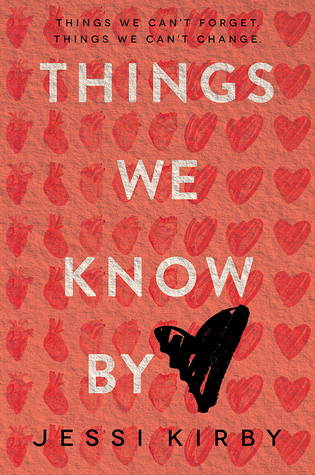 Things We Know By Heart by Jessi Kirby

For Ages 14+ (Language)
Young Adult -- Contemporary

HarperTeen -- Published on April 21, 2015
eARC, 304 pages
Read in April 2015
Received from Edelweiss
THEMES/TROPES
First Person Narrative
SUMMARY
When Quinn Sullivan meets the recipient of her boyfriend's donated heart, the two form an unexpected connection.

After Quinn loses her boyfriend, Trent, in an accident their junior year, she reaches out to the recipients of his donated organs in hopes of picking up the pieces of her now-unrecognizable life. She hears back from some of them, but the person who received Trent's heart has remained silent. The essence of a person, she has always believed, is in the heart. If she finds Trent's, then maybe she can have peace once and for all.

Risking everything in order to finally lay her memories to rest, Quinn goes outside the system to track down nineteen-year-old Colton Thomas—a guy whose life has been forever changed by this priceless gift. But what starts as an accidental run-in quickly develops into more, sparking an undeniable attraction. She doesn't want to give in to it—especially since he has no idea how they're connected—but their time together has made Quinn feel alive again. No matter how hard she's falling for Colton, each beat of his heart reminds her of all she's lost…and all that remains at stake.
FIRST LINE
"I don't know how I knew, when the sirens woke me just before dawn, that they were for him."
MY THOUGHTS
I received a free copy of this book from HarperTeen via Edelweiss in exchange for an honest review.
YA contemporary is not a genre that I often seek out. I do have my favorite authors like Sarah Dessen, John Green, and Stephanie Perkins, but I'm not very good about trying new-to-me authors. So when I saw
Things We Know By Heart
available on Edelweiss, I decided to give it a whirl especially because I had heard so many great things about Jessi Kirby's other books. And I am glad I gave this a chance since I could definitely see teenagers loving it!
The narrator of
Things We Know By Heart
is Quinn who lost her boyfriend in an accident and has spent the next few months searching for the recipients of his donated organs. Every recipient responded to her letters except for the teenaged boy who received his heart. Through the power of the internet, Quinn figured out the identity of the boy and, on a whim, drove to his hometown just to get a look at him. After suffering a panic attack, she ends up meeting Colton Thomas and, after interacting with him, begins to feel something once again.
The best way that I can describe this book is emotional. Quinn has gone through something horrible and she is trying to deal in her own way. While the tracking down of Colton was not the most ethical, I can understand Quinn's state of mind and it also helps that she knows what she is doing is not right. It truly shows that everyone has different ways of grieving and moving on with their lives. I liked Colton's character, but I did finish the book not really knowing much more about him other than he was sick, had a heart transplant, and loves to surf. This was really Quinn's story and I was okay with that for the most part.
I found
Things We Know By Heart
to be a sweet read that will resonate with many readers. Quinn is not a perfect character, but her journey is well-developed and satisfying. I will definitely be picking up more of Jessi Kirby's books in the future.