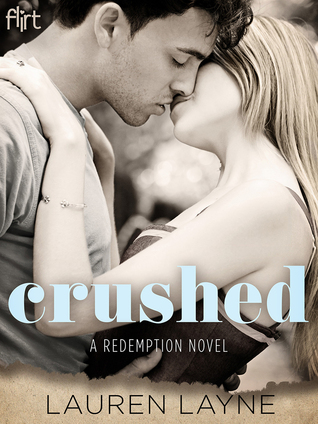 Crushed by Lauren Layne
(Redemption #2)
For Ages 16+ (Language, Sensuality)
New Adult -- Contemporary

Flirt -- Published on April 14, 2015
eARC, 240 pages
Read in April 2015
Received from Netgalley
Growing up in New York, Michael St. Claire never expected to spend his twenties wearing cowboy boots. But that was before he learned about his real father, a total stranger with a family in Cedar Grove, Texas. Once in the Lone Star State, Michael meets Kristin Bellamy, who is exquisitely refined and everything Michael always thought he wanted in a woman. The only problem is that Kristin is dating Michael's new half brother, Devon.

Kristin's mouthy, curvy sister Chloe has always been in love with Devon Patterson. So when Michael offers to help Chloe break up Devon and Kristin, Chloe agrees to a deal that seems too good to be true. Before long, Chloe finally gets her man, only to make a startling discovery: She no longer wants the guy she had to fight for—she wants the one who stood by her side.

After all he and Chloe have been through, Michael swears he's damaged goods. Can Chloe convince him that love is worth the risk?
FIRST LINE
"It's been six months since I fled Manhattan for Cedar Grove, Texas."


MY THOUGHTS
I received a free copy of this book from Flirt via Netgalley in exchange for an honest review.
I became a fan of Lauren Layne's NA fiction after devouring
Isn't She Lovely
over the summer. She provides a nice balance of drama, romance, and fun that I think is missing from many of the new adult books I've tried over the years. While
Crushed
is not as wonderful as the first Layne book I read, it was enjoyable and I ended it with a big smile on my face.
Michael St. Claire has had it rough the past couple of months after falling in love with his best friend's girlfriend, being rejected by her once she was single, and then finding out that he is the result of his mother's affair with a Texas businessman. Uncertain what to do next with his life, he decides to move to Texas to find his real father. While working at a country club, Michael meets the sexy and unavailable Kristin and her younger, less obvious sister, Chloe. Kristin is his initial pursuit, but he quickly starts to notice that Chloe's witty and genuine nature is outshining her sister's beauty though that is also complicated since Chloe has had a crush on her sister's boyfriend forever. Confused, yet? :)
I wasn't a big fan of Michael's when he appeared in
Isn't She Lovely
, but the rejection he faced in
Broken
had me excited for his story. He starts off this series a spoiled, rich guy though a heart of gold tends to shine through at times. By the time this book comes along, Michael has matured and wants to experience a relationship that is more than just sex though he's not sure how to start one. he is a character that has developed a lot over the course of this series and it was wonderful to see him finally find happiness.
Chloe was the true highlight of the book for me. I loved the way that Layne portrayed her personality and the differences between how she acted around her hometown and her friends at college. She is a sassy, hilarious person, but often feels overshadowed by her sister's charm and manipulative tendencies. It was great to see her evolve into a confident woman thanks (mostly) to her own efforts. I did get a little bored with her constant desire to hook up with Devon since it is clear that he only ever saw her as a friend, but that is a minor issue.
Michael and Chloe were adorably hilarious as a couple. They spend time together with Michael acting as Chloe's personal trainer when she decides it is time for her to start living a healthier life and really bond. Their chemistry is obvious from the beginning and it was fun to see them both fight it. Thankfully, readers did not have to wait forever for them to act on their attraction though it was some time until a relationship started to form.
I recommend
Crushed
for fans of NA romance especially if you like a little snark with your drama. Fans of the Redemption series as a whole will enjoy the scenes at the end where Stephanie, Ethan, Olivia, and Paul meet up with Michael and Chloe to bring the series back around.
BOOKS IN THE SERIES