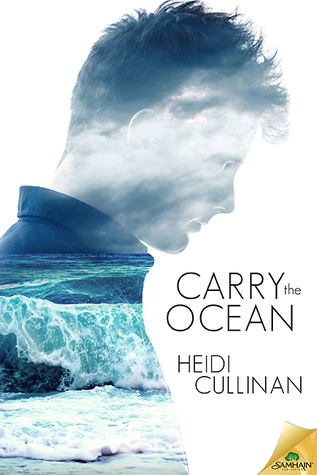 Carry the Ocean by Heidi Cullinan
(The Roosevelt #1)
For Ages 18+ (Language, Sensuality)
Male/Male Contemporary

Samhain Publishing -- Published in April 7, 2015
eARC, 268 pages
Read in March 2015
Received from Netgalley
High school graduate Jeremey Samson is looking forward to burying his head under the covers and sleeping until it's time to leave for college. Then a tornado named Emmet Washington enters his life. The double major in math and computer science is handsome, forward, wicked smart, interested in dating Jeremey—and he's autistic.

But Jeremey doesn't judge him for that. He's too busy judging himself, as are his parents, who don't believe in things like clinical depression. When his untreated illness reaches a critical breaking point, Emmet is the white knight who rescues him and brings him along as a roommate to The Roosevelt, a quirky new assisted living facility nearby.

As Jeremey finds his feet at The Roosevelt, Emmet slowly begins to believe he can be loved for the man he is behind the autism. But before he can trust enough to fall head over heels, he must trust his own conviction that friendship is a healing force, and love can overcome any obstacle.
FIRST LINE
"It took me ten months to meet Jeremey Samson."


MY THOUGHTS
I received a free copy of this book from Samhain Publishing via Netgalley in exchange for an honest review.
Over the past few years, Heidi Cullinan has become an author that I totally fangirl over. I enjoy every type of book she writes though I have a soft spot for her New Adult-themed books like the Love Lessons series and
Carry the Ocean
. She has a great attention to detail and isn't afraid to take risks in her characters.
Carry the Ocean
is a unique male/male romance due to the fact that both heroes have issues that drastically effect their lives. Emmet is a computer and math genius who also happens to have autism. Then we have Jeremey who suffers from severe depression and struggles to get through his everyday life. These two meet at a neighborhood block party and immediately find a connection that turns into one of my favorite love stories ever.
One thing that I loved about this book was the respect that the author showed for autism, depression, and anxiety. She clearly did her research on what it was like to live with such unique outlooks on life and never judged her characters. Readers are also introduced to other residents of the Roosevelt and I am looking forward to learning more about them in future installments.
I also want to warn potential readers that there is one very dark moment in this book. Heidi Cullinan's writing was so poignant at this time that I had a difficult time seeing the words on my e-reader through the tears. There is a happy ending...it just takes some time and effort on both Emmet and Jeremey's parts.
It is clear from the get-go that these two needed each other and the biggest conflict was convincing others to take their relationship seriously. People are people and, at the end of the day, we all want a loving connection with someone.
Carry the Ocean
shows us that everybody can love and it should always be applauded.