Historical Romance 101
is a celebration of the genre that will be occurring throughout the month of April. My blog along with On a Book Bender, Addicted to Romance, and Quinn's Book Nook will be writing on a variety of topics every Monday and Friday in April.
MY FAVORITE MOMENTS IN HISTORICAL ROMANCE
The Pall Mall match -- The Viscount Who Loved Me by Julia Quinn
A scene that showcases everything that is wonderful about this book: comedic situations, rapid-fire dialogue, and, of course, the ultra-competitive Bridgerton family.
"For the love of God, Anthony," Colin yelled. "Take your bloody turn."
Anthony looked down to where the wooden balls sat kissing on the grass, hers black, his appallingly pink. "Right," he murmured. "Wouldn't want to keep dear, sweet Colin waiting." And with that, he put his foot atop his ball, drew back his mallet--
"What are you doing?" Kate shrieked.
--And let fly. His ball remained firmly in place under his boot. Hers went sailing down the hill for what seemed like miles.
"You fiend," she growled.
"All's fair in love and war," he quipped.
"I am going to kill you."
"You can try," he taunted, "but you'll have to catch up with me first."
Kate pondered the mallet of death, the pondered his foot.
"Don't even think about it," he warned.
"It's so very, very tempting," she growled.
He leaned forward, menacingly. "We have witnesses."
"And that is the only thing saving your life right now."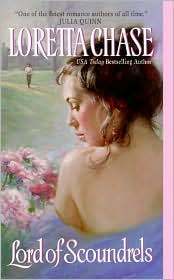 Dain thinking about Jessica -- Lord of Scoundrels by Loretta Chase
There are many scenes I thought about putting for this book like the infamous glove scene, but I have always loved the following moment when Dain relaxes and makes an interesting conclusion about Jessica.
With the world securely in order, Dain was able to devote the leisurely bath time to editing his mental dictionary. He removed his wife from the general category labeled "Females" and gave her a section of her own. He made a note that she didn't find him revolting, and proposed several explanations: (a) bad eyesight and faulty hearing, (b)a defect in a portion of her otherwise sound intellect, (c) an inherited Trent eccentricity, or (d) an act of God. Since the Almighty had not done him a single act of kindness in at least twenty-five years, Dain thought it was about bloody time, but he thanked his Heavenly Father all the same, and promised to be as good as he was capable of being.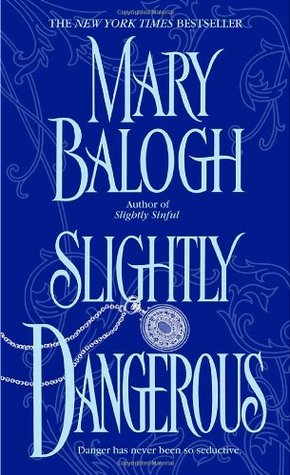 Duke of Bewcastle shocks his family. -- Slightly Dangerous by Mary Balogh
Wulfric has been thought of as the stoic, always proper head of the Bedwyn family, but, when he meets schoolteacher Christine, his life takes a surprising turn.
"Wulfric diving?" Lord Hallmere said, grinning, "And against the rules? I don't think I believe it."
"Neither do I," Lord Rannulf said derisively, "I would never have agreed to be left behind."
The Duke of Bewcastle raised a quizzing glass to his eye. "Do I understand that I am being called a liar?" he asked.
He strode away from all of them in his bare feet and went up the oak tree as if he climbed one every day of his life. He walked out along the branch that extended over the water, holding onto another branch for balance as long as he could and then doing it on his own. He went to the edge of the branch, tested it for strength, bent his knees a few times, flexed his arms. He was, Christine realized, playing up to his audience, which was loving it.
And then he dived in headfirst, his arms stretched above his head, his legs straight and together, his feet pointed. There was hardly a splash as he went in. There was, however, a collective gasp from the bank, followed by a cheer. Christine clapped her free hand over her mouth until his head broke above the surface and he shook the water out of his eyes.
"Someone," he shouted, "should have warned me that the water is cold."
And then something extraordinary happened--something else extraordinary, that was. Lady Hallmere stepped up in front of her, frowning ferociously, and hugged her hard, the duke's clothes squashed between them.
"If this is what you have done for him," she said, "I will love you all my life."
Harry's declaration -- As You Desire by Connie Bro
ckway
Harry Braxton is a disgraced Englishman who has a successful business finding Egyptian antiquities. He also has been in love with Desdemona Carlisle for years. This scene shows what happens when Harry sees Desdemona flirting with another man and bets her that he can make her swoon even more.
"You are a country, a country of unexplored sensation and whim, veiled in dawn, shining, shedding light. See how the long fluid line of your throat flows to your breasts?" If he heard the intake of her breath, he ignored it.
"Or how their blue-shadowed curves ripen above the smooth plain of your belly?"
"Your mouth." He paused, and her lips felt suddenly sensitized, tingling as his gaze fixed on them.
"Your mouth is a sweet well sealed against me, keeping me thirsting for the clarity of your kiss. Your flesh is like the desert sand, warmth and shifting strength beneath its golden color. Your palms open, fingers flexed, are minarets, delicate and elegant. And your body . . . it is the Nile itself—the camber of your back slipping so easily by the narrows of your waist and jettied hips to the lush delta below."He stopped. She heard the intake of his breath.
"You are my country, Desdemona." Yearning, harsh and poignant and she felt herself swaying toward him.
"My Egypt. My hot, harrowing desert and my cool, verdant Nile, infinitely lovely and unfathomable and sustaining."
Penelope's first kiss -- Romancing Mr. Bridgerton by Julia Quinn
Just such a romantic moment between two likable people. I especially enjoyed this scene because of Penelope's feelings for Colin and that this was what she has wanted for twelve years.
As he closed the bare distance between them, he realized that there were no words that could capture the intensity of this moment. No words for the passion. No words for the need. No words for the sheer epiphany of the moment. And so, on an otherwise unremarkable Friday afternoon in the heart of Mayfair, in a quiet drawing room on Mount Street, Colin Bridgerton kissed Penelope Featherington. And it was glorious.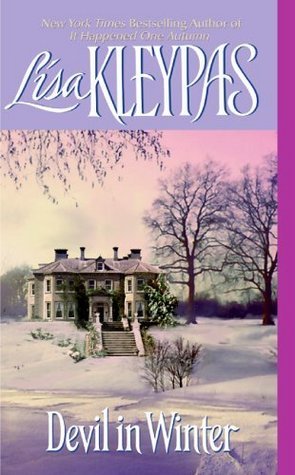 St. Vincent and Evie's wedding -- Devil in Winter by Lisa Kleypas
This is one of the most amusing weddings I've read in a romance, mostly due to the impatience of the rakish St. Vincent who just wants to get it over with and the Gretna Green blacksmith who just keeps lengthening the process.
Interrupting what promised to be a long spate of fatherly advice, St. Vincent said in a clipped voice, "It's not a love match. It's a marriage of convenience and there's not enough warmth between us to light a birthday candle. Get on with it, if you please. Neither of us has had a proper sleep in two days." Silence fell over the scene, with MacPhee and his two daughters appearing shocked by the brusque remarks. Then the blacksmith's heavy brows lower over his eyes in a scowl. "I don't like ye," he announced. St. Vincent regarded him with exasperation. "Neither does my bride-to-be. But since that's not going to stop her from marrying me, it shouldn't stop you either. Go on."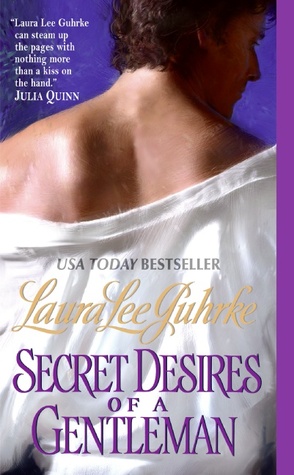 Maria discovers Phillip's secret -- Secret Desires of a Gentleman by Laura Lee Guhrke
Phillip and Maria's relationship has been one full of arguments and disdain on both of their parts. But, this scene provides readers with a different view on things.
"I believe you have something that belongs to me."
She knew. He closed his eyes. His chest tightened. Damn Lawrence.
From long practice, Phillip forced his features into polite, expressionless lines. Only then did he look at her.
In the dim, hazy moonlight, her skin seemed lit with a luminous glow. "You have my hair ribbon."
Was it a statement or an accusation? He could not be sure, but he forced himself to reach into the breast pocket of his jacket. As he pulled out his card case, the action brought pain, as if he were ripping it out of his chest. He opened the case and removed the ribbon. He started at it for a moment, then he shoved it toward her. "Here. Take it."
She didn't move. "I thought I'd lost it." She looked up at him, her pretty hazel eyes wide. "But you took it, didn't you?"
Tell her you found it after she'd left Kayne Hall, he thought. Tell her that.
He didn't say it. He couldn't, for it would be a lie. "Yes."
"Why?"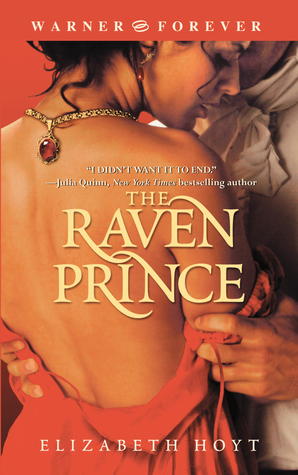 The brothel scene -- The Raven Prince by Elizabeth Hoyt
Definitely the hottest scene on this list. When the widowed Anna discovers that her aristocratic boss is heading to London to visit a brothel rather than embrace the physical attraction they have, she disguises herself as a prostitute to show him how good they could be together.
The door opened.Anna whirled and froze. A masculine shape loomed in the doorway, silhouetted by the hall light. For a fraction of a second, she felt fear and stepped back apprehensively. She couldn't even tell if it was Lord Swartingham. Then he entered, and she knew by the shape of his head, by his stride, by the movement of his arm as he took off his coat, that it was he.The earl laid the coat on a chair and advanced toward her in his shirt, breeches, and waistcoat. Anna didn't know what to do or say. She nervously pulled her hair back from her face and tucked it behind her ear with the crook of her little finger. She couldn't see his expression in the dim candlelight any more than he could see hers.He reached for her and took her in his arms. She relaxed at the movement and lifted her face, expecting his kiss. But he didn't kiss her lips. Instead, he bypassed her face altogether and laid his open mouth against the curve of her neck.
Daisy finding her button -- Scandal in Spring by Lisa Kleypas
Another moment that makes the heroine, and the reader, rethink their relationship with the hero based on one all important discovery.
Daisy smiled. She found another intriguing object and she held it up to inspect it. A button. Her brow creased as she stared at the front of the button, which was engraved with a pattern of a windmill. The back of it contained a tiny lock of black hair behind a thin plate of glass, held in place with a copper rim.
Swift blanched and reached for it, but Daisy snatched it back, her fingers closing around the button...
"Your father wore the waistcoat to the company offices. It was much admired. But later that day he was in a temper and in the process of throwing an ink bottle he spilled some on himself. The waistcoat was ruined. Rather than face your mother with the news he gave the garment to me, buttons and all, and told me to dispose of it."
"But you kept one button." Her lungs expanded until her chest felt tight on the inside and her heartbeat was frantic. "The windmill. Which was mine. Have you...have you carried a lock of my hair all these years?"
Still clutching the button, Daisy struggled to her feet. Swift rose in one smooth movement, first steadying her, and then clamping his hand on her wrist. He held his free hand beneath hers and gave her an inscrutable look.
He wanted the button back, she realized and let out an incredulous laugh.