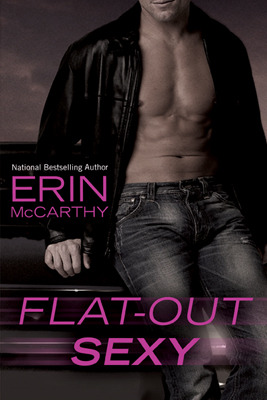 Flat-Out Sexy by Erin McCarthy
(Fast Track #1)
For Ages 18+ (Language, Sensuality)
Contemporary Romance

Berkley -- Published in 2008
Paperback, 291 pages
Read in April 2015
Received from Paperback Swap
THEMES/TROPES
Sports, Younger Man/Older Woman, Beta Hero
SUMMARY
Independent single mother Tamara Briggs wanted to find a new, sexy, no-strings-attached man--just not one as young as NASCAR driver Elec Monroe. But he sure does get her heart racing. And after she's tricked into a blind date with him, Tamara gives in to her passion. Things screech to a halt, though, when he asks to meet her children. Whatever happened to wham-bam-thank-you ma'am? Suddenly Tamara has to decide how much risk she's willing to take to experience the power of true love.
FIRST LINE
"I've met teenage girls with more testosterone than that man has."
MY THOUGHTS
Read for the 2015 TBR Challenge--April--Contemporary. The challenge is hosted by Wendy the Super Librarian.
Why I Chose It For My TBR Challenge Read: I got Flat-Out Sexy through Paperback Swap in May of 2012. I requested it because of my interest in sports-themed romance and because I had seen the Fast Track series praised on other blogs. Then other books got in the way and this book was unceremoniously shoved to the back of the TBR shelf. So I decided to pull it from the depths and give it a try for this month's challenge.
Flat-Out Sexy
is the first book in the Fast Track series and tells the story of a single mother who is getting back in the dating scene after her husband's tragic death in a race car accident. Tamara Briggs is an independent and intelligent woman who is thrown for a loop when she meets rookie Elec Monroe at a party. She decides to just embrace her fling with the twenty-five year old driver, but things quickly serious and she is forced to figure out whether to chance a new relationship with someone so young and in a dangerous profession.
I really liked Tamara and Elec. They are very likable people who are equally befuddled by their strong feelings for one another. Tamara is used to the NASCAR scene so Elec's fame doesn't faze her and he appreciates her mature outlook on life. For her part, Tamara is understandably hesitant to get into a relationship with Elec, but is attracted to his generosity and his single-minded pursuit of her affections though it never goes into stalking territory. I love it when characters are so well-matched and spend time together...other than in the bedroom though that happens alot in this book.
With this being the first in a series, readers are also introduced to other characters who are mostly associated with NASCAR. My particular favorites were Imogen (Tamara's shy graduate assistant who develops a crush on Elec's teammate), Eve (Elec's sister and PR rep), and especially Suzanne and Ryder (former couple who have clearly not gotten over each other yet). I thought Erin McCarthy did a good job introducing everyone without ever taking the spotlight off Elec and Tamara. It was also fun to read about Tamara's kids who were adorable without being precocious and scene-stealing.
If I had to pick one issue, I would say it would be some of the subplots which were left hanging. In particular, I am thinking of the one "pit lizard" (not a fan of that moniker, but that is how she is described in the book) Crystal who is obsessed with Elec and is determined to get him into her bed. I understood that she was representative of the types of women that Elec was surrounded by before meeting the love of his life, but I thought her involvement in the book was uninspired. She would pop in and out at random times and then, when something big happened on the Crystal front, nothing was resolved on the page. There also was some minor discussion of a feud between the Briggs and Monroe racing families, but that seemed to peter out quickly.
All in all, I did find
Flat-Out Sexy
to be easy to get into and enjoyable. I was rooting hard for Elec and Tamara to reveal their feelings and it was a wonderful journey to that moment. I am sad that I left this book live on my TBR shelf for so long, but I'll definitely be checking out more in the Fast Track series in the future.
4 STARS