A great feature hosted by Tynga's Reviews where bloggers get to feature the new books they received over the past week.
~BOUGHT~
The Dangers of Dating a Rebound Vampire (Half-Moon Hollow #3) by Molly Harper
In the next book in Molly Harper's beloved Half Moon Hollow paranormal romance series, Gigi starts her first job (at Vampire Headquarters), gets over her first love, and may even fall for her first vampire!

Gigi is no longer an innocent teen. All grown up and looking for love, her family and friends worry she'll go for the sexy, alluring vampire instead of a nice, safe human. But sexy and alluring, with a penchant for biting, could be just what Gigi wants...
Moonlight on My Mind (Second Sons #3) by Jennifer McQuiston
Eleven months ago, Julianne's statement to the authorities wrongly implicated Patrick, the new Earl of Haversham, in his older brother's death. The chit is as much trouble as her red hair suggests, and just as captivating. Now she has impetuously tracked him to the wilds of Scotland, insisting that he return home to face a murder charge and save his family from ruin. A clandestine wedding may be the only way to save her reputation—and his neck from the hangman's noose.

Julianne has no objection to the match. More and more she's convinced of Patrick's innocence, though when it comes to igniting her passions, the man is all too guilty. And if they can only clear his name, a marriage made in haste could bring about the most extraordinary pleasure…
Her Highland Fling (Second Sons #2.5) by Jennifer McQuiston
William MacKenzie has always been protective of his Scottish village. When Moraig's economy falters, he has the perfect solution to lure wealthy Londoners to this tiny hamlet: resurrect the ancient Highland Games! But for this to work, William knows he needs a reporter to showcase the town in just the right light.

A female journalist might be a tolerated oddity in Brighton, but newly minted reporter Penelope Tolbertson is discovering that finding respect in London is a far more difficult prospect. After receiving an invitation to cover Moraig's Highland Games, Penelope is determined to prove to her London editors just how valuable she can be.

Penelope instantly captures William's heart, but she is none too impressed with the gruff, broody Highlander; however, as she begins to understand his plans, Penelope discovers she may want more from him than just a story. She's only got a few days … but maybe a few days are all they need.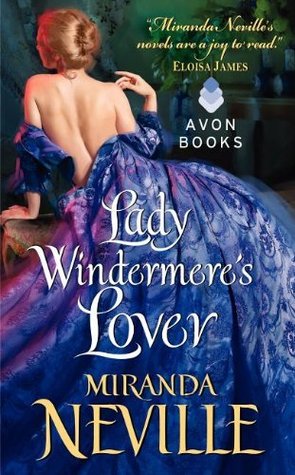 Lady Windermere's Lover (Wild Quartet #3) by Miranda Neville
Damian, Earl of Windermere, rues the day he drunkenly gambled away his family's estate and was forced into marriage to reclaim it. Now, after hiding out from his new bride for a year, Damian is finally called home, only to discover that his modest bride has become an alluring beauty—and rumor has it that she's taken a lover. Damian vows to keep his wife from straying again, but to do so he must seduce her—and protect his heart from falling for the wife he never knew he wanted.

Lady Cynthia never aspired to be the subject of scandal. But with her husband off gallivanting across Persia, what was a lady to do? Flirting shamelessly with his former best friend seemed like the perfect revenge . . . except no matter how little Damian deserves her loyalty, Cynthia can't bring herself to be unfaithful. But now that the scoundrel has returned home, Cynthia isn't about to forgive his absence so easily—even if his presence stirs something in her she'd long thought dead and buried. He might win her heart . . . if he can earn her forgiveness!
***********
WEEKLY RECAP
I READ...
The Courtesan Duchess by Joanna Shupe
Lights, Camera, Cupid by Riptide Publishing