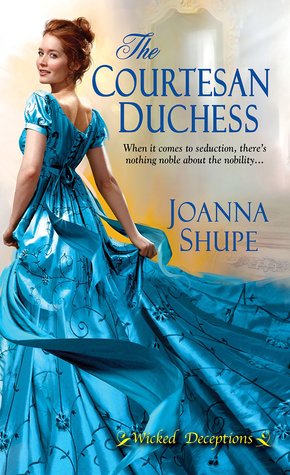 The Courtesan Duchess by Joanna Shupe
For Ages 18+ (Language, Sensuality)
Historical Romance -- Regency England

Zebra -- Published on March 31, 2015
eARC, 352 pages
Read in March 2015
Received from Netgalley
How to seduce an estranged husband—and banish debt!—in four wickedly improper, shockingly pleasurable steps...

1. Learn the most intimate secrets of London's leading courtesan.
2. Pretend to be a courtesan yourself, using the name Juliet Leighton.
3. Travel to Venice and locate said husband.
4. Seduce husband, conceive an heir, and voilà, your future is secure!

For Julia, the Duchess of Colton, such a ruse promises to be foolproof. After all, her husband has not bothered to lay eyes on her in eight years, since their hasty wedding day when she was only sixteen. But what begins as a tempestuous flirtation escalates into full-blown passion—and the feeling is mutual. Could the man the Courtesan Duchess married actually turn out to be the love of her life.
FIRST LINE
"The first time that the Duchess of Colton saw her husband since their hasty marriage, she found him seated at a card table with a buxom woman draped across his lap, her legs dangled over the side of his chair."
MY THOUGHTS
I received a free copy of this book from Zebra via Netgalley in exchange for an honest review.
I am always excited to read a debut author especially in historical romance. That is why I requested Joanna Shupe's
The Courtesan Duchess
, book one in the Wicked Deceptions series. While there issues that effected my overall enjoyment of the story, I saw a lot of potential and am excited to follow Ms. Shupe's career.
Julia and Nick's story is a theme that I am always intrigued by: aftermath of a marriage of convenience. They were married eight years ago, but Nick abandoned Julia immediately after the ceremony and hasn't seen her since. After finding herself in a difficult financial state, Julia decides she needs an heir to insure her future and makes a plan to seduce her husband. She asks for assistance from a courtesan and travels to Venice in disguise. Of course, things get complicated when Julia begins to fall for her husband and he with the mysterious "Juliet".
I really enjoyed the premise and Julia. She is in a difficult situation back in London and, while I'm not usually a fan of deceit, I understand how desperate she was. Of course, it helped that she felt guilty about the whole thing from the moment she got to Venice. I am always appreciative when characters have flaws and acknowledge them. I had a harder time with Nick. It is obvious that we aren't supposed to like him at the beginning, but I'm not sure if he ever groveled enough for my taste. His treatment of Julia was pretty bad and I found myself unsure about whether he truly was sorry.
Despite my problems with the character of Nick, I did find that I couldn't put this book down. I had to know how it would end so I guess that's a good sign of Joanna Shupe's writing style. The end was pretty melodramatic with a mystery that I didn't think needed to be in there. But, I am intrigued enough by the side characters that seem to be angling for their own book to continue with the series.
3 STARS
BOOKS IN THE SERIES
1. The Courtesan Duchess
2. The Harlot Countess (Coming April 2015)
3. The Lady Hellion (Coming May 2015)