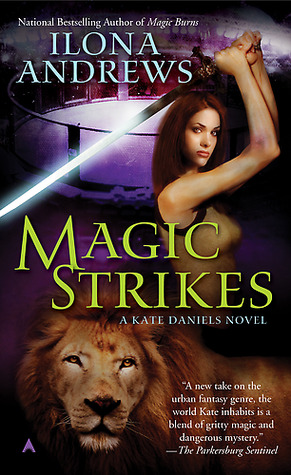 Magic Strikes by Ilona Andrews
For Ages 18+ (Language, Violence, Sensuality)
Urban Fantasy

Ace -- Published in 2009
Ebook, 322 pages
Read in February 2015
Borrowed from library
THEMES
Alpha Hero, Kick-Ass Heroine, Alternate Universe, Supernatural Mix
SUMMARY
When magic strikes and Atlanta goes to pieces, it's a job for Kate Daniels…

Drafted into working for the Order of Merciful Aid, mercenary Kate Daniels has more paranormal problems than she knows what to do with these days. And in Atlanta, where magic comes and goes like the tide, that's saying a lot.

But when Kate's werewolf friend Derek is discovered nearly dead, she must confront her greatest challenge yet. As her investigation leads her to the Midnight Games—an invitation only, no holds barred, ultimate preternatural fighting tournament—she and Curran, the Lord of the Beasts, uncover a dark plot that may forever alter the face of Atlanta's shapeshifting community…


FIRST LINE
"Some days my job was harder than others."
MY THOUGHTS
Magic Strikes
continues the adventures of Kate Daniels, a mercenary who is the one to call when there is a big paranormal situation in this alternate version of Atlanta. I have become completely addicted to this series so I will try to hold in the fangirl babbling that would basically accumulate to "This is the best series ever! Everyone must read this now!"
Kate Daniels is officially one of my favorite heroines with this installment. She is snarky, impulsive, but has such a huge heart that I am always rooting for her. I really am intrigued by her continued attempts to not build relationships with people yet readers can tell how much she yearns for it. Besides her friendships with Andrea and Jim and her guardianship of Julie, this book also ups the stakes with Kate's growing feelings for the Beast Lord. Kate and Curran have been circling each other for awhile and this book shows that some significant progress is being made on that front.
I loved the storyline of this book with young Derek being found on the brink of death and Kate trying to figure out how he was injured. The Midnight Games are a gladiator-type scenario that really amped up the action. Some of my favorite scenes involved Kate and her friends entering the tournament and showing how kick-ass they all are. I especially enjoyed getting to see Saiman's true form and Dali's cursing ability.
There isn't much more that I could say about
Magic Strikes
other than I flew through it and had to start the next book in the series right away. Ilona Andrews does an amazing job developing characters and portraying the dangerous world that they all inhabit. On to the next book!
4.5 STARS
STEAM LEVEL
Blush
-- Kisses with no/minor touching.
FAVORITE QUOTE
"His Majesty needs a can-I girl anyway. And I'm not it."
"A can-I girl?" Andrea frowned.
I leaned back. "'Can I fetch your food, Your Majesty? Can I tell you how strong and mighty you are, Your Majesty? Can I pick your fleas, Your Majesty? Can I kiss your ass, Your Majesty? Can I..."
It dawned on me that Raphael was sitting very still. Frozen, like a statue, his gaze fixed on the point above my head. "He's standing behind me, isn't he?"
Andrea nodded slowly.
"Technically it should be 'may I'," Curran said, his voice deeper than I remembered. "Since you're asking for permission."
Why me?
"To answer your question, yes, you may kiss my ass. Normally I prefer maintain my personal space, but you're a Friend of the Pack and your services have proven useful once or twice. I strive to accommodate the wishes of persons friendly to my people. My only question is, would kissing my ass be obedience, grooming, or foreplay?"
BOOKS IN THE SERIES
0.5. A Questionable Client
1.
Magic Bites
2.
Magic Burns
3. Magic Strikes
3.5. Magic Mourns
4. Magic Bleeds
4.5. Magic Dreams
5. Magic Slays
5.5. Gunmetal Magic
6. Magic Rises
6.5. Magic Steals
7. Magic Breaks
8. Magic Shifts (Coming 2015)