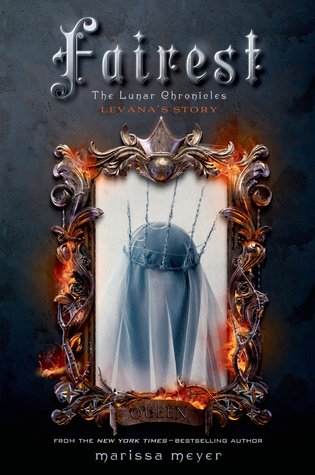 Fairest by Marissa Meyer
For Ages 14+ (Language, Violence)
Young Adult -- Science Fiction

Feiwel and Friends -- Published on January 27, 2015
Hardcover, 222 pages
Read in February 2015
Purchased from Amazon
THEMES
Villain's Point of View, Aliens, Unique Setting
SUMMARY
In this stunning bridge book between Cress and Winter in the bestselling Lunar Chronicles, Queen Levana's story is finally told.

Mirror, mirror on the wall,
Who is the fairest of them all?

Fans of the Lunar Chronicles know Queen Levana as a ruler who uses her "glamour" to gain power. But long before she crossed paths with Cinder, Scarlet, and Cress, Levana lived a very different story – a story that has never been told . . . until now.

Marissa Meyer spins yet another unforgettable tale about love and war, deceit and death.
FIRST LINE
"She was lying on a burning pyre, hot coals beneath her back."
MY THOUGHTS
Well, this wasn't what I was expecting and that is a good thing. I love the Lunar Chronicles series which mixes fairy tales with complex science fiction. I feel like we've been waiting for the conclusion (Winter) forever so I wasn't super pumped when I found out that there would be a story showing Queen Levana's past first. But, I should not have doubted Marissa Meyer. I found Fairest to be a fascinating look at a truly terrifying character.
This book is all about Levana and how she develops into the ambitious leader of the Lunar kingdom. It stars with her being fifteen years old and dealing with the sudden death of her parents. Then it slowly reveals the origin of her ruthless leadership policy and her ultimate plan for the Earth. What I loved the most about this was how Meyer was able to make me empathize with Levana while still be scared of what she was becoming. There is very little decency in her character and I appreciated that she wasn't watered down like she could have been.
While this is technically a prequel to the other Lunar Chronicle books, I think it works better being read between Cress and Winter since certain plot points like the Queen's army and what happened to Princess Selene. I do think this is an important aspect of the series by setting up the Lunar Kingdom beyond just what other characters have speculated about and how Levana was able to come to power.
Now I am super excited about the release of Winter especially after the little tidbits we got about Levana's stepdaughter and her loyal friend, Jacin. I definitely recommend this book for fans of the series and think they will be surprised by how much they enjoy it...like I was.
STEAM LEVEL
Blush
-- Kisses with no/minor touching.
FAVORITE QUOTE
"Levana had not seen the bodies, but she had seen the bedrooms the next morning, and her first thought was that all that blood would make for a very pretty rouge on her lips."