Hosted by the ladies over at The Broke and the Bookish.
I know that M/M romance is not a genre that many people are familiar with, but I have had some success in the past few years and decided to share my favorites.
1. Between Sinners and Saints by Marie Sexton (contemporary)
A heart-wrenching, but ultimately optimistic love story between an agoraphobic massage therapist and a bartender. The respectful depiction of one of the character's Mormon family stood out almost as much as the romance. Hanky alert!!
"I think you want very much to make this black and white--to make us all out to be sinners or saints. But its just not that simple. I think what you need to accept is that, just maybe, we're all something else. Maybe we're all something in between."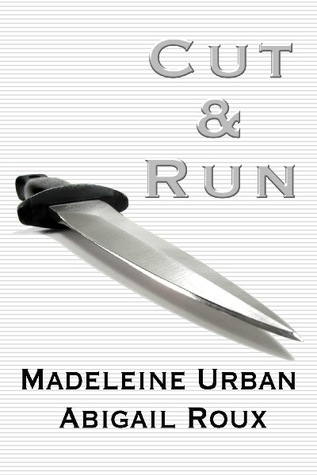 2. Cut & Run series by Abigail Roux (romantic suspense)
A fabulous series about two FBI agents with insane chemistry and plenty of dangerous situations to get themselves caught up in.
Rolling his eyes, Zane got on the elevator once the door opened.
"You know, at first I was insulted by the way you treat me. Then I realized
it's not personal; you treat everyone like shit. I find it doesn't bother me all
too much anymore," he said.
"Usually I only don't bother people I want to see naked," Ty told him
seriously as the elevator rose. "So stop it. You're freaking me out."
3. Tigers and Devils by Sean Kennedy (contemporary)
A dramatic romance between a lonely film festival director and a famous Australian Rules Football player. It provides readers with relatable characters and a fascinating setting.
Women and gay guys always get stuck with that image that they couldn't possibly be interested in the game itself—it had to be the guys. I mean sure it's a fringe benefit but when the game is on the last thing you're thinking about is the bodies of the men. You're concentrating on that red leather oval ball and if it will make it between the triad of poles that will either signify glory or failure.
4. Strawberries for Dessert by Marie Sexton (contemporary)
Definitely one of the best "opposites attract" stories I've ever read. Flirty rich kid, Cole, and stoic accountant, Jon, shouldn't work, but they do in more ways than I can ever express. Hanky alert!!
"I haven't missed you either," he said quietly. "Certainly not every single minute of every single day." His arms were tight around me and mine around him. His skin was soft and warm, and his hair smelled like strawberries like it always did. And everything about it felt right.
5. Hot Head by Damon Suede (contemporary)
A steamy romance between two firefighter best friends who have different reactions to the events of 9/11 and ultimately discover that the one person they have been waiting for is each other.
"Because I love you!"
There it was, out in the air. Griff's eyes got wide. The words had come out angry, but Dante had meant them. He couldn't open his perfect mouth and swallow them back.
His face softened. "In love, I mean. With you. For so long."

6. Dance With Me by Heidi Cullinan (contemporary)
Fun, but still emotional love story between a disgraced dancer and a former semi-pro football player. Laurie and Ed are developed so well that I expected them to just jump off the page and their journey to happiness is worth all the pain.
"Why do you stay with me?" he whispered. He wished he hadn't said it once the words were out of of his mouth, wished he could pull them back, but Laurie didn't seem fazed at all. In fact, he just smiled a crooked smile and kissed him again. "Because I don't want to dance by myself," he whispered.
7. His Client by Ava March (historical)
It is always interesting to read m/m historicals due to the danger and Ava March is one of the best! This particular book is my favorite and pairs a male prostitute and the aristocratic client that he falls in love with. I promise there is a happy ending!
"I shall miss you." More than you shall ever know.
8. Illumination by Rowan Speedwell (contemporary)
Another tearjerker of a romance between a drug addicted rock star and a socially awkward artist. I spent most of this book crying...in sadness and then happiness. Just a beautiful story. Hanky alert!!
"Miles," he said softly,"it's not only beautiful, but it's something you made me, so it means even more. I love you, Miles. I think you're the first person I ever have."

9. A Private Gentleman by Heidi Cullinan (historical)
Another tear-jerking romance between an introvert and the man who helps him find his voice. Hanky alert!
As he returned to the bed, he could see Vallant eyeing him warily, but he ignored this, sat on the opposite end and braced the pad on his knee. "You think after all that, I will leave? What sort of monster do you take me for? You think I could be that callous? No better than the piece of filth who used you, nor the soulless fiend who sold you?"

He ripped off the page and handed it over, but he began a second note even before Vallant had taken the first from his hand. "Is this bastard still alive? I assume not, that Rodger had him strangled? He had to pause, forcing his grip on the pencil to lighten before he went on. I want his name, if he isn't already dispatched. I'm not without resources or influence. And I'm very difficult to prosecute."
10. Admit One by Jenna Hilary Sinclair (contemporary)
I love books with teacher characters and the lonely Tom Smith really grabbed my heart. I loved how banker, Kevin, taught him how to embrace life after a tragedy. The subplot of a small town high school putting on the controversial musical
Rent
was also interesting.
The dykes versus the fags, but every straight man in the U.S who watched porn wanted to see two women getting off together. Lesbians held a unique place in the intolerant American psyche: it was the men who lay with men who challenged the words of the Holy Bible.