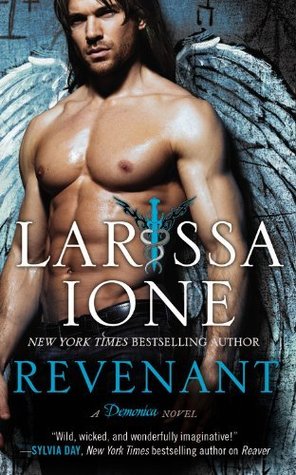 Revenant by Larissa Ione
For Ages 18+ (Language,Violence, Sensuality)
Paranormal Romance

Grand Central Publishing -- Published in December 2014
Mass Market Paperback, 368 pages
Read in December 2014
Purchased from Amazon
THEMES
Alternate Universe, Tortured Hero, Angels, Demons, Kick-Ass Heroine
SUMMARY
HELL HATH NO FURY . . .

For five thousand years, Revenant believed he was alone in the world, a fallen angel beyond any redemption. Now he finds he has a twin brother who had all the light and love Revenant was denied. Caught in a tug of war between Heaven and Hell, he must weigh his thirst for revenge against his desire for a mysterious female named Blaspheme—a female whose very origins could deliver him into salvation . . . or destruction.

LIKE AN ANGEL SCORNED

Blaspheme has a deadly secret: she's the forbidden offspring of an angel and a fallen angel. Hunted by both heavenly and satanic forces, she has survived only by laying low and trusting no one. When Revenant claims he can save them both, how can she possibly believe him? But the powerful angel is persistence incarnate and for Blaspheme, there's no place she can hide in Heaven or Hell where he won't find her.
FIRST LINE
"Revenant was one fucked-up fallen angel."
MY THOUGHTS
Warning! This review contains minor spoilers for early books in the Demonica/Lords of Deliverance world.
It is always difficult to rationally explain my feelings for a series that I have been a fan of for years especially when it is coming to an end...in a way. But, I will try to review
Revenant
with as little fangirl moments as possible. While it was not perfect, I thoroughly enjoyed this book and think it is a great conclusion to this fascinating world for now.
The basic premise of this book is that Revenant, one of Satan's most loyal assassins, has recently discovered that he is not a fallen angel like he always thought. He is an actual angel with a twin brother, Reaver, who was raised in heaven while Revenant and his mother were tortured in Sheoul (hell). Heaven is wanting his help to prevent an apocalypse, but Rev isn't feeling very friendly these days though that doesn't keep him from being intrigued by Blaspheme, a False Angel who works as a doctor at Underworld General Hospital.
Revenant is one of the many Larissa Ione heroes that I have fallen in love with over the years. She really knows how to write bad boys with hidden hearts of gold though there is definitely some digging required. It is completely understandable why Rev would be so hostile to the "good side" of this world due to the way that he and his mother were treated. I loved the way that he was developed and the fact that he didn't lose his entire "evil" personality especially in the bedroom. ;)
The catalyst for Revenant really making a change in his life is his growing fascination with Blaspheme. Blas has been a side character for most of the Demonica series due to her work at Underworld General and it was great to learn more about her. I loved the mythology around her species and how much she had to sacrifice in order to survive as long as she did. Her protective nature is very strong and shown in her desire to help anybody with her medical knowledge.
The romance between Revenant and Blaspheme is predictably hot and aggressive. But, they do have some very sweet moments that show how well matched they are. I especially enjoyed the fact that they did not treat each other with kid gloves even when they were injured since they don't know how to react to that type of treatment. I do wish that a bit more time had been spent on the development of their romance, but, since everything happened in a few weeks, it seemed a little rushed.
Besides the romance, there is also a ton of plot devoted to the prevention of Lucifer's reincarnation and what that could mean for the world. This is definitely not a series that one can just jump into at any time due to the development of the world and the epic nature of the entire series storyline. But, if a reader is familiar with the setting and its rules, they are rarely overwhelmed with the names, relationships, and alliances.
With a series this expansive, it should come as no surprise that there is a large cast of characters with many of my favorites popping in and out. I was especially excited to see more of the Seminus brothers (Eidolon, Shade, Wraith, Lore) due to Blaspheme's connection to their hospital. And, of course, there are moments (sweet and violent) between Revenant and his nephews and niece (the Four Horsemen of the Apocalypse!).
All in all, I thought
Revenant
was a worthy ending to a favorite series. Larissa Ione is not quite done with this world, but she is working on moving the timeline forward a few decades so this is the end of this particular arc. I am definitely willing to read anything she writes and look forward to the new direction whenever it comes.
STEAM LEVEL
Fever
-- Definitely graphic, but still emotional descriptions.
FAVORITE QUOTE

"You don't appreciate confidence?"
"I don't appreciate arrogance. There's a difference."
"And what is the difference?"
"Confidence is arrogance without an asshole."
BOOKS IN THE SERIES
1. Pleasure Unbound
2. Desire Unchained
3. Passion Unleashed
3.5. Eternity Embraced
4. Ecstasy Unveiled
5. Sin Undone
6. Eternal Rider
6.5. Vampire Fight Club
7.
Immortal Rider
7.5. Eternal Damnation
8.
Lethal Rider
9.
Rogue Rider
10.
Reaver
10.5.
Azagoth
11. Revenant