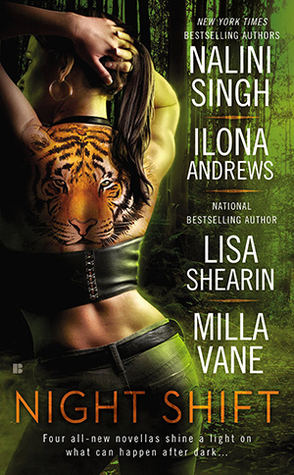 Night Shift by Nalini Singh, Ilona Andrews, Lisa Shearin, Milla Vane
For Ages 18+ (Language, Sensuality, Violence)
Paranormal Romance/Urban Fantasy/Fantasy Romance

Berkeley -- Published in November 2014
Mass Market Paperback, 378 pages
Read in December 2014
Purchased from Amazon
THEMES
Alpha Hero, Alternate Universe, Demons, Fae, First Person Narrative, Kick-Ass Heroine, Magic, Medieval Setting, Shifters, Tortured Hero, Virgin Hero
SUMMARY
Secrets at Midnight develops as the scent of Bastien Smith's elusive lover ignites a possessiveness in him that's as feral as it is ecstatic. And now that he's found his mate, he'll do anything to keep her.

In the novella, Magic Steals , when people start going missing, shapeshifting tigress Dali Harimau and jaguar shifter Jim Shrapshire must uncover the truth about the mysterious creatures responsible.
It's seer Makenna Frazier's first day on the job at Supernatural Protection and Investigations, and her first assignment is more than she bargained for when bodyguard duty for a leprechaun prince's bachelor party goes every which way but right in Lucky Charms.

A warrior princess must tame The Beast of Blackmoor to earn a place among her people. But she quickly discovers that the beast isn't a monster, but a barbarian warrior who intends to do some taming himself.
I am not usually a reader who will go through an entire anthology. Usually I just pick and choose the novellas I want to try, but, with Night Shift, I found myself intrigued about all the stories and, after finishing, was really happy I went about it this way.

Secrets At Midnight by Nalini Singh -- 3 stars
This is part of her fabulous Psy-Changeling series and shifts the focus back to the DarkRiver leopard pack. This story has Bastien (first introduced in his sister's book, Branded by Fire) meeting with his future mate. Kirby believes she is human, but it is quickly revealed that she is something else which she and Bastien deal with together.

This is a very sweet, but short story. Bastien and Kirby have immediate chemistry which is one of Nalini Singh's trademarks. I did like the whole figuring out the truth about Kirby's past element. It could work as a stand-alone since it focuses primarily on the main couple though some of my favorite Psy-Changeling characters like Lucas and Mercy pop in and out. The main issue I had was that everything happened so fast including the romance.
Magic Steals by Ilona Andrews -- 4 stars
This novella takes place in the popular Kate Daniels world that I am not familiar with yet (I know!) and features a side couple: Jim and Dali. These two are newly dating and aren't too happy when they are interrupted by a missing persons case that requires Dali's special abilities. This starts them on a pretty detailed adventure where they encounter mystical creatures and one intriguing villain.

This book can definitely be read as a stand-alone since I was easily able to follow it. It did its job by making me want to read more about this world especially if I get to see Jim again. :) I loved how adorable Jim and Dali were and how well they worked together. The magic element was really intriguing yet easy to follow.


Lucky Charms by Lisa Shearin -- 4 stars
A prequel to Shearin's SPI Files series that shows protagonist Makenna's first day as a seer for Supernatural Protections and Investigations. She and her colleagues are on the hunt for a group of drunk leprechauns who escapes their bodyguards during a royal bachelor party. What follows is a night-long journey through the paranormal world that hides amongst the humans in New York City.

I haven't ever heard of this series, but I am intrigued now. Makenna is a typical urban fantasy heroine with her naivete, hot partner, and general clumsiness, but I liked the irreverence of the world. Also, I have to learn more about Yasha, the werewolf driver. Bonus points for how Makenna finally catches the runaway leprechaun prince...it made me giggle. ;)
The Beast of Blackmoor by Milla Vane -- 4 stars
Milla Vane is a pseudonym of Meljean Brook who has written quite a few successful series like the Guardians and the Iron Seas books. This particular romance is very different for her and also stands out in this mostly lighthearted anthology. Warrior princess Mala is on a quest from a goddess to tame a beast in this barbarian-filled fantasy. Things get complicated when she discovers that the beast is a tortured young man rejected by the same deity.

I wasn't sure what to expect by this, but I found myself really enjoying it. It is dark, violent, and highly sensual. The world building is effortlessly woven into the story so that I never felt like I didn't understand what was going on. Mala and Kavik were very well-developed for such a short story and I hope this is just the beginning of a new series.