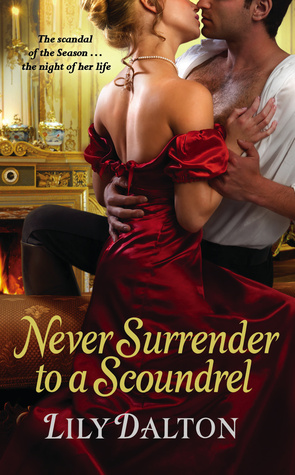 Never Surrender to a Scoundrel by Lily Dalton
For Ages 18+ (Language, Sensuality)
Historical Romance -- Regency England

Forever -- Expected Publication: January 27, 2015
Ebook, 384 pages
Read in January 2015
Received from Netgalley
THEMES
Shotgun Marriage, Spies
SUMMARY
A Reckless Desire...

Lady Clarissa Bevington is in trouble. A reckless indiscretion has left her with two choices: ruin her family with the scandal of the Season, or marry Mr. Kincraig, the notorious scoundrel mistaken as her lover. Desperate and disgraced, Clarissa vows to love and cherish a veritable stranger, a man whose eyes smolder with danger—and undeniable desire...

An Unexpected Arrangement...

As an agent for the Crown, Lord Donovan Blackmer has spent the last two years guarding Clarissa's grandfather from an unknown assassin while disguised as the rakehell Kincraig. His mission may now be over, but his duty has just begun. Salvaging his beautiful, impetuous wife's virtue will cost him his fortune and his position as an officer—but it might save him from the ghosts that haunt his own past. When their marriage "in name only" leads to exquisite seduction, Donovan must risk the only thing he has left to lose . . . his heart.


FIRST LINE
"What do you mean 'it seems Mr. Kincraig isn't our cousin after all'?" Clarissa Bevington asked, shocked, looking between her grandfather, the elderly Earl of Wolverton, and the tall, beared man in question.
MY THOUGHTS
Never Surrender to a Scoundrel
picks up right where its prequel,
Never Entice an Earl
, ends and throws readers into an entertaining romance between two unlikely characters. While I have enjoyed the other books in this series, this one is easily my favorite and really shows how Lily Dalton has grown as an author.
Readers of this series will be familiar with the rakish Mr. Kincraig who is the long-lost heir to the Wolverton estate. Now his true identity as an agent of the crown trying to protect the earl is revealed after being unfairly blamed for the scandalous situation of the youngest Bevington granddaughter, Clarissa. For her part, Clarissa did not mean for Mr. Kincraig to be blamed for her newly discovered pregnancy, but now her family is forcing them down the aisle and she feels guilty for ruining his life. The rest of the book portrays these two as they maneuver the early days of their marriage as they get to know one another.
While the premise is a little far-fetched and outraged me a couple times with the way that Kincraig/Blackmer was treated by Clarissa's family, I felt like it was saved by the characters. I found them both to be surprisingly mature about the whole situation and they thankfully didn't go react in unrealistic ways. For example, I was worried that Blackmer would spend much of the book seeking revenge against Clarissa, but he quickly accepted that she did not mean for this to happen and he decides to just make the best of it. Clarissa starts off as a naive young lady who develops very quickly and wants to do what is right by her new husband.
Besides the two main characters, readers also get to meet Blackmer's family who he has not see in years and I loved the scenes with all of them. Families getting over their issues is a theme that I really enjoy reading about and I thought the author did a good job with their depiction. Of course, there are plenty of scenes with Clarissa's sisters who got their own stories earlier in the series. They do have their typical "look how happy we are" moments, but they do have a valid purpose in this book that made up for that cliche.
The only thing that I would warn future readers about with
Never Surrender to a Scoundrel
is the ending. The pace of the story was moving along well until the last few chapters. All of a sudden the sweet love story was taken over by a dastardly plot from someone in Blackmer's past. It seemed a little out of the blue to me and I was disappointed with the easy way that everything got tied up. But, I think that this is something that will improve with experience on the author's part and I look forward to many more books from her.
I received a free copy of this book from Forever via Netgalley in exchange for an honest review.
4 STARS
STEAM LEVEL
Flush
-- Detailed descriptions of lovemaking though nothing overly graphic.
3. Never Surrender to a Scoundrel