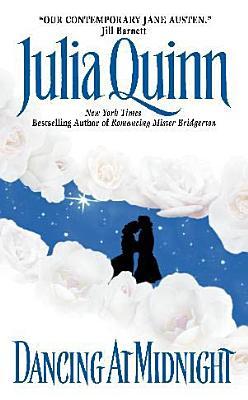 Dancing at Midnight by Julia Quinn
For Ages 18+ (Language, Sensuality)
Historical Romance -- Regency England

Avon -- Published in 2004
Mass Market Paperback, 375 pages
Read in January 2015 (re-read)


THEMES
Tortured Hero
SUMMARY
Lady Arabella Blydon can sense the secrets smoldering behind the dark, penetrating gaze of Lord John Blackwood. Still she desires this handsome, mysterious stranger who stirs her passions like no other man--even as he warns her to stay away.

War scarred Lord John's body and soul. But this brazen, intoxicating, infuriating bluestocking poses an even greater threat: she is forcing him to care again. For Belle is a woman of bold, independent spirit, equally unconcerned about society's petty restrictions and love's hidden perils. And the beautiful, determined schemer will not rest until she returns joy and light to the damaged lord's life...and wins a place in his shuttered heart forever.
FIRST LINE
"If one by one, you weeded all the world--Arabella Blydon blinked.
MY THOUGHTS
Julia Quinn is the author that started my obsession with historical romances and Dancing at Midnight was one of the first of her books that I tried...after the Bridgerton series, of course. One of my goals this year is to re-read old favorites in order to get out of reading slumps than just pushing through and not finishing anything. So, when I found myself disinterested in any "new" books, I picked this up and was happy to discover that it holds up pretty well after all these years.
Lady Arabella (Bella) seems like a Regency-era heroine. She is beautiful, kind, and well-liked by most people in high society. But, she also has a bluestocking side and an independent streak that seems to trouble suitors. Things seems to change when she goes to visit her cousin Emma and her new husband's estate and meets their mysterious neighbor. The newly titled Lord Blackwood (John) is a military veteran who has just purchased a house and is trying to figure out what to do with his life now. Meeting Bella throws his life into chaos and he is forced to face the darkness of his past in order to achieve happiness.
I love a good tortured hero and John was one of my first experiences with the trope. I was pleasantly surprised at how likable I still found him despite his bleak outlook on life and himself. He did frustrate me (and Bella) with his constant waffling about whether he wanted to pursue Bella or not, but I understood his reasoning. For her part, Bella really stood out to me on this re-read. I didn't remember her being so logical in her pursuit of John. While she did pull a trick to get him to declare his intentions, it really seemed like that was the only way to get him to admit them. I also loved how she embraced her intelligence and love of reading.
All in all, I found Dancing at Midnight to be just as enjoyable as the first time I read it. I did notice a few cliched moments like the dramatic rescue and some overdone flowery language, but they didn't really decrease my enjoyment. It is not perfect, but it helped pull me out of a reading slump and I found myself wanting to continue working my way through Julia Quinn's backlist again.
STEAM LEVEL
Flush
-- Detailed descriptions of lovemaking though nothing overly graphic.
FAVORITE QUOTE
"My love has eyes blue as the sky.
Her warm, bright smile makes me want to try
To give her the world,
And when she's curled
Up in my arms where I can feel her touch,
I realize again that I love her so much.
My world has turned from black to white.
Kissing in starlight, basking in sunlight, dancing at midnight."
BOOKS IN THE SERIES
1. Splendid
2. Dancing at Midnight
3. Minx
3.5. A Tale of Two Sisters