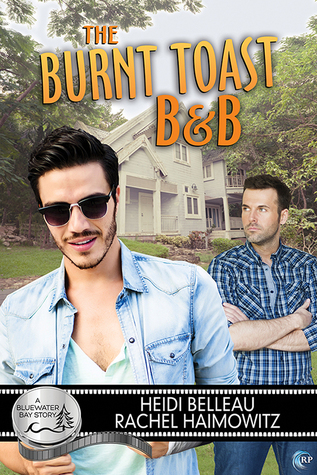 The Burnt Toast B&B by Heidi Belleau and Rachel Haimowitz
For Ages 18+ (Language, Sensuality)
Male/Male Romance -- Contemporary

Riptide Publishing -- Published on January 10, 2015
Ebook, 241 pages
Read in January 2015
Received from Netgalley
THEMES
Opposites Attract, Small Town Setting
SUMMARY
After breaking his arm on set, Wolf's Landing stuntman Ginsberg Sloan finds himself temporarily out of work. Luckily, Bluewater Bay's worst B&B has cheap long-term rates, and Ginsberg's not too proud to take advantage of them.

Derrick Richards, a grizzled laid-off logger, inherited the B&B after his parents' untimely deaths. Making beds and cooking sunny-side-up eggs is hardly Derrick's idea of a man's way to make a living, but just as he's decided to shut the place down, Ginsberg shows up on his doorstep, pitiful and soaking wet, and Derrick can hardly send him packing.

Not outright, at least.

The plan? Carry on the B&B's tradition of terrible customer service and even worse food until the pampered city-boy leaves voluntarily. What Derrick doesn't count on, though, is that the lousier he gets at hosting, the more he convinces bored, busybody Ginsberg to try to get the B&B back on track. And he definitely doesn't count on the growing attraction between them, or how much more he learns from Ginsberg than just how to put out kitchen fires.
FIRST LINE
"Derrick recited the order to himself as he clattered around his parents' cramped kitchen: two plates of eggs, one of them scrambled and the other soft-boiled."
MY THOUGHTS
While I have heard of the writing duo of Heidi Belleau and Rachel Haimowitz, I haven't read any of their books since I find the subject matter to be a bit dark for my taste. But, I have been enjoying the Bluewater Bay series and I wanted to know more about stuntman Ginsburg who had a decent role in the first book,
Starstruck
. This was a very unique romance and one that I really had a great time reading.
The Burnt Toast B&B
starts off with Derrick Richards, a logger who left a job he loved to care for his parents' bed and breakfast after their deaths. Derrick tries to be a good host, but things like cooking an edible breakfast and keeping things tidy are a struggle for him to deal with alone. So he decides to just let it go until Hollywood stuntman Ginsburg shows up injured and without a place to sleep for the time being. Together these two work out the bugs in the bed and breakfast and deal with their own attraction to one another.
For me, the star of this book was Ginsburg. I liked him in
Starstruck
and fell for him even harder here. I loved how comfortable he was with himself and his place in the world. It is obvious that it took some time for him to get to this level and I admired that. In terms of Derrick, I did like him and thought his development was well-written. My biggest issue was with the way that he treated Ginsburg especially towards the end. He needed to do some serious groveling and, while he did, I wasn't sure if it was enough.
Despite my problem with some aspects of Derrick's personality, I had a great time reading
The Burnt Toast B&B
. I had never read a book with a main character who was trans and I found it to be refreshing and very respectful. I also loved the fact that, while Derrick and Ginsburg obviously found each other attractive, their relationship was based on friendship first before jumping into bed. I am definitely excited to see more of Bluewater Bay in the upcoming Valentine's Day anthology,
Lights, Camera, Cupid
.
I received a free copy of this book from Riptide Publishing via Netgalley in exchange for an honest review.
STEAM LEVEL
Flush -- Detailed descriptions of lovemaking though nothing overly graphic.