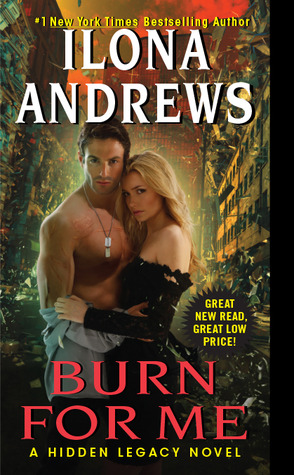 Burn for Me by Ilona Andrews; Narrated by Renee Raudman
For Ages 18+ (Language, Violence)
Urban Fantasy

Avon -- Published in October 2014
Audiobook,12 hours and 45 minutes
Read in November 2014
Purchased from Audible
THEMES
Alternate Universe, First Person Narrative, Kick-Ass Heroine
SUMMARY
Nevada Baylor is faced with the most challenging case of her detective career—a suicide mission to bring in a suspect in a volatile case. Nevada isn't sure she has the chops. Her quarry is a Prime, the highest rank of magic user, who can set anyone and anything on fire.

Then she's kidnapped by Connor "Mad" Rogan—a darkly tempting billionaire with equally devastating powers. Torn between wanting to run or surrender to their overwhelming attraction, Nevada must join forces with Rogan to stay alive.

Rogan's after the same target, so he needs Nevada. But she's getting under his skin, making him care about someone other than himself for a change. And, as Rogan has learned, love can be as perilous as death, especially in the magic world.


FIRST LINE
"I can't let you do this. I won't. Kelly, the man is insane."
MY THOUGHTS
I have been meaning to give Ilona Andrews (writing duo Ilona and Gordon Andrews) a try and just hadn't gotten around to it. So when they released the first in a new urban fantasy series, I decided to jump in and was swept away from the very beginning.
Burn for Me
was an amazing reading/listening experience with great characters, interesting world building, and plenty of potential for an epic series.

The Hidden Legacy series takes place in an alternate version of Houston where magic is commonplace and used a status symbol. It is explained that in the 19th century a special serum was created to give people magical powers. This serum was used (at first) by the military, but things quickly got out of control. By the time the serum was destroyed, magic had been permanently entered into the human species and was passed down through generations. More than a hundred years later, the most prominent families around the world base their social, political, and economic power on their magical prowess.
The heroine and narrator of Burn for Me is Nevada Baylor who runs her family's private investigation firm. She specializes in cheating spouses and minor white collar criminals with her ability to magically sense lies helping a great deal. Unfortunately, Baylor Investigations is owned by a larger corporation and Nevada is practically forced into searching for a dangerous criminal for them despite the fact that she may die in the process. Things do get even more complicated when Mad Rogan, a well-known Prime (most powerful class of magic user), forces himself into the case for his own reasons.
I really loved Nevada. She has been the primary breadwinner for her family since her father's death and she takes that responsibility very seriously. There are moments where she is a bit uptight and stubborn about how to handle situations, but that is easy to understand given her position. While she is devoted to her job, Nevada does know how to loosen up at times and her family really helps with that. The Baylors were so much fun especially Grandma Frida and her obsession with mechanics. They helped bring some humor to an otherwise dark story and provided some stability for Nevada which I have a feeling she will need as the series progresses.
Connor "Mad" Rogan is an intriguing character. He is an extremely powerful magic user and is very aware of how dangerous he is. His arrogance and complete disregard for the feelings of the people around him was really irritating at first. But, the authors somehow figured out how to fascinate me with him. He reminds me of Barrons from Karen Marie Moning's Fever series and I am excited to see how he evolves as a character especially after reading the last scene.

While there are hints of attraction between Nevada and Rogan, I want to emphasize that this is not a paranormal romance. The emphasis is on the world and the character development at the moment. I can see some definite potential, but I have a feeling it is a ways down the road. But, despite the fact that I always want more romance, I was satisfied with the plot and the lack of sexy times.

This is my first experience listening to a Renee Raudman narration and I thoroughly enjoyed it. She does a great job with the all the different ages and accents. Her Grandma Frida voice made me giggle every single time. I will definitely be checking out more of her work.
4.5 STARS
STEAM LEVEL
Blush
-- Kisses with no/minor touching.
FAVORITE QUOTE
"One school of thought says that the best way to handle an issue like this is exposure therapy," Mad Rogan said. "For example, if you're terrified of snakes, repeated handling of them will cure it."
"I'm not handling your snake."
OTHER REVIEWS
Dear Author (B+)