Happy Thursday, everyone! This is a new feature hosted by Buried Under Romance and Love Saves the World.
What is Throwback Thursday: Historical Romance Edition?
Traditionally, Throwback Thursday celebrates nostalgia, asking participants to post a personal photo or an image from their past -- usually from 5 to 10 years ago. There are a lot of book blogs that also do a book-related Throwback Thursday. Since Tin and Mary C. are unapologetic lovers of historical romances, they've decided to focus on this beloved genre.
Here are the rules:
1. It must be posted on a Thursday.
2. It must be a historical romance novel published before October 2008.
THIS WEEK I AM FEATURING...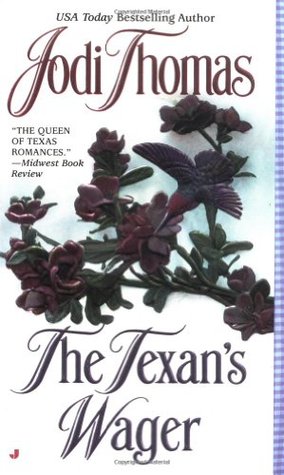 The Texan's Wager
(Wife Lottery #1) by Jodi Thomas
Originally Published in October 2002

Thrown off a wagon train with two other women and trying to avoid jail for a murder they committed, Bailee Moore agrees to enter a "wife lottery"--a ploy concocted by the Cedar Point sheriff to secure wives for the men in the small Texas town.

For the sensible Bailee, however, marrying Carter McKoy is like exchanging one life sentence for another--especially since her new husband hasn't even seen fit to utter a single word in her presence. But still, she can't help thinking that something about this strong, silent farmer could be the key to leaving her troubled past behind...and making a worthy wager with her heart.
*******************
I really enjoy western-themed romances even though I don't get to read them very often. This book introduced me to Jodi Thomas and it was a fabulous beginning. Carter's journey still makes me teary-eyed. I am always going to root for the troubled beta hero. Bailee is a decent heroine who tries to understand Carter's quirks and gets the happy ending she deserves.