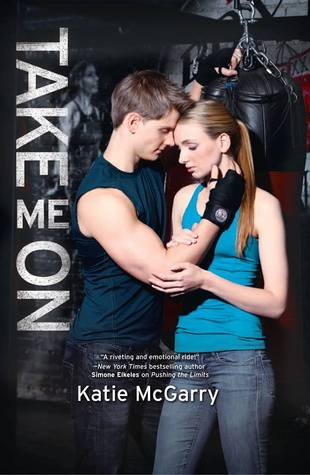 Take Me On by Katie McGarry
For Ages 15+ (Language, Mild Sensuality)
Young Adult -- Contemporary

Harlequin Teen -- Published in May 2015
Ebook, 304 pages
Read in November 2014
Borrowed from the Library
THEMES
Dual Points of View, Sports
SUMMARY
Champion kickboxer Haley swore she'd never set foot in the ring again after one tragic night. But then the guy she can't stop thinking about accepts a mixed martial arts fight in her honor. Suddenly, Haley has to train West Young. All attitude, West is everything Haley promised herself she'd stay away from. Yet he won't last five seconds in the ring without her help.

West is keeping a big secret from Haley. About who he really is. But helping her-fighting for her-is a shot at redemption. Especially since it's his fault his family is falling apart. He can't change the past, but maybe he can change Haley's future.

Hayley and West have agreed to keep their relationship strictly in the ring. But as an unexpected bond forms between them and attraction mocks their best intentions, they'll face their darkest fears and discover love is worth fighting for.


FIRST LINE
"A door squeaks open at the far end of the barren hallway and the clicking of high heels echoes off the row of metal post-office boxes."
MY THOUGHTS
I have thoroughly enjoyed Katie McGarry's YA contemporary romances for their wonderful character development and plots that rarely seem contrived or melodramatic. While
Take Me On
is not my favorite of the series, I still found it to be emotional and enjoyable.
It focuses on former kickboxing champion, Haley, and West, the troublemaker brother of the heroine of
Crash Into You
. They meet when Haley is trying to take some medicine home to her father and gets waylaid by two guys who want to cause her trouble. West happens upon them and attempts to help Haley out. Unfortunately, one of the guys is the brother of Haley's ex-boyfriend and they decide to take revenge on West by challenging him to a MMA bout. Haley and West are then paired together to figure out a way to train West to survive in the ring against trained fighters.
I really liked both Haley and West. They have their own issues with Haley's family relying on the 'charity' of her uncle after losing their house and West feeling like he can never be good enough for his family. They come from different socioeconomic backgrounds, but, through training, figure out that they can connect on another level. I enjoyed seeing how strong Haley was with her devotion to her family. I also understood her reluctance to jump back into the ring after a traumatic experience. West really broke my heart with his constant attempts to help out the people he loved and then everything backfiring on him. I loved them these two separate and together which is always a good sign in a romance.
The main issue I had with
Take Me On
was a subplot involving West's mother. He figures out that she keeps meeting someone at a bar on the other side of town and he tries to figure out what she is doing. This was a decent mystery until the truth came out and I felt like it was really random. I don't think it really helped me understand West's parents' actions and actually made me even more irritated with his mother.
Otherwise, I thought this was another successful story in the Pushing the Limits universe. I love seeing the random cameos from the other couples especially Isaiah and Rachel from
Crash Into You
. I definitely hope Katie McGarry continues this series because I want to see Abby and Ethan get their story soon.
3.5 STARS
STEAM LEVEL
Blush
-- Kisses with no/minor touching.
FAVORITE QUOTE
"I've had a lot of time to think and even though the silence is new, the loneliness isn't. How is it possible to have been surrounded by people and never feel complete?"