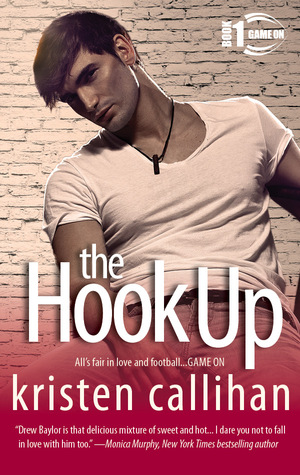 The Hook Up by Kristen Callihan
For Ages 17+ (Language, Sensuality)
New Adult -- Contemporary

Plain Jane Books -- Published in September 2014
Ebook, 335 pages
Read in October 2014
Purchased from Amazon
THEMES
Dual Points of View, Sports
SUMMARY
The rules: no kissing on the mouth, no staying the night, no telling anyone, and above all… No falling in love.

Anna Jones just wants to finish college and figure out her life. Falling for star quarterback Drew Baylor is certainly not on her to do list. Confident and charming, he lives in the limelight and is way too gorgeous for his own good. If only she could ignore his heated stares and stop thinking about doing hot and dirty things with him. Easy right?

Too bad he's committed to making her break every rule…Football has been good to Drew. It's given him recognition, two National Championships, and the Heisman. But what he really craves is sexy yet prickly Anna Jones. Her cutting humor and blatant disregard for his fame turns him on like nothing else. But there's one problem: she's shut him down. Completely.

That is until a chance encounter leads to the hottest sex of their lives, along with the possibility of something great. Unfortunately, Anna wants it to remain a hook up. Now it's up to Drew to tempt her with more: more sex, more satisfaction, more time with him. Until she's truly hooked. It's a good thing Drew knows all about winning. All's fair in love and football…Game on.
FIRST LINE
"I'm late and it's the first day of class."
MY THOUGHTS
My first thought after finishing
The Hook Up
was 'Holy crap! Am I actually becoming a fan of new adult romance?' I have been very hesitant about this super-popular genre mostly because the ones that I have tried are guilty of melodramatics, immature characters, and tragedy just for tragedy's sake. But, I have found a few NA authors I've enjoyed (like Lauren Layne and Sarina Bowen) and I had to try Kristen Callihan's new series due to the fact that I am a huge fan of her paranormal series, Darkest London.
Drew and Anna meet on the first day of classes in the fall of their senior year in college. The tension is evident from the very beginning and continues until they hook up at a frat party. Afterwards, they decide to keep seeing each other though they have different goals for this situation: Anna just wants to be friends with benefits while Drew is already head over heels in love and wants a relationship. And, of course, neither gets what they want after awhile which causes plenty of drama.
I fell in love with Drew from the very first chapter that we got into his head. He takes the athlete stereotype and shows readers (and eventually) Anna that there is much more to him than a Heisman Trophy and two National Championships. I really enjoyed the fact that he was the first to fall in love and he struggled with proving his feelings to the reluctant Anna.
Anna is a character that most readers will identify with. She is almost done with college and dealing with the fact that she isn't sure what she is going to do once she leaves. Her relationship with her mother is strained and she never has had a decent role model when it comes to healthy romance. That is just one of the reasons why she is hesitant about dating a superstar like Drew Baylor. While I did get a little frustrated with her inability to fully trust Drew, I really ended up liking Anna and understood her reasons for balking at such a public relationship.
The romance was just too die for. They get the physical aspect out of the way earlier on so that most of the book is spent developing the emotional side. I loved seeing them get to know each other through study hours and hook ups. Each of them has secrets and it was wonderful to see them learn to share them with one another. They do have to deal with some issues related to being in the public eye, but I thought it was handled maturely and realistically.
The Hook Up
was just an amazing story from beginning to end. Drew and Anna are one of my favorite couples of 2014 and I look forward to seeing Drew's best friend, Gray, get his own romance next year. I highly recommend this to anyone who reads my blog even if you aren't a fan of the New Adult genre...Kristen Callihan knows what she is doing.
STEAM LEVEL
Flush
-- Detailed descriptions of lovemaking though nothing overly graphic.
FAVORITE QUOTE
Tonight was obviously an ill-advised hook up for her. And I'm so screwed up because it was the best thing that has ever happened to me.
BOOKS IN THE SERIES
1. The Hook Up
2. The Friend Zone (Coming 2015)
3. The Game Plan (Coming 2015)
OTHER REVIEWS
Dear Author (B)
The Fiction Vixen (A)
On A Book Bender (5 Stars)