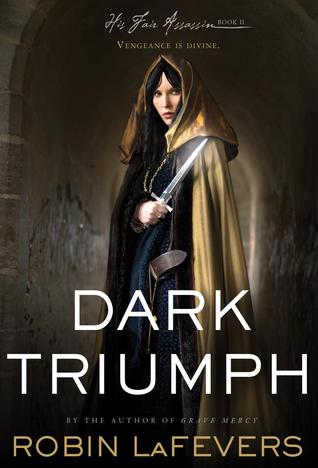 Dark Triumph by Robin LaFevers
For Ages 15+ (Violence, Sensuality, Language)
Young Adult -- Historical Fantasy

Houghton Mifflin -- Published in April 2013
Ebook, 405 pages
Read in November 2014
Received from Netgalley
THEMES
Kick Ass Heroine, Tormented Heroine, First Person Narrative
SUMMARY
When Sybella arrived at the doorstep of St Mortain half mad with grief and despair the convent were only too happy to offer her refuge - but at a price. The sisters of this convent serve Death, and with Sybella naturally skilled in both the arts of death and seduction, she could become one of their most dangerous weapons.

But her assassin's skills are little comfort when the convent returns her to the life that nearly drove her mad. Her father's rage and brutality are terrifying, and her brother's love is equally monstrous. But when Sybella discovers an unexpected ally she discovers that a daughter of Death may find something other than vengeance to live for.



FIRST LINE
"I did not arrive at the convent of Saint Mortain some green stripling."
MY THOUGHTS
Warning! This review contains minor spoilers for the first His Fair Assassin book, Grave Mercy.
I read and enjoyed
Grave Mercy
a few weeks ago. While reading about Ismae and her involvement with the St. Mortain sisters, I kept getting distracted by the mysterious Sybella. Readers first see her as a wild, tormented young woman with some serious demons in her past.
Grave Mercy
doesn't delve too deep into her character so I was excited to learn about her in this book.
Dark Triumph
opens with Sybella acting as a spy for St. Mortain in her home. Her father is the villainous D'Albret who spent most of the first book figuring out a way to marry the young duchess of Brittany in order to increase his power and wealth. When he was unsuccessful, he gathered his allies and is now seeking vengeance by taking over Brittany himself. Sybella is assigned to report on her father's movements for both the duchess and the convent though she has trouble dealing with the return to the place of her greatest torments.
I became so enamored with Sybella in this book and really admire her strength despite her family's constant attempts to squash it. Besides her cruel father, she also deals with an overly attentive brother, traitorous ladies in waiting, and a multitude of other issues. Sybella fully embraces the skills that she learned from the sisters and I think it gave her a sense of purpose that she desperately needed. Eventually, readers learn the reason behind her wildness in
Grave Mercy
and my heart broke for her the entire time.
Like the first book, there is a small romance that doesn't overshadow the main story, but just adds something sweet to a dark tale. The male romantic lead is the legendary Beast of Waroch who acts as the duchess's champion in all things. I loved this pairing and how different they were. Beast is so loyal to his duchess and genuine in his affection that he is perfect for Sybella who has always felt like she has to watch her back.
Dark Triumph
is much darker in tone than
Grave Mercy,
mostly due to the torments that Sybella faces at her father's house. The plot is also much more action-based than its politically-inclined prequel. The Duchess of Brittany is still trying to save her small country from the French and Sybella is instrumental in the continuation of this storyline. Readers also get to learn more about St. Mortain and what he really desires from his daughters. And, of course, I can't forget to mention the ever intriguing Reverend Mother whose loyalties are still a mystery.
I can't wait to get my hands on the next book in the trilogy (
Mortal Heart
) which will focus on the sweet Annith who is being kept at the convent for some reason. It is obvious that the fate of Brittany still lies in the balance and the daughters of St. Mortain will continue to be a big part of the result. I definitely recommend this book for readers who enjoy a little fantasy with their historical fiction and don't mind some politics on the side.
I received a free copy of this book from Houghton Mifflin via Netgalley in exchange for an honest review.
4 STARS
STEAM LEVEL
Glow
-- Implied or subtle descriptions of lovemaking.
FAVORITE QUOTE
"Hate cannot be fought with hate. Evil cannot be conquered by darkness. Only love has the power to conquer them both."
BOOKS IN THE SERIES
1.
Grave Mercy
2. Dark Triumph
3. Mortal Heart