Hosted by Elena at Ellie Reads Fiction. This is a monthly meme where bloggers (and readers) can share books that they read during the month that they think others need to check out. Feel free to link up at Elena's blog.
Chained By Night (Moonbound Clan Vampires #2) by Larissa Ione (paranormal romance)
THE FUTURE OF HIS TRIBE
Leader of the vampire clan MoonBound, Hunter will do what he must to save his people from extinction - or worse, a torturous eternity as vampire slaves and subjects of human experimentation. To keep his enemies at bay, he has agreed to mate a rival clan leader's daughter in return for peace between the clans and an ally in the looming war with the humans.

THE LOVER OF HIS SOUL
But survival comes at a price. First, Hunter must break an ancient curse by successfully negotiating three deadly tests. Then he must resist the searing passions of the gorgeous vampire warrior he despises but is bound to mate. Will Hunter stay true to his word? Or will he risk everything for the woman he really loves: the vampire seductress's identical twin sister?
*********************************

Innocent In Death (In Death #24) by JD Robb (romantic suspense)
New York Lieutenant Eve Dallas doesn't like to see innocent people murdered. And the death of Craig Foster is clearly a murder. He was seemingly ordinary history teacher, but uncovers some extraordinary surprises. Foster's death devastated his young wife, who'd sent him to work that day with a lovingly packed lunch. It shocked his colleagues at the private school, too, and as for the ten-year-old girls who found him in his classroom in a pool of bodily fluids-they may have been traumatized for life.

Eve soon determines that Foster's homemade lunch was tainted with deadly ricin, and that Mr. Foster's colleagues have some startling secrets of their own. It's Eve's job to sort it out- and discover why someone would have done this to a man who seemed so inoffensive, so pleasant... so innocent.

Now Magdalena Percell... there's someone Eve can picture as a murder victim. Possibly at Eve's own hands. The slinky blonde-an old flame of her billionaire husband, Roarke-has arrived in New York, and she's anything but innocent. Roarke seems blind to Magdalena's manipulation, and he insists that the occasional lunch or business meeting with her is nothing to worry about... and none of Eve's business. Consumed by her jealousy--and Roarke's indifference to it, she is unnerved by the situation that she finds it hard to focus on her case. Still, she'll have to put aside her feelings, for a while at least-because another man has just turned up dead.

Eve knows all too well that innocence can be a facade. Keeping that in mind may help her solve this case at last. But it may also tear apart her marriage.
*********************************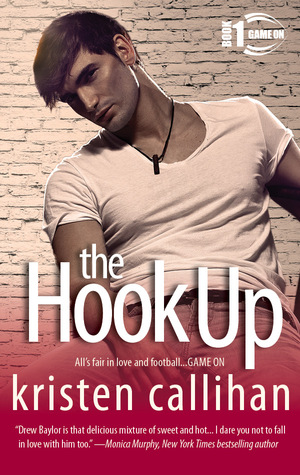 The Hook Up (Game On #1) by Kristen Callihan (NA contemporary)

The rules: no kissing on the mouth, no staying the night, no telling anyone, and above all… No falling in love.

Anna Jones just wants to finish college and figure out her life. Falling for star quarterback Drew Baylor is certainly not on her to do list. Confident and charming, he lives in the limelight and is way too gorgeous for his own good. If only she could ignore his heated stares and stop thinking about doing hot and dirty things with him. Easy right?

Too bad he's committed to making her break every rule…

Football has been good to Drew. It's given him recognition, two National Championships, and the Heisman. But what he really craves is sexy yet prickly Anna Jones. Her cutting humor and blatant disregard for his fame turns him on like nothing else. But there's one problem: she's shut him down. Completely.

That is until a chance encounter leads to the hottest sex of their lives, along with the possibility of something great. Unfortunately, Anna wants it to remain a hook up. Now it's up to Drew to tempt her with more: more sex, more satisfaction, more time with him. Until she's truly hooked. It's a good thing Drew knows all about winning.

All's fair in love and football…Game on.
*********************************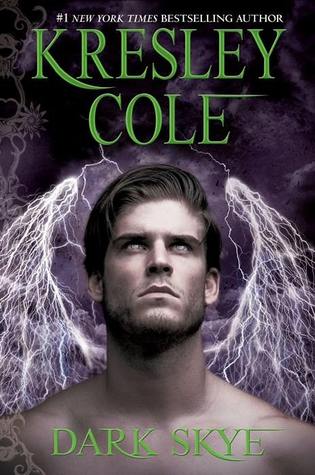 Dark Skye (Immortals After Dark #1 ) by Kresley Cole (paranormal romance)
ETERNAL OBSESSION

As a boy, Thronos, prince of Skye Hall, loved Lanthe, a mischievous Sorceri girl who made him question everything about his Vrekener clan. But when the two got caught in the middle of their families' war, tragedy struck, leaving Thronos and Lanthe bitter enemies. Though centuries have passed, nothing can cool his seething need for the beautiful enchantress who scarred his body—and left an even deeper impression on his soul.

ENDLESS YEARNING

Lanthe, a once-formidable sorceress struggling to reclaim her gifts, searches for love and acceptance with all the wrong immortal suitors. But she's never forgotten Thronos, the magnificent silver-eyed boy who protected her until she was ripped from the shelter of his arms. One harrowing night changed everything between them. Now he's a notorious warlord with a blood vendetta against Lanthe, hunting her relentlessly.

CAN THE HEAT OF DESIRE BURN BRIGHTER THAN VENGEANCE?

With their families locked in conflict and battles raging all around them, will Thronos and Lanthe succumb to the brutal chaos that threatens everything they cherish? Or will the fragile bond they formed so long ago spark a passion strong enough to withstand even the darkest doubts?