Happy Thursday, everyone! This is a new feature hosted by Buried Under Romance and Love Saves the World.
What is Throwback Thursday: Historical Romance Edition?
Traditionally, Throwback Thursday celebrates nostalgia, asking participants to post a personal photo or an image from their past -- usually from 5 to 10 years ago. There are a lot of book blogs that also do a book-related Throwback Thursday. Since Tin and Mary C. are unapologetic lovers of historical romances, they've decided to focus on this beloved genre.
Here are the rules:
1. It must be posted on a Thursday.
2. It must be a historical romance novel published before October 2008.
THIS WEEK I AM FEATURING...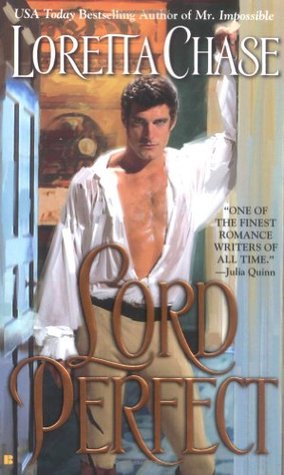 Lord Perfect
by Loretta Chase
Originally Published in March 2006

IDEAL...The heir to the Earl of Hargate, Benedict Carsington, Viscount Rathbourne, is the perfect aristocrat. Tall, dark, and handsome, he is known for his impeccable manners and good breeding. Benedict knows all the rules and has no trouble following them—until she enters his life.
INFAMOUS...Bathsheba Wingate belongs to the rotten branch of the DeLucey family: a notorious lot of liars, frauds, and swindlers. Small wonder her husband's high-born family disowned him. Now widowed, she's determined to give her daughter a stable life and a proper upbringing. Nothing and no one will disrupt Bathsheba's plans—until he enters her life…

SCANDALOUS...Then Bathsheba's hoyden daughter lures Benedict's precocious nephew into a quest for a legendary treasure. To recover the would-be knights errant, Benedict and Bathsheba must embark on a rescue mission that puts them in dangerous, intimate proximity. It's a situation virtually guaranteed to end in mayhem—even scandal!—if anyone else were involved. But Benedict is in perfect control of events. Perfect control, despite his mad desire to break all the rules. Perfect control. Really.
**************
It is no secret that I am a huge fan of stoic, rule-following heroes and Benedict Carsington is a great example of this character type. I love it when these men are forced into situations with women who test both their intellect and their manners. I really liked Bathsheba as well...though her name took some getting used to. Plus this was the first time we get to learn about the infamous DeLucey family and get to meet Peregrine and Olivia who get their own story in
Last Night's Scandal
.
Here's some other reviews for this that may help you decided whether to give it a try:
All About Romance (A-)
Dear Author (B)
Mrs. Giggles (78 out of 100)