Happy Thursday, everyone! This is a new feature hosted by Buried Under Romance and Love Saves the World.
What is Throwback Thursday: Historical Romance Edition?
Traditionally, Throwback Thursday celebrates nostalgia, asking participants to post a personal photo or an image from their past -- usually from 5 to 10 years ago. There are a lot of book blogs that also do a book-related Throwback Thursday. Since Tin and Mary C. are unapologetic lovers of historical romances, they've decided to focus on this beloved genre.
Here are the rules:
1. It must be posted on a Thursday.
2. It must be a historical romance novel published before October 2008.
THIS WEEK I AM FEATURING...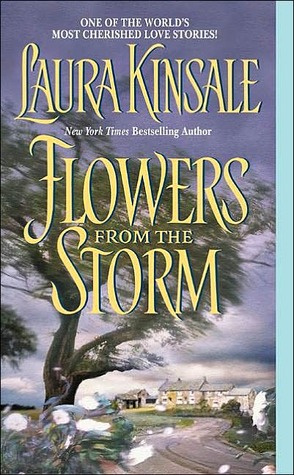 Flowers From the Storm
by Laura Kinsale
Originally Published in 1992

The Duke of Jervaulx was brilliant - and dangerous. Considered dissolute, reckless, and extravagant, he was transparently referred to as the "D of J" in scandal sheets. But sometimes the most womanizing rakehell can be irresistible, and even his most causal attentions fascinated the sheltered Maddy Timms.

Then one fateful day she receives the shocking news - the duke is lost to the world. And Maddy knows it is her destiny to help him and her only chance to find the true man behind the wicked facade.

But she never dreamed her gentle, healing touch would alter his life and her own so completely - and bind them together in need, desire...and love.
*****************
A classic historical romance that features two characters that couldn't be more opposite. I had heard amazing things about this story and, while it took some time to get used to the writing style, I thought it met most of my expectations. It is one of those stories that I couldn't possibly review properly due to its scope and emotional impact. Here's some reviews that say why it is wonderful better than I can: