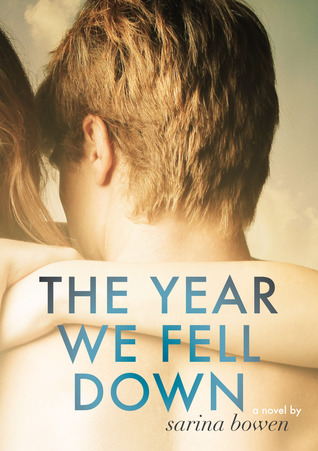 The Year We Fell Down by Sarina Bowen
For Ages 15+ (Sensuality, Language)
New Adult -- Contemporary

Rennie Road Books -- Published in March 2014
Ebook, 270 pages
Read in October 2014
Purchased from Amazon
THEMES
Dual POVs, Love Triangle, Sports
SUMMARY
The sport she loves is out of reach. The boy she loves wants someone else. What now?

She expected to start Harkness College as a varsity ice hockey player. But a serious accident means that Corey Callahan will start school in a wheelchair instead. Across the hall, in the other handicapped-accessible dorm room, lives the too-delicious-to-be real Adam Hartley, another would-be hockey star with his leg broken in two places. He's way out of Corey's league.

Also, he's taken. Nevertheless, an unlikely alliance blooms between Corey and Hartley in the "gimp ghetto" of McHerrin Hall. Over tequila, perilously balanced dining hall trays, and video games, the two cope with disappointments that nobody else understands.

They're just friends, of course, until one night when things fall apart. Or fall together. All Corey knows is that she's falling. Hard. But will Hartley set aside his trophy girl to love someone as broken as Corey? If he won't, she will need to find the courage to make a life for herself at Harkness — one which does not revolve around the sport she can no longer play, or the brown-eyed boy who's afraid to love her back.
FIRST LINE
"This looks promising." My mother said, eyeing the dormitory's ivy-covered facade.
MY THOUGHTS
I decided to try the Ivy Years series after reading a fabulous review over at
Smexybooks
. I haven't been shy with my hesitations about the New Adult genre. But, I have found quite a few authors that I can trust to give me well-developed characters, appropriately written romance, and a lack of angst just for angst's sake. Sarina Bowen has definitely put herself in this group with
The Year We Fell Down
.
The two narrators of this book are Corrine "Corey" Callahan and Adam Hartley who meet on the move-in day at the elite Harkness College. Corey suffered a serious spinal injury which forced her to give up her dream of playing college hockey and adjust to life using either a wheelchair or crutches. She is given an accessible dorm room and she meets Hartley when he moves into his own accessible dorm. Hartley is also a hockey player who is unable to play at the moment due to breaking his leg in a rock climbing accident. These two bond over their love for the sport and their frustration with their injuries. This bond slowly grows into friendship and then possibly into something more.
I adored both of these characters. I really admired Corey's strength and determination to remain positive after her injury. It was also great that Sarina Bowen made sure readers knew that the wheelchair did not define Corey's character and that she handled that aspect very respectfully. I appreciated the moments of vulnerability that Corey suffered to make her a much more well-rounded character. Hartley was the type of guy that a lot of girls dream they will meet at college. He's nice, funny, and lively. His childhood wasn't the easiest, but readers can tell he is trying to not let that take over his present.
Readers get to know quite a bit about the other students at Harkness. I loved Corey's roommate, Dana, who helped her in any way she could without smothering her. And I have to mention Bridger, Hartley's best friend, and Bridger's little sister, Lucy, who definitely have a story to tell in
The Year We Hid Away
. The only character I really didn't care for was Hartley's snobby girlfriend, Stacia, who just got under my skin. I could never truly believe that a guy as cool as Hartley would stay with someone like her for so long though Sarina Bowen tried to help readers understand.
The plot of
The Year We Fell Down
focuses mostly on Corey and Hartley getting to know one another and figuring out how they want to approach their adult years. Harkness College makes for a fabulous setting with all the House details that reminded me (happily) of Hogwarts. I also appreciated the general lack of drama in this book despite the difficult situation that Hartley and especially Corey found themselves in. Mostly, it was a sweet romance between two likable characters and I thoroughly enjoyed reading it.
STEAM LEVEL
Glow
-- Implied or subtle descriptions of lovemaking.
BOOKS IN THE SERIES