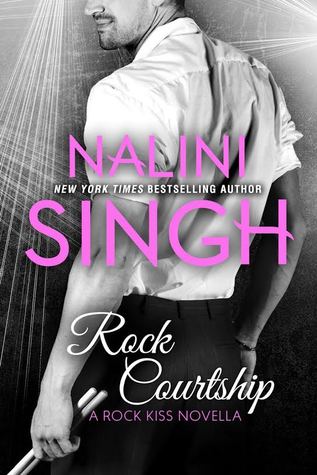 Rock Courtship by Nalini Singh
For Ages 18+ (Language, Sensuality)
Contemporary Romance

TKA Distribution -- Published September 30, 2014
Ebook, 125 pages
Read in September 2014
Received from Netgalley
THEMES
Rock Star, Unrequited Love, Beta Hero
SUMMARY
What happens when the Gentleman of Rock decides to play dirty?

A drummer for the hottest rock band on the planet, David has a single, powerful weakness: Thea, the band's publicist and the woman who steals his breath away with her every move.

Only problem is, Thea doesn't date clients--or musicians. Emotionally scarred by a cheating ex, she's not about to risk her heart with a man who has groupies buzzing around him like flies. Even if his sexy smile ties her up in knots.

What she doesn't know is that David is a one-woman man...and he's madly in love with her. David's determined to prove he's worth the risk, and willing to court her, step by exquisite step. Thea's about to discover just how long and hard this handsome drummer can play.
FIRST LINE
"David shoved his hands through his hair and blew out a breath."
MY THOUGHTS
I am a devoted Nalini Singh fangirl and she continues to keep me excited with her new contemporary series that tells the stories of members of the rock band, Schoolboy Choir. The first book,
Rock Addiction
, introduced readers to the band and showed that Singh's patented character development and world building pops up in every genre.
Rock Courtship
takes place simultaneously to
Rock Addiction
and focuses on David, the drummer who has become known as the Gentleman of Rock by the media. David's life turned upside down the moment that Thea became the band's publicist and he has been nursing a crush on her for years. Now that Thea is finally free from her ex-fiancee, David feels like he has a chance and sets off to prove that she deserves someone who worships her like he does.
I fell in love with David from the moment he appeared on the page in
Rock Addiction
. I have a thing for drummers and the fact that he was so devoted to Thea with no guarantee that she returned his feelings made me smile. He is a great example of a beta hero who is gentle and kind though not any less sexy than other romance heroes. David's backstory is really interesting and his devotion to his family says a lot about him.
Thea did frustrate me a little with her inability to completely trust David, but I understood why she was hesitant. She had been in what she thought was a good relationship until she caught her fiancee cheating and dealt with some emotional blows from his tirade afterwards. I admired her ability to get over him and continue with her stressful job. She is an amazing publicist and I loved how strong-willed she was.
David and Thea were a super steamy couple! It took a little bit of time for them to get together and the chemistry was insane to read. Nalini Singh knows how to show sexual tension and this series is all the better for that skill. Besides the sex, David and Thea were also great together intellectually and emotionally. They have both had issues in their past and overcame then to be even stronger which helped them bond. Also, the life of a rock star is full drama and they ride the storm well with minimal angst.
Like in
Rock Addiction
, the members of Schoolboy Choir make up part of an interesting cast of characters. I loved getting to see Molly and Zachary from the first book and also learn more about Noah and Abe. I can't wait to see them get their own stories soon. Besides the band, readers also get to know Thea and David's families who were hilarious and very realistic.
If you are a fan of sweet, but sexy contemporary romance, I definitely recommend the Rock Kiss series. There is a bit of melodrama in some scenes, but, overall, I find the books enjoyable and super entertaining.
I received a free copy of this book from TKA Distribution via Netgalley in exchange for an honest review.
STEAM LEVEL
Fever
-- Definitely graphic, but still emotional descriptions.
FAVORITE QUOTE
"In this memo, I David Rivera, explain why you, Thea Arsana, should seriously consider entering into a relationship with me."