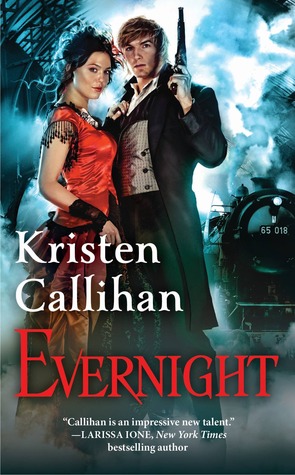 Evernight by Kristen Callihan
For Ages 18+ (Language, Sensuality, Violence)
Steampunk Romance -- Victorian England

Forever -- Published in August 2014
Ebook, 432 pages
Read in September 2014
Received from Netgalley
THEMES
Brainy Heroine, Kick-Ass Heroine, Reformed Villain, Tortured Hero
SUMMARY
Once the night comes . . .

Will Thorne is living a nightmare, his sanity slowly being drained away by a force he can't control. His talents have made him the perfect assassin for hire. But as he loses his grip on reality, there is no calming him—until he finds his next target: the mysterious Holly Evernight.

Love must cast aside the shadows . . .

Holly cannot fathom who would put a contract on her life, yet the moment she touches Will, the connection between them is elemental, undeniable—and she's the only one who can tame his bouts of madness. But other assassins are coming for Holly. Will must transform from killer to protector and find the man who wants Holly dead . . . or his only chance for redemption will be lost.


FIRST LINE
"The dream was always the same."
MY THOUGHTS
Warning! This review contains minor spoilers from earlier books in the Darkest London series
.
Bravo, Ms. Callihan, Bravo!! I have been a fan of the Darkest London series ever since the first book came out in 2012 and have found it to be a wonderful blend of genres (historical, paranormal, and steampunk). And I am happy to say that
Evernight
is the best of the series so far! The characters are fabulously written and I was enraptured with their romance from the beginning. The world that Kristen Callihan has created is getting even darker and I am excited to see where it is going next.
William Thorne and Holly Evernight's first meeting was both memorable and tragic. In book four of the Darkest London series (
Shadowdance
), Thorne, a blood-drinking demon and friend of shapeshifter Jack Talent, is kidnapped and experimented on by a malignant angel. The angel also kidnapped metal elemental Holly so that he could use her powers to conduct his experiments. Due to Will's immortal status, the angel decided to test a new clockwork heart on him and used Holly to place it in the demon's body.
Evernight
takes place about a year after the events of
Shadowdance
and both Will and Holly have had different reactions to their kidnapping/torture. Holly has become a recluse who is scared to leave her own home and spends her time alone, working on machines while Will is dealing with physical effects of having iron placed in his demonic body. He is near-constant pain and also suffers from psychotic episodes. It is during one of these episodes where these two meet up again with Will trying to take revenge on Holly for her part in his trauma and then them figuring out that her elemental abilities allow her to ease his pain temporarily. This starts these two on a journey of learning to help one another deal with their issues and figure out who coerced Will into trying to kill Holly in the first place.
I absolutely loved both of these characters. Will is a demon, which haven't been painted in the best light so far in this series, and he is pretty irritated by this. He is a decent enough guy, but feels like certain other immortals want demons to go away because they often can't hide their true natures from the unsuspecting humans. I liked how truthful he was to Holly about his past and how protective he got once his sanity returned.
Holly was also a joy to read about. This series is full of strong female characters and she is probably my favorite so far. I loved how intelligent she is (like genius-level) and how analytically she views the world. The scene where she talks about her sexual experience was hilarious and perfect for her character. I also thought it was interesting that Holly is considered dangerous because of her brain rather than just her elemental powers...which are pretty damn awesome when she lets them loose.
Holly and Will are just as magical together as they are individually. While it sucks that their first meeting was so traumatic, I think it helped them bond quickly once they realized they could trust each other. There weren't too many issues with miscommunication which I appreciated. I also loved how they acknowledged one another's strength yet still retained a protective instinct.
There are quite a few fascinating side characters as one would expect from a series this massive in scope. I liked the non-cliched appearances from previous couples in the series
.
Readers also learn quite a bit more about Adam, the mysterious creator of the GIM (ghosts in machine) that pepper the landscape. I think his story is next in line and I'm sure it will be a doozy. But,
Evernight
is really Holly and Will's story and I liked that it mostly focused on them.
As I mentioned, the world building of the Darkest London series is one of the parts I love best. It is a universe filled with angels, demons, super-powered humans, and even fae yet it never seems over-the-top. Callihan is really good at slowly revealing the paranormal aspects of this world so that readers never know what to expect. It is obvious that she is moving to something huge and I can't wait to see what it is.
I received a free copy of this book from Forever via Netgalley in exchange for an honest review.
5 STARS
STEAM LEVEL
Flush
-- Detailed descriptions of lovemaking though nothing overly graphic.
FAVORITE QUOTE
"Now you listen to me," Holly said with quiet conviction. "You will never touch William Thorne, nor any of his kith and kin, again. You will never contact me or interfere with my life, either directly or indirectly, again. . . You may have more power, and perhaps one day, you'll have the luck to catch me unaware. But you do not have my resolve. You come between me and mine again, and I will slice you into ribbons so slowly, it will take agonizing hours for this mortal shell you now wear to die. And when I am done, I will send you back without another thought for you. I'll do it over and over. I will not stop defending what is mine."
BOOKS IN THE SERIES
0.5. Ember
1. Firelight
2.
Moonglow
3.
Winterblaze
3.5.
Entwined
4.
Shadowdance
5. Evernight
6. Soulbound (Coming 2015)
SIMILAR BOOKS/SERIES
London Steampunk series by Bec McMaster
Parasol Protectorate series by Gail Carriger
The Countess Conspiracy by Courtney Milan
One Good Earl Deserves a Lover by Sarah MacLean
Mr. Impossible by Loretta Chase