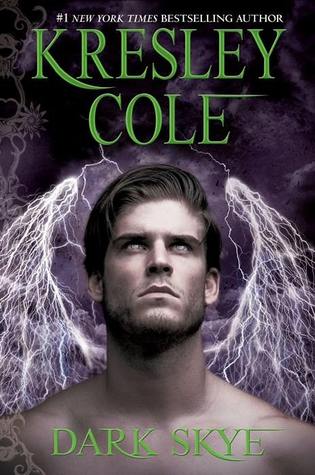 Dark Skye by Kresley Cole
For Ages 18+ (Language, Sensuality, Violence)
Paranormal Romance -- Supernatural Mix

Gallery Books -- Published in August 2014
Hardcover, 432 pages
Read in October 2014
Purchased from Amazon
THEMES
Alpha Hero, Kick-Ass Heroine, Demons, Witches, Virgin Hero
SUMMARY
ETERNAL OBSESSION

As a boy, Thronos, prince of Skye Hall, loved Lanthe, a mischievous Sorceri girl who made him question everything about his Vrekener clan. But when the two got caught in the middle of their families' war, tragedy struck, leaving Thronos and Lanthe bitter enemies. Though centuries have passed, nothing can cool his seething need for the beautiful enchantress who scarred his body—and left an even deeper impression on his soul.

ENDLESS YEARNING

Lanthe, a once-formidable sorceress struggling to reclaim her gifts, searches for love and acceptance with all the wrong immortal suitors. But she's never forgotten Thronos, the magnificent silver-eyed boy who protected her until she was ripped from the shelter of his arms. One harrowing night changed everything between them. Now he's a notorious warlord with a blood vendetta against Lanthe, hunting her relentlessly.

CAN THE HEAT OF DESIRE BURN BRIGHTER THAN VENGEANCE?

With their families locked in conflict and battles raging all around them, will Thronos and Lanthe succumb to the brutal chaos that threatens everything they cherish? Or will the fragile bond they formed so long ago spark a passion strong enough to withstand even the darkest doubts?


FIRST LINE
"Crawling along a meadow on her hands and knees, Lanthe scoured the grass for berries or dandelions--anything to dull her hunger pangs as her stomach seemed to gnaw on itself."
Warning! This review contains minor spoilers for earlier books in the Immortals After Dark series.
Dark Skye
is a book that fans of the IAD series have been anticipating for years. We have seen Thronos and Lanthe circle around each other for most of the series. Things really came to a head when they were both captured by The Order in
Demon from the Dark
. There have been a ton of stories that have developed from the capture and later escape of the Loreans and this is one of the best.
WHAT I LIKED
1. Lanthe -- I love the female characters in this series. They are strong, intelligent, and not afraid to be themselves. Lanthe truly embodies the sorceress type with her gold obsession, love for adventure, and desire to make the most out of life. I really appreciated that she was not ashamed of her past sexual experiences and made her opinions known about the slut-shaming that unfortunately reared its ugly head.
"Besides, I don't take issue with the term as much as the fact that you feel you can judge me. I despise judgmental people."
"As do most creatures who deserve to be judged."
"You got me. I'm a ho fo sho."
-What did that mean?- "You speak like a human."
She nodded, as if that hadn't been an insult as well. "I watch a lot of TV."
2. Thronos -- While I wasn't so sure about him at first with the whole chasing and demeaning thing he had going on, Thronos definitely grew on me. He has some real reasons to not trust Lanthe and is truly a product of a strict upbringing. I could admire his loyalty to his family and his kingdom. I also liked the fact that, once he learned the truth about his brother's exploits, he was willing to do anything to set things right. I am not always the biggest fan of "destined mate" stories, but it works so well in this series especially when taking a grumpy hero and turning him into knots with a woman who is his complete opposite.
He stalked up to her, yelling, "Do not call me demon!"
She forced herself to hold her ground, then repeated his earlier words: "Sensitive about this, creature?"
"Demons are savage. Vrekeners have grace and a sacred purpose. We are descended from gods!"
"How do you know this?"
"From the Tales of Troth—sanctified knowledge passed on from one Vrekener generation to the next for millennia."
3. Journey Through the Portals -- One thing that makes the Immortals After Dark series stand out for me is the way that Kresley Cole combines steamy romance with amazing adventure. Thronos and Lanthe escape from the Order's island and end up going on a journey through other worlds, thanks to her portal-hopping magic. I loved getting to see these new worlds especially with Cole's eye for detail. Some of them were dangerous, some seductive, some disturbingly creepy, but all were super entertaining to learn about. Plus it was fun to see Thronos and Lanthe learn to rely on one another to get through their journey.
4. Nix and the Ascension -- Ah, Nixie! One of my all-time favorite side characters really makes a statement in this book. The Ascension is growing ever closer and Nix is making sure all her ducks are in a row. I love seeing how everything is coming together and I'm excited for the big conclusion.
"Under your direction, La Dorada the Queen of Evil has arisen."
"Dora and I are like this." Nïx spread her arms wide. "Now, I'll be the first to admit she's not without faults. Very grumpy when she wakes up."
5. Old Favorites -- And, of course, I have mention all the characters that popped up in this one. We have the usual suspects like Nix, but it was also fun to see what has been going on with Rydstrom/Sabine (
Kiss of the Demon King
), Bettina (
Shadow's Claim
), and Lothaire (
Lothaire
). The cast of characters is another aspect of the series that I love and it was great to see them continue to be important to the overall plot even after they get their HEA.
WHAT I DIDN'T LIKE
1. The only thing that kept this book from being a 5 star read for me was the ending. Everything was going great and drama was unfolding and then it stopped. It felt very abrupt...almost like we had reached the page limit. I really enjoyed Thronos and Lanthe's story so I wanted there to be more of a resolution to everything they had to go through.
But, despite the quick ending, I thoroughly enjoyed reading
Dark Skye
. This series always knows how to grab my attention and keep it until the very end. If you are interested in creative paranormal romance with a complex supernatural world and plenty of kooky characters, I can't recommend the Immortals After Dark books enough.
4 STARS
STEAM LEVEL
Fever
-- Definitely graphic, but still emotional descriptions.
FAVORITE QUOTE
"This is a formal affair. Kali is wearing twelve skulls."
Nïx's eyes went wide. "I should've vajazzled!
BOOKS IN THE SERIES
1. The Warlord Wants Forever
2. A Hunger Like No Other
3. No Rest For the Wicked
4. Wicked Deeds on a Winter's Night
5. Dark Needs at Night's Edge
6. Dark Desires After Dusk
7. Kiss of a Demon King
8. Untouchable
9. Pleasure of a Dark Prince
10. Demon from the Dark
11. Dreams of a Dark Warrior
12.
Lothaire
13.
MacRieve
14. Dark Skye
OTHER REVIEWS
Smart Bitches, Trashy Books (A-)
Dear Author (C)
Vampire Book Club (5 Stars)
SIMILAR BOOKS/SERIES
Demonica/Lords of Deliverance series by Larissa Ione
Psy-Changeling series by Nalini Singh
Dark Hunters series by Sherrilyn Kenyon
Lords of the Underworld series by Gena Showalter