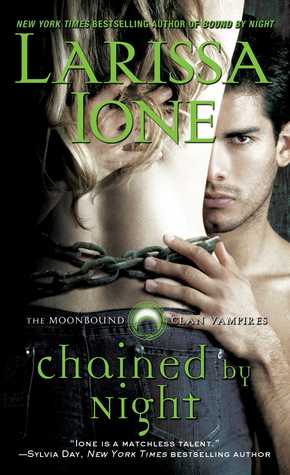 Chained By Night by Larissa Ione
For Ages 18+ (Language, Sensuality, Violence)
Paranormal Romance -- Vampires

Pocket Books -- Published on September 30, 2014
Mass Market Paperback, 407 pages
Read in October 2014
Purchased from Amazon
THEMES
Alpha Hero, Tormented Heroine
SUMMARY
THE FUTURE OF HIS TRIBE
Leader of the vampire clan MoonBound, Hunter will do what he must to save his people from extinction - or worse, a torturous eternity as vampire slaves and subjects of human experimentation. To keep his enemies at bay, he has agreed to mate a rival clan leader's daughter in return for peace between the clans and an ally in the looming war with the humans.

THE LOVER OF HIS SOUL
But survival comes at a price. First, Hunter must break an ancient curse by successfully negotiating three deadly tests. Then he must resist the searing passions of the gorgeous vampire warrior he despises but is bound to mate. Will Hunter stay true to his word? Or will he risk everything for the woman he really loves: the vampire seductress's identical twin sister?


FIRST LINE
"In a secret club blaring rock music and laughter, raised shot glasses brimming with whiskey clinked together like death knells."
MY THOUGHTS
I enjoyed the first book in the Moonbound Clan Vampires series last year though I did think it suffered from the large amount of world building that needed to happen. Thankfully, the sequel,
Chained By Night
, did not have those issues and readers were left with an action-packed romance between two kick-ass characters. Definitely going on my keeper shelf for 2014!
This series imagines a futuristic world where the existence of vampires was revealed to humans and resulted in the vampires being persecuted, hunted, and enslaved. Free vampires formed clans to protect themselves and their race. The Moonbound Clan is lead by enigmatic chief, Hunter, who, due to events from the previous book, is planning to mate with the daughter of another clan's leader, Rasha. Things get complicated when Rasha discovers that she and Hunter are expected to undergo a demon's test to insure the safety of their children. Rasha has no desire to complete such a task and sends her crippled twin sister, Aylin, in her place.
Hunter and Aylin were just amazing as individual characters and as a couple. They both had difficult childhoods with Hunter growing up under a dictator-like father and Aylin being constantly persecuted for being the second twin and having a lame leg. I really admired Aylin's determination and kind nature which was never beaten out of her. She is willing to do these seemingly impossible tasks in order to save her sister's future children all while knowing that she is to marry another ruthless clan leader as soon as Rasha and Hunter are mated. For his part, Hunter is a typical Ione hero with a tendency to be arrogant, but just a big softie underneath it all. He is determined to be a good leader for his clan though he often feels like he can never do enough.
It was obvious from their first meeting, these two had a certain spark that they were forced to battle for much of the story. I am a huge fan of forbidden romances especially in paranormal fiction so I thoroughly enjoyed seeing them figure out how to be together without causing a huge vampire war. Larissa Ione does not pull any punches with this book. It is dark, sensual, and very violent. The tasks that Aylin and Hunter endure were not for the faint of heart and the descriptions sometimes made my stomach turn. There were also plenty of vampire/human and vampire/vampire fights that were not lacking in detail. Despite the dark tone, Ione also shows off her patented sense of humor and deeply romantic soul.
Chained By Night
also continues to grow the world of the MoonBound Clan through its large secondary cast. There is Rasha, Aylin's sister, who appears cruel and selfish, but might have a heart under there somewhere. Readers of the first book get to see Riker, Nicole, and Bastien make fun re-appearances that did more than just show off how happy they were. And then there's Myne, the vampire warrior who was enslaved by humans and had his fangs removed by scientists. I was intrigued by Myne in
Bound By Night
, but I really fell for him in this book. He broke my heart on many occasions especially when his connection to Hunter's past was revealed. I'm definitely hoping that Ione focuses on him next.
In conclusion, I was completely enthralled by this book from beginning to end. Larissa Ione is one of my favorite paranormal writers and
Chained By Night
only reaffirmed that designation. She knows how to make her readers connect to her characters and constantly rethink their motivations. Plus she knows how to write some steamy romance! Highly recommended!
5 STARS
STEAM LEVEL
Fever
-- Definitely graphic, but still emotional descriptions.
FAVORITE QUOTE
"I thought your name was Roger."
"Why the hell would you think that?"
"I heard Riker call you Roger."
"Not Roger. Roger. As in affirmative. He was giving me a positive response to my order."
BOOKS IN THE SERIES
1. Bound By Night
2. Chained By Night
OTHER REVIEWS
Fiction Vixen (B+)
Parajunkee (5 Stars)
Vampire Book Club (4.5 Stars)
SIMILAR BOOKS/SERIES
Midnight Breed series by Lara Adrian
Demonica series by Larissa Ione
Black Dagger Brotherhood series by JR Ward
Immortals After Dark series by Kresley Cole
Lords of the Underworld series by Gena Showalter