Hosted by Elena at Ellie Reads Fiction. This is a monthly meme where bloggers (and readers) can share books that they read during the month that they think others need to check out. Feel free to link up at Elena's blog.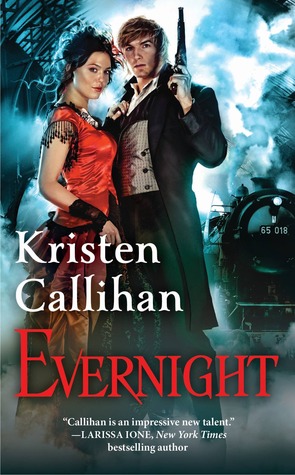 Evernight (Darkest London #5) by Kristen Callihan
Steampunk Romance

Once the night comes . . .

Will Thorne is living a nightmare, his sanity slowly being drained away by a force he can't control. His talents have made him the perfect assassin for hire. But as he loses his grip on reality, there is no calming him—until he finds his next target: the mysterious Holly Evernight.

Love must cast aside the shadows . . .

Holly cannot fathom who would put a contract on her life, yet the moment she touches Will, the connection between them is elemental, undeniable—and she's the only one who can tame his bouts of madness. But other assassins are coming for Holly. Will must transform from killer to protector and find the man who wants Holly dead . . . or his only chance for redemption will be lost.
(
REVIEW
)
****************
Forged by Desire (London Steampunk #4) by Bec McMaster
Steampunk Romance

Captain Garret Reed of the Nighthawk guard has a deadly mission: capture a steel-jawed monster preying on women. He hates to put his partner, Perry, in jeopardy, but she's the best bait he has. Little does he realize, he's about to be caught in his own trap.

Perry has been half in love with Garrett for years, but this is not exactly the best time to start a relationship—especially when their investigation leads them directly into the clutches of the madman she thought she'd escaped.
****************
Fever Pitch (Love Lessons #2) by Heidi Cullinan
Male/Male Contemporary Romance

Aaron Seavers is a pathetic mess, and he knows it. He lives in terror of incurring his father's wrath and disappointing his mother, and he can't stop dithering about where to go to college—with fall term only weeks away. Ditched by a friend at a miserable summer farewell party, all he can do is get drunk in the laundry room and regret he was ever born. Until a geeky-cute classmate lifts his spirits, leaving him confident of two things: his sexual orientation, and where he's headed to school.

Giles Mulder can't wait to get the hell out of Oak Grove, Minnesota, and off to college, where he plans to play his violin and figure out what he wants to be when he grows up. But when Aaron appears on campus, memories of hometown hazing threaten what he'd hoped would be his haven. As the semester wears on, their attraction crescendos from double-cautious to a rich, swelling chord. But if more than one set of controlling parents have their way, the music of their love could come to a shattering end.