Hosted by the ladies over at
The Broke and the Bookish
.
~Top Ten Underrated Books in Historical Romance~
The theme this week for
TTT
is listing books (or authors) that I think are underrated in a genre of my choice. Of course, I'm going to chose
historical romance
since it is my favorite and the one I read the most. I also decided to concentrate on
books that don't get the attention I think they deserve
though some of these authors could also count as underrated.
1. Where Dreams Begin by Lisa Kleypas (Victorian England)
For me, this book is the definition of buried treasure. It is a stand-alone romance that is very reminiscent of
Pygmalion
and
My Fair Lady
. I haven't read this book in a few years, but I remember falling in love with both Zachary and Holly. They are two people who couldn't be more opposite in their backgrounds, but they find a connection that has stayed with me even today.
2. In For a Penny by Rose Lerner (Regency England)
An entertaining Regency involving the marriage of convenience between a dashing aristocrat and a merchant's daughter. I loved both main characters and thought it was so much fun to see them handle the issues at their estate together.
3. Devil's Own by Veronica Wolff (17th Century Scotland)
A book that I am recommending based on the hero (Aiden) alone. He is one of the most tortured characters I've read in historical romance and it was an emotional journey to see him heal. The heroine was a little stereotypical, but that didn't damage my love for Aiden.
4. Untouched by Anna Campbell (Regency England)
This is definitely one of the most unique historical romances I've read. The heroine is kidnapped and taken to be the 'plaything' (for lack of a better term) for a young lord imprisoned for madness. Grace and Matthew both have had some major setbacks in life and it was great to see them bond together to figure out an escape route. Plus virgin hero alert!
5. Scandal by Carolyn Jewel (Regency England)
A fabulous story with a scandalous hero who has been in love with a woman for years and is determined to prove that he has changed. I loved the journey of the hero and how steamy the romance was.
6. The Perfect Waltz by Anne Gracie (Regency England)
I haven't read too many of Anne Gracie's books, but this one is always at the top for me in historical romance. I love the twist on the Beauty and the Beast fairy tale with some hefty social commentary mixed in there. Sebastian is one of the most well-developed romance heroes I've read and Hope is so much more than a pretty face. Plus it has one of my favorite secondary romances ever!
7. The Impostor by Celeste Bradley (Regency England)
I'm not usually a huge fan of spies in historical romance because they feel so overdone at times. But, Bradley's Liars Club series is definitely an exception to that rule. The mission that the hero has to accomplish reminds me of The Scarlet Pimpernel (one of my favorites!). And I'm always sold on a book that has a heroine with a secret life like Clara does. I also loved the concept of political cartoons and how they were used even in this time period.
8. His Secondhand Wife by Cheryl St. John (19th Century Colorado)
Westerns aren't always my favorites, but I love this book. The hero is tortured (and a virgin) while the heroine is pregnant and widowed. I love the slow-burn of the romance and how well-developed the characters are.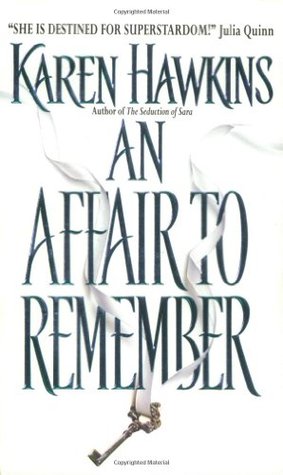 9. An Affair to Remember by Karen Hawkins (Regency England)
This is a hilarious battle of the sexes-type novel that is heavily inspired by
The King and I.
Anna and Anthony's constant bickering and eventual courtship is pure entertainment and the children are cute without being precocious or annoying.
10. A Gentleman Undone by Cecilia Grant (Regency England)
The heroine is an employed courtesan with a talent for counting cards while the hero is a damaged war hero. Cecilia Grant is not afraid to push the envelope. The end result is that this book is a dark, sensually entertaining story which shows how two people can heal each other on their path to love.