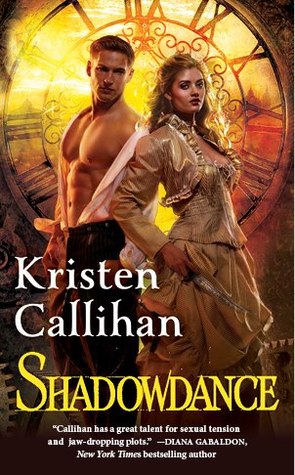 Shadowdance by Kristen Callihan
For Ages 18+ (Language, Violence, Sensuality)
Steampunk Romance -- Victorian England

Forever -- Published in December 2013
Mass Market Paperback, 427 pages
Read in September 2014
Borrowed from the library
THEMES
Alpha Hero, Tortured Hero, Kick-Ass Heroine
SUMMARY
Once a heart is lost in shadow...
Life has been anything but kind to Mary Chase. But the Society for the Suppression of Supernaturals has given her purpose. Now she's been tasked with catching a vicious murderer dubbed the Bishop of Charing Cross. But someone is already on the case—and the last thing he relishes is a partner.

Only someone who lives in darkness can find it.
Jack Talent has been alone with his demons for many years. He never expected to have the willful Mary Chase assist him on the Bishop case. Their age-old rivalry reaches new heights—even as their desire for one another reaches a fever pitch. Though he aches to bring her close, Jack's dark secrets are a chasm between them. With dangerous enemies closing in, Jack must find the strength to face the past...or risk losing Mary forever.
FIRST LINE
"Life was not a long, straight road, but a series of turns."
MY THOUGHTS
Shadowdance
features two characters that fans of Callihan's Darkest London series have been eagerly waiting to see take center stage: Jack Talent and Mary Chase. This is a series that combines elements of steampunk, historical, and paranormal romance in a fabulous way. I love the creativity that is shown in the worldbuilding and the character development though this was not my favorite installment.
Jack is the adopted son of a shifter lord with mysterious origins while Mary is a GIM (ghost in machine) who works for the Society for the Suppression of Supernaturals (SOS). These are two characters who have been circling around each other for quite a few books and it was great to see them finally acknowledge their feelings. Things get going when Mary joins Jack on his investigation into the cult-like murders of demons. Jack is one of the best agents that the SOS has, but they are concerned about why it is taking so long for him to solve this mystery. Mary is assigned to figure that out and also to keep an eye on Jack who is still recovering from a lengthy torture at the hands of demons.
I adored both of these characters. Mary is a lively and intelligent woman who is not afraid to do dirty work in order to achieve her mission. She also shows a softer side when dealing with her friends and the man she is slowly falling for. Jack is a character who has not had it easy lately. He was captured by demons and is continuing to recover from that situation. I love a good tortured hero and Jack definitely fit the bill. What I admired most about him was his loyalty to his friends and adopted family as well as his strength of character.
The world of Darkest London is one of the best aspects of the series. I love the way that Kristen Callihan has mixed mythologies of angels, demons, elementals, shifters, and even the fae into a Victorian-era world. While a reader could probably pick up a random installment and follow things for the most part, I do recommend reading the books in order. There is a lot of information floating around that I think could get confusing as the series moves towards an ultimate climax.
Another fun part of this series is the fascinating cast of characters that continues to grow larger with each installment. Jack and Mary have been around for awhile, but readers are introduced to some fun newbies like SOS mechanical expert Holly Evernight and blood-drinking demon William Thorne. There are also cameos from old favorites like Daisy and Ian from
Moonglow
and Poppy and Winston from
Winterblaze
.
The main issue I had with
Shadowdance
was the slow beginning. It felt like it kept dragging on and I almost put it down quite a few times. Mary and Jack have great chemistry, but I did find myself getting frustrated with the sheer amount of time that was spent on them circling around each other. Thankfully, things picked up in the second half and I was easily able to get into the rest of the plot. I just wish that the pacing had been better in the first part.
STEAM LEVEL
Flush
-- Detailed descriptions of lovemaking though nothing overly graphic.
FAVORITE QUOTE
"A kiss," he said, "Is a conversation." Easing closer, he continued to speak as he caressed her cheeks with featherlight stokes of his thumbs, "A first kiss", his lips neared hers, is an introduction and then his mouth brushed against hers. The contact sparked, sharp and bright like lightning, yet his lips were soft, unexpectedly so. Her breath caught the same instant his did. Against her mouth he whispered "That was Hello."
BOOKS IN THE SERIES
0.5. Ember
1. Firelight
2.
Moonglow
3.
Winterblaze
3.5.
Entwined
4. Shadowdance
5. Evernight
6. Soulbound (Coming 2015)