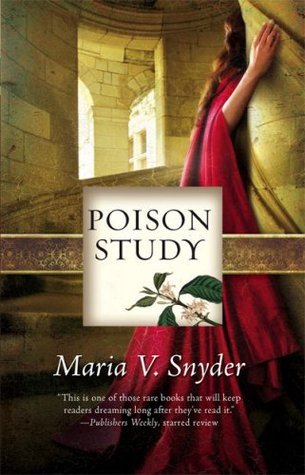 Poison Study by Maria V. Snyder
For Ages 14+ (Language, Violence)
Young Adult -- Fantasy

Mira -- Published in 2004
Paperback, 412 pages
Read in December 2012
Borrowed from Library
THEMES
Magic, Kick-Ass Heroine, Tormented Heroine
SUMMARY
Choose: A quick death…Or slow poison...

About to be executed for murder, Yelena is offered an extraordinary reprieve. She'll eat the best meals, have rooms in the palace—and risk assassination by anyone trying to kill the Commander of Ixia.

And so Yelena chooses to become a food taster. But the chief of security, leaving nothing to chance, deliberately feeds her Butterfly's Dust—and only by appearing for her daily antidote will she delay an agonizing death from the poison.

As Yelena tries to escape her new dilemma, disasters keep mounting. Rebels plot to seize Ixia and Yelena develops magical powers she can't control. Her life is threatened again and choices must be made. But this time the outcomes aren't so clear.



FIRST LINE
"Locked in darkness that surrounded me like a coffin, I had nothing to distract me from my memories."
MY THOUGHTS
I realized when making my Top Ten Tuesday post about authors that I need to read more from that I never published a blog review of
Poison Study
. So here it goes!
I had some high expectations of this book due to all my blogger/Goodreads friends ravings, but Ms. Snyder still managed to shock me with how impressive it was. I loved the political intrigue and how, as a reader, I never knew who to really trust like Yelena. And speaking of Yelena, I found her to be a very admirable heroine who was put in a near impossible situation. Watching her navigate her new position as food taster was fascinating!
And then there's Valek who has definitely made himself worthy of being a book boyfriend! I love heroes that are always more than what they first appear and that is exactly what Valek is. The romance is slow-burning, but very satisfying by the end. I was thoroughly impressed with Snyder's writing on this topic and how she really tried to develop the love story realistically.
I highly recommend this book for anyone who is a fan of YA fantasy novels especially ones with political intrigue. I haven't read the others in the series, but I plan on trying them very soon.
5 STARS
STEAM LEVEL
Blush
-- Kisses with no/minor touching.
FAVORITE QUOTES
"Yelena, you've driven me crazy. You've caused me considerable trouble and I've contemplated ending your life twice since I've known you." Valek's warm breath in my ear sent a shiver down my spine, "But you've slipped under my skin, invaded my blood and seized my heart."
"That sounds more like a poison than a person," was all I could say. His confession had both shocked and thrilled me.
"Exactly," Valek replied. "You have poisoned me.
BOOKS IN THE SERIES
1. Poison Study
1.5. Assassin Study
2. Magic Study
3. Fire Study
3.5. Power Study
3.6. Ice Study
4. Shadow Study (Coming 2015)