Happy Thursday, everyone! This is a new feature hosted by Buried Under Romance and Love Saves the World.
What is Throwback Thursday: Historical Romance Edition?
Traditionally, Throwback Thursday celebrates nostalgia, asking participants to post a personal photo or an image from their past -- usually from 5 to 10 years ago. There are a lot of book blogs that also do a book-related Throwback Thursday. Since Tin and Mary C. are unapologetic lovers of historical romances, they've decided to focus on this beloved genre.
Here are the rules:
1. It must be posted on a Thursday.
2. It must be a historical romance novel published before October 2008.
THIS WEEK I AM FEATURING...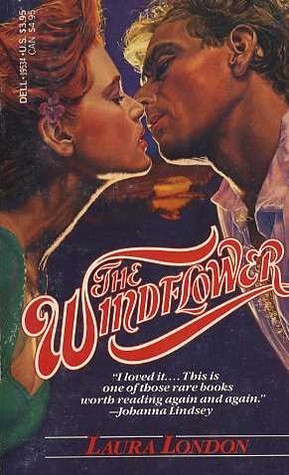 THE WINDFLOWER
by Laura London (Sharon and Tom Curtis)
Originally Published in May 1984

Merry Wilding is a lady of breeding, of innocence, and of breathtaking beauty. With high hopes for a holiday in England, she sets sail from New York-but the tide of her life is destined to turn. Mistakenly swept aboard an infamous pirate ship, Merry finds herself at the mercy of a wicked crew . . . and one sinfully handsome pirate. Soon she's spending her days yearning for escape, and her nights learning the pleasures of captivity.

Devon Crandall believes Merry is in league with his greatest enemy. He's determined to slowly urge her secrets from her. But along the way, he discovers her beautifully unbreakable spirit . . . and a desire unlike any he's ever known. She is hiding something from him, and yet, each day that passes brings her deeper into his heart. When fierce arguments give way to fiercer passion, can a pirate learn to love a woman? Or will true love be lost at sea?
**************
This is a classic historical romances and, thankfully, it was re-published this year. I'm not usually into romances from this era or even ones involving pirates, but I knew I had to get a copy and give it a try. Have you read this oldie, but possibly goodie? What did you think?