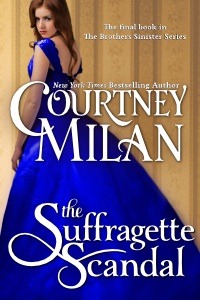 The Suffragette Scandal by Courtney Milan
For Ages 18+ (Language, Sensuality, Violence)
Historical Romance

Self-Published -- Published in July 2014
Ebook, 281 pages
Read in July 2014
Received from Netgalley
THEMES
Tortured Hero, Bluestocking Heroine, Secondary Romance
SUMMARY
An idealistic suffragette...

Miss Frederica "Free" Marshall has put her heart and soul into her newspaper, known for its outspoken support of women's rights. Naturally, her enemies are intent on destroying her business and silencing her for good. Free refuses to be at the end of her rope...but she needs more rope, and she needs it now.

...a jaded scoundrel...

Edward Clark's aristocratic family abandoned him to die in a war-torn land, so he survived the only way he could: by becoming a rogue and a first-class forger. When the same family that left him for dead vows to ruin Miss Marshall, he offers his help. So what if he has to lie to her? She's only a pawn to use in his revenge.

...and a scandal seven years in the making.

But the irrepressible Miss Marshall soon enchants Edward. By the time he realizes that his cynical heart is hers, it's too late. The only way to thwart her enemies is to reveal his scandalous past...and once the woman he loves realizes how much he's lied to her, he'll lose her forever.


FIRST LINE
"Edward Clark was disgusted with himself."
MY THOUGHTS
I'm not sure how she does it, but Courtney Milan continues to blow my mind with her refreshing take on historical romance. The Brothers Sinister series is just so different than anything else in the genre with the sexy (but flawed) heroes, social commentary, and, of course, her heroines. While this was not my favorite of the series, it was still a satisfying read that left me thinking long after I finished it.
The Suffragette Scandal
focuses on Frederica Marshall, sister to Oliver Marshall (
The Heiress Effect
) and daughter of Serena and Hugo Marshall (
The Governess Affair
). Readers of the series have seen Free slowly develop into an independent and forward-thinking young woman whose passion for helping others was instilled by her parents and her brother. So it was a joy to see her all grown up and causing as much trouble as the rest of her family. I loved that she ran her own female-centric newspaper and how she was realistic in her pursuit for equality. Like all the other heroines in this series, she is truly the star of the book and I admired her strength and her passion.
The heroines definitely take center stage in this series, but Courtney Milan always does a great job of matching them with heroes who are well-developed and interesting in their own right. Edward Clark was banished to a war-torn country by his aristocratic father and has suffered greatly ever since. But, despite his circumstances, he figured out how to survive even if meant he had to bend the rules a little through forgery and blackmail. His past have caused Edward to feel like he is a horrible person and not worthy of someone as vibrant as Free. There were a few times where I wanted him to stop with the bemoaning of his situation and accept that he was a decent human being underneath it all, but these were rare moments.
Courtney Milan always provides readers with a heavy dose of social commentary and historical detail to match.
The Suffragette Scandal
focuses on the plight of women in British society and how little they really were in control of their own lives. Free's experiences while pursuing stories for her newspaper were heartbreaking to read about especially the ones involving the hospitals and factories. There is also some time spent commenting on the power of the aristocracy and how much activists like Free, Edward, and the rest of the Brothers Sinister were risking in their pursuits.
I also have to mention the sweet secondary romance which had me almost as captivated as I was by the main story. I don't want to say a lot in order to avoid spoiling its wonders for future readers, but it really fit with the spirit of the series and had me cheering by the end. Fans of the whole series will also be happy to see some of our favorite characters return in purposeful and entertaining capacities. One of my favorite cameos was Robert (Oliver's half brother from
The Duchess War
) who helped Free understand the importance of family even ones that are related by blood.
Overall, I thought this was a fabulous concluding novel in this wonderful series. I know there is going to be an additional novella (
Talk Sweetly To Me
) which involves a heroine is an arithmetic savant and of African descent and I can't wait to read that either. I cannot recommend Courtney Milan's historicals enough to fans of strong, savvy heroines and the men who fall for them.
I received a free copy of this book from Courtney Milan via Netgalley in exchange for an honest review.
4.5 STARS
STEAM LEVEL
Flush
-- Detailed descriptions of lovemaking though nothing overly graphic.
FAVORITE QUOTES
"But we're not trying to empty the Thames," she told him. "Look at what we're doing with the water we remove. It doesn't go to waste. We're using it to water our gardens, sprout by sprout. We're growing bluebells and clovers where once there was a desert. All you see is the river, but I care about the roses."
"I still know who you are, Edward. And if you recall, I didn't fall in love with a man who represented himself as the most honorable fellow in all of England. I fell in love with a scoundrel."