This is just a quick post where I feature small reviews of books that I requested from Netgalley which did not (for one reason or another) garner a full blog review. This usually has nothing to do with how good the book is so don't worry about that. I just wanted to make sure I gave them the attention they deserve since they were given to me by various publishers. Here we go!
Temptation in Shadows by Gena Showalter
Paranormal Romance
Received from St. Martin's Press
Summary
:
Tall, lean, muscular—and definitely rough around the edges—Sean Walker is not your typical nightclub bodyguard. He's a controller of shadows, able to wield darkness at will. But when a mysterious woman at the club turns out to have powers greater than his own, he has no choice but seduction…
Review
: I really liked the premise and the characters. I do wish that Sean hadn't been so secretive with Gabby since that would have avoided a ton of unnecessary drama. I liked the idea of Rose Briar and was a bit disappointed that there wasn't a ton about them and the other agents. I guess I just wish this had been fleshed out into a longer story.
(3 Stars)
******************
Caroline and the Duke by Sabrina Darby
Historical Romance
Received by Sabrina Darby
Summary
:
A Widow Determined to be Merry...At the urging of her best friend, Caroline, Lady Ballister, seeks a lover with no emotional attachments. After all, experience has taught her that love is a fickle, pointless thing.

A Duke Determined to Marry...Sutbridge has wanted Caroline for ten years and, now that she is once again free, is determined to make her his wife. But will he settle for her body, or wage a war for the most important treasure of all: her heart?
Review:
A very short, but still entertaining story about two people who finally get the chance to be together after a decade. I liked the premise of this book with Caroline being a widow and John being the duke who has been in love with her for years. I just wish there had been more pages so readers could get to know more about these two as people. I did like the writing style and will probably look for more of Sabrina Darby's work in the future.
(3 Stars)
******************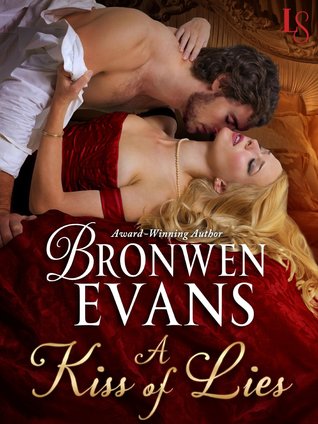 A Kiss of Lies by Bronwen Evans
Historical Romance
Received by Loveswept Romance
Summary: Desperate to escape her abusive past, Sarah Cooper disguises herself as a governess in the employ of Christian Trent, Earl of Markham, the man who, long ago, she fantasized about marrying. Despite the battle scars that mar his face, Sarah finds being near Christian rekindles her infatuation. A governess, however, has no business in the arms of an earl, and as she accompanies Christian on his voyage home, Sarah must resist her intense desires—or risk revealing her dangerous secrets.

One of the renowned Libertine Scholars, Christian Trent once enjoyed the company of any woman he chose. But that was before the horrors of Waterloo, his wrongful conviction of a hideous crime, and his forcible removal from England. Far from home and the resources he once had, Christian believes the life he knew—and any chance of happiness—is over . . . until his ward's governess sparks his heart back to life, and makes him remember the man he used to be. Now Christian is determined to return to England, regain his honor, and win the heart of the woman he has come to love.
Review: I did finish this book though I did skim the middle sections. I liked the concept of Kiss of Lies with the scarred, tortured hero and the equally tortured heroine. There aren't enough tormented heroines in historical romances nowadays...I'm evil, I know. I just couldn't make myself care about either of the main characters or their romance. I hated how quickly they became lovers and it seemed like the plot just dragged on...hence the skimming. There were too many Big Misunderstandings for me to take the story seriously as well. But, I did finish the book because I wanted to see at least seem some semblance of a conclusion so I guess that's something. I will probably not continue this series. (2.5 Stars)