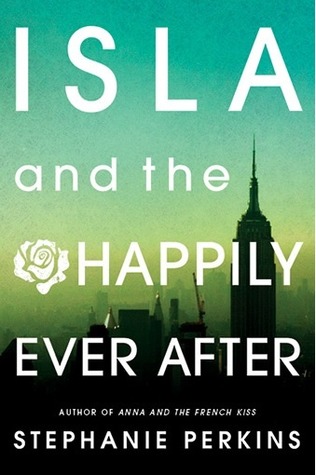 Isla and the Happily Ever After by Stephanie Perkins
For Ages 13+ (Language, Mild Sensuality)
Young Adult -- Contemporary

Dutton -- Published in August 14, 2014
Hardcover, 339 pages
Read in August 2014
Purchased from Amazon
THEMES
First Person Narrative
SUMMARY
From the glittering streets of Manhattan to the moonlit rooftops of Paris, falling in love is easy for hopeless dreamer Isla and introspective artist Josh. But as they begin their senior year in France, Isla and Josh are quickly forced to confront the heartbreaking reality that happily-ever-afters aren't always forever.

Their romantic journey is skillfully intertwined with those of beloved couples Anna and Étienne and Lola and Cricket, whose paths are destined to collide in a sweeping finale certain to please fans old and new.


FIRST LINE
"It's midnight, it's sweltering, and I might be high on Vicodin, but that guy--that guy right over there--that's him."
MY THOUGHTS
Fans of Stephanie Perkins's
Anna and the French Kiss
and
Lola and the Boy Next Door
have been eagerly anticipating the publication of
Isla and the Happily Ever After
for a couple years. Well, it is finally here and will not disappoint eager readers or newbies. This book starts off with an adorable scene of Isla (drugged from wisdom teeth surgery) stumbling into a New York City coffee shop and seeing the guy she has been crushing on since freshman year. This immediately sets the tone by introducing readers to the two adorable leads and expressing a subtle sense of humor. While I did not enjoy this book as much as its predecessors, I did find it to be a worthy addition to the trilogy and will definitely re-read it in the future.
Isla is the narrator and heroine of this book as evidenced by the title. She is a student at the same high school that Anna and Etienne went to in Paris. What I liked the most about Isla was how normal she seemed without going too far with it. Most YA contemporaries go overboard with showing you how "normal" and relatable the heroine is when readers can easily tell they are anything but. I really think teenagers will understand Isla's dreamy personality and her confusion about what she wants after high school. Her development from unsure child to a young woman confident in her decisions was one of the my favorite aspects of the book.
Josh is almost as swoon-worthy as Etienne and Cricket though I have a soft spot for tall, gangly Cricket in my heart. I loved the fact that he writes/draws graphic novels and how that talent translates into his personality. I also thought having him be from a politician's family was an interesting twist. There is a such pressure on him to be the "perfect son" that I could understand why he rebelled the way that he did. The only issue I had with him was that I wish he had been a bit more open about his feelings regarding school and stuff with Isla at the beginning. I think that could have saved quite a bit of drama in the long term.
Isla and Josh are unique to this trilogy due to the fact that they have known each other for a couple years as opposed to Anna/Etienne and Lola/Cricket who just met during their books. I liked this element and how it helped make me believe that they could fall in love so quickly. I'm not usually a fan of insta-love, but it worked in this book because they have been fellow students for years. The main conflict was a bit over-the-top for my personal taste though I understood where Isla was coming from. I did love the Grand Gesture at the end which really helped me believe they were in it for the long haul.
Like with the other books in the trilogy, the setting is almost a character on its own. There are two main settings in
Isla and the Happily Ever After
, Manhattan and Paris. I just adore the loving way that Stephanie Perkins utilizes her cities and has them do more than just act as a place for the characters to move around in. They seem alive with the way that they are described and revered by the other characters.
While Isla and Josh are the main focus of this book, there are also plenty of entertaining side characters. Isla's best friend, Kurt, stole practically every scene he was in. I would love to see Stephanie Perkins write about him in a future book (hint hint!). It was also great to see the evolution of Isla's relationship with her sister, Hattie, from the beginning of the year until the end. And, of course, I have to mention the small cameos of Anna, Etienne, Lola, and Cricket. Those four just make me smile and definitely did so in their short scenes.
Overall, I thought
Isla and the Happily Ever After
was worth the wait. I don't think it will beat out my love of
Anna and the French Kiss
and
Lola and the Boy Next Door
, but that is a tall order. Yeah for another wonderful YA romance from Stephanie Perkins!!
4 STARS
STEAM LEVEL
Blush
-- Kisses with no/minor touching.
FAVORITE QUOTE
"I'm…getting there. I'm beginning to think that maybe it's okay to be a blank canvas. Maybe it's okay that my future is unknown. And maybe," I say with another smile, "It's okay to be inspired by the people who do know their future."
"It goes both ways, you know." I link his icicle fingers through mine.
"What does?"
"Artists are inspired by blank canvases."
My smile grows wider.