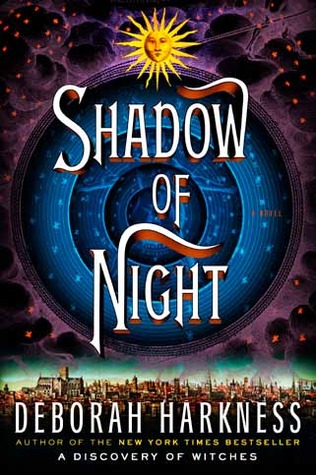 Shadow of Night by Deborah Harkness
Paranormal Fiction/Historical Fiction

Viking Adult -- Published in July 2012
Hardcover, 584 pages
Read in July 2014
Purchased from Half-Price Books
THEMES
Alpha Hero, Elizabeth Era, Demons, Witches, Vampires, Time Travel
SUMMARY
Historian Diana Bishop, descended from a line of powerful witches, and long-lived vampire Matthew Clairmont have broken the laws dividing creatures. When Diana discovered a significant alchemical manuscript in the Bodleian Library,she sparked a struggle in which she became bound to Matthew. Now the fragile coexistence of witches, daemons, vampires and humans is dangerously threatened.

Seeking safety, Diana and Matthew travel back in time to London, 1590. But they soon realise that the past may not provide a haven. Reclaiming his former identity as poet and spy for Queen Elizabeth, the vampire falls back in with a group of radicals known as the School of Night. Many are unruly daemons, the creative minds of the age, including playwright Christopher Marlowe and mathematician Thomas Harriot.

Together Matthew and Diana scour Tudor London for the elusive manuscript Ashmole 782, and search for the witch who will teach Diana how to control her remarkable powers.
FIRST LINE
"We arrived in an undignified heap of witch and vampire."
MY THOUGHTS
Warning! This book contains minor spoilers for the first book in the All Souls Trilogy, A Discovery of Witches
.
Shadow of Night
is one of those books that is very hard for me to review. I really enjoyed it, but there is so much to talk about with the historical details, the large cast of intriguing characters, and the overall experience that I don't want to overdo the gushing. The last time readers saw historian and witch, Diana Bishop, and her vampire husband, Matthew, they were off on a journey to 16th century England. The reason for this time travel adventure is to find a witch to help Diana learn about her unique powers and to find clues to the location of the missing manuscript, Ashmole 782.
Like with
A Discovery of Witches
, Diana and Matthew are the center of the book and they pretty much control the success of the story. Thankfully, both of them are interesting characters who are a great combination of likable and flawed. They each have their own journeys to complete and do so with a unique spin. I will admit that I had a few issues with Matthew's overbearing nature and Diana's recklessness, but these instances were rare and they did always learn from their mistakes.
The romance (while not the main storyline) is interesting and fun. These two may have declared their love for each other in the first book, but it becomes obvious that their relationship is still new and continues to grow.
Most of the book takes place in the 16th century which is a fun difference than the first book. Readers get to meet a ton of historical figures and see them interact with Diana and Matthew. Some of my particular favorites were Christopher Marlowe, Edward Kelly, Emperor Rudolf II, Mary Sidney, and, of course, Queen Elizabeth I. Diana and Matthew travel from England to his father's keep in France and even to the Holy Roman Empire. I am a history geek so this was an absolute blast for me. I also enjoyed the introduction of Matthew's nephew, Gallowglass, and that we finally got to meet Matthew's father, Philippe. Some of the book does take place in the present-day with Ysabeau, Marcus, and others finding hints of the time travel in the current time which was interesting.
As I mentioned, there is a lot going on in this book and I don't want to give much more to avoid major spoilers. I will say that it takes some time to get used to the writing style and readers do have to go through quite a bit of detail, but the story is so well-crafted that it is worth the time and effort. I also will say that this would not make a good stand-alone story due to the worldbuilding and character development. I was impressed though with how easy it was to slip back into the series after going more than a year between books. I highly recommend this series and can't wait to see how it ends with
The Book of Life
which was just released this month.
STEAM LEVEL
Glow
-- Implied or subtle descriptions of lovemaking.
BOOKS IN THE SERIES
1.
A Discovery of Witches
2. Shadow of Night
3. Book of Life
CHALLENGES READ FOR