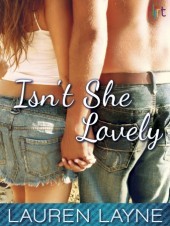 Isn't She Lovely by Lauren Layne
For Ages 16+ (Language, Sensuality)
New Adult -- Contemporary Romance

Flirt -- Published in October 2013
Ebook, 240 pages
Read in July 2014
Received from Netgalley
THEMES
Dual Points of View, Retelling
SUMMARY
"Who knew that pretending you're not falling for someone would be so much more difficult than pretending that you are?"

Stephanie Kendrick gave up her whole summer to ace her NYU film school screenwriting course, so she's pissed to be stuck with a preppy, spoiled frat boy as her writing partner. Then again, with her piercings, black-rimmed eyes, and Goth wardrobe, Stephanie isn't exactly Ethan Price's type, either. He's probably got his eye on some leggy blonde with a trust fund... or does he?

As the summer scene kicks off in the Hamptons, Ethan is desperate to make his snobbish mother forget the pedigreed girl who broke his heart. While Stephanie's a stretch as a decoy, the right makeover and a pastel cardigan just might do the trick. She may not love the idea of playing Ethan's brainless Barbie girlfriend, but the free rent and luxurious digs make a tempting offer. So does the promise of a ready-made screenplay idea inspired by their charade.

But when Stephanie steps into Ethan's privileged world, the "acting" begins to feel all too real. The kissing and touching that were intended to fool the Hamptons crowd wind up manipulating "them." And Stephanie faces a question she's too afraid to ask: Is Ethan falling for the real her or for the dolled-up princess he wants to see?


FIRST LINE
"So, it's like this...in movies, there's this thing called the meet-cute."
MY THOUGHTS
Isn't She Lovely
is an entertaining and heartwarming new adult romance between two people who couldn't be more opposite, but find out that they are great together. It is a retelling of the Pygmalion/My Fair Lady story with the hero (Ethan) convincing the heroine (Stephanie) to pretend to be his girlfriend during the summer social season at the Hamptions.
This is a fairly common theme in romance (new adult and adult), but I was surprised how at how well it worked here. Ethan and Stephanie meet while taking a film class and are partnered up to write an original screenplay so they decide to use this unusual situation as inspiration for their project. This allows them to be very aware of the cliches involved and they comment on them fairly often. I absolutely loved the meta vibe of the book which made this very popular theme feel fresh.
Another thing that worked for me with this book was the depiction of the characters. Both Ethan and Stephanie are well-developed and fairly likable characters. Ethan is a rich guy who is working towards taking over his father's company one day and, while that is a typical character type, Lauren Layne makes sure that readers understand why he wants such a life. He is a genuinely nice guy that has a plan for his life that works for him. Stephanie is also more than she first appears with her dark clothing, piercings, and brash attitude. I thought her sarcastic comments were hilarious and she was very relatable with her approach to school and dealing with someone of Ethan's pedigree. The dual POV style worked well in this story so that readers could really get to know both Ethan and Stephanie.
Because this is a New Adult romance, there are some angsty moments...mostly with Stephanie and her mysterious past. There is a reason for the Goth style and prickly personality which was easy to predict, but handled in a respectful way. Ethan is dealing with some issues of his own and it was nice to see an author use that to develop a character without making that his main trait. Both Stephanie and Ethan work through their problems together even when they weren't technically together. The chemistry between them was obvious and made me want to keep on reading to see what happened next.
All in all, I found
Isn't She Lovely
to be a fun look at the retelling trend without making it sound like a parody or satire. The main characters were interesting and worked well as a couple. The plot was fast-paced and rarely melodramatic which I think is rare in this genre. I am definitely intrigued to see more of Lauren Layne's work in the future.
I received a free copy of this book from Flirt and Lauren Layne via Netgalley in exchange for an honest review.
4.5 STARS
STEAM LEVEL
Glow
-- Implied or subtle descriptions of lovemaking.
FAVORITE QUOTE
"Tell me this is a bad dream. Tell me that you didn't seriously hunt me down in North Carolina looking like you got separated fromt he rest of the Hells Angels."