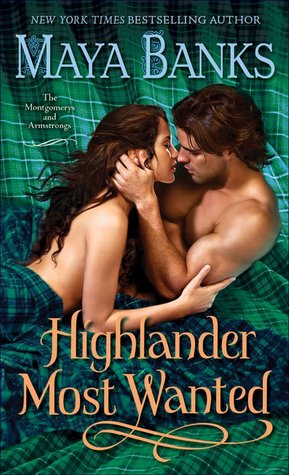 Highlander Most Wanted by Maya Banks
For Ages 18+ (Language, Violence, Sensuality)
Historical Romance -- Medieval Scotland

Ballantine Books -- Published in March 2013
Mass Market Paperback, 352 pages
Read in June 2014
Purchased from Book Depository
THEMES
Highlands, Tormented Heroine
SUMMARY
In Highlander Most Wanted, a reclusive woman content to live in the shadows shows a Highland warrior the true meaning of love.

Genevieve McInnes is locked behind the fortified walls of McHugh Keep, captive of a cruel laird who takes great pleasure in ruining her for any other man. Yet when Bowen Montgomery storms the gates on a mission of clan warfare, Genevieve finds that her spirit is bent but not broken. Still, her path toward freedom remains uncertain. Unable to bear the shame of returning to a family that believes her dead or to abandon others at the keep to an imposing new laird, Genevieve opts for the peaceful life of an abbess. But Bowen's rugged sensuality stirs something deep inside her that longs to be awakened by his patient, gentle caress—something warm, wicked, and tempting.

Bowen seizes his enemy's keep, unprepared for the brooding and reclusive woman who captures his heart. He's enchanted by her fierce determination, her unusual beauty, and her quiet, unfailing strength. But wooing her will take more than a seasoned seducer's skill. For loving Genevieve, he discovers, means giving her back the freedom that was stolen from her—even if it means losing her forever.
FIRST LINE
"Do you ever wish but for a moment to go back in time?" Genevieve McInnis whispered as she stood in the window of the tiny tower room that had been appointed to her more than a year past.
Warning! This review contains minor spoilers for the first book in the series, Never Seduce a Scot.

Maya Banks's Highland-set historical romances have been one of my favorite discoveries in the past few years. I love this era and appreciate the refreshing view that Ms. Banks puts on it. The Montgomerys and Armstrongs series focuses on two rival clans who are forced to cooperate (through marriage, of course!) in the first book, Never Seduce a Scot. That book ends with a bit of drama associated with the heroine and the villain. During that ending scene, readers are introduced to a woman who helps the heroine escape while she remains behind. Highlander Most Wanted allows that woman, Genevieve McInnis, to take center stage and get her own happy ending.

Genevieve has been held captive at McHugh Keep for over a year and has been raped and beaten by the laird's son and his soldiers. When the Montgomerys and Armstrongs lay seize to the keep, she knows this is her one opportunity to leave and find some sort of peace in her life. Things don't really go as planned when she meets Bowen Montgomery, the man who has been assigned to keep an eye on the McHugh clan. Bowen, for his part, admires Genevieve for her strength and finds himself wanting to protect her in anyway he can.

For me, Genevieve was the star of this book. The torments that she had to deal with while being held captive are truly horrific and sometimes hard to read about. And it wasn't just by the laird's son since the other members of the clan saw her as being nothing better than a whore and treated her as such even after the Montgomerys and Armstrongs arrived. What I liked the most about Genevieve was her subtle strength and will to live. After the keep is taken over, her only goal is to find a reclusive abbey so that she can live her life in tranquility and she is willing to do anything to achieve that ideal. The real joy of Highlander Most Wanted is her journey to recognizing her own power and that she deserves to be happy again.

Bowen is a fairly typical Highlands romance hero with his handsome looks, overprotective nature, and lack of tolerance for lazy, disrespectful clan members. I did find him to very likable if not the most developed hero I've seen Ms. Banks write. My favorite aspect of his character was his lack of judgment when it came to Genevieve. Even when he discovered something unsavory about her involvement in the kidnapping of his sister-in-law, he still waited to hear her side of the story before developing an opinion and revealing the truth to his brothers. I also liked that he was the first one to really fall in love and he spent a significant amount of time pursuing Genevieve and then trying to make her happy.

All in all, I found Highlander Most Wanted to be an entertaining and heartbreaking read. Genevieve and Bowen are adorable together with their romance being a nice combination of endearing and steamy. I can't wait to read the next book in the series which I think will focus on Genevieve's only friend, Taliesan, and the adorably sweet Brodie Armstrong.



STEAM LEVEL
Flush
-- Detailed descriptions of lovemaking though nothing overly graphic.
FAVORITE QUOTE
There were worse things than death, as she'd discovered. Sometimes living took far more courage. Facing another day. Enduring. Those things took strength. Far more than dying.
BOOKS IN THE SERIES
1.
Never Seduce a Scot
2. Highlander Most Wanted
3. Highland Ever After (Coming 2014)
CHALLENGES READ FOR