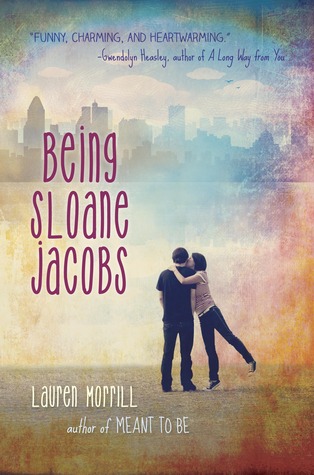 Being Sloane Jacobs by Lauren Morrill
Young Adult -- Contemporary

Delacorte -- Published in January 7, 2014
Ebook, 354 pages
Read in June 2014
Received from Netgalley
THEMES
First Person Narrative, Dual Points of View, Stand-Alone
SUMMARY
Meet Sloane Emily Jacobs: a seriously stressed-out figure-skater from Washington, D.C., who choked during junior nationals and isn't sure she's ready for a comeback. What she does know is that she'd give anything to escape the mass of misery that is her life.

Now meet Sloane Devon Jacobs, a spunky ice hockey player from Philly who's been suspended from her team for too many aggressive hip checks. Her punishment? Hockey camp, now, when she's playing the worst she's ever played. If she messes up? Her life will be over.

When the two Sloanes meet by chance in Montreal and decide to trade places for the summer, each girl thinks she's the lucky one: no strangers to judge or laugh at Sloane Emily, no scouts expecting Sloane Devon to be a hero. But it didn't occur to Sloane E. that while avoiding sequins and axels she might meet a hockey hottie—and Sloane D. never expected to run into a familiar (and very good-looking) face from home. It's not long before the Sloanes discover that convincing people you're someone else might be more difficult than being yourself.
FIRST LINE
"The music in my head swells to a crescendo, the timpani rolling like a summer thunderstorm."
MY THOUGHTS
Being Sloane Jacobs
is a charming and fairly easy summer read that features two heroines who happen to share a first and last name. Sloane Emily Jacobs (Sloane E.) is a former competitive figure skater trying to deal with family issues and her nerves at returning to the sport after an epic failure at nationals. Sloane Devon Jacobs (Sloane D.) plays ice hockey and is struggling with her own problems associated with a mother in rehab. These two girls meet while on their way to their respective sports camps in Montreal and decide to switch places in order to give themselves a break.
While this plot is a bit unbelievable with two teenage girls switching places like this, I found this book to be very entertaining. Both Sloane E. and Sloane D. are likable heroines that have a lot going on in their lives and are trying to find their way. Sloane D. was the hardest to like with her brash nature, but I was easily able to identify with her by the end. I thought it was great how the author was able to take characters from such different worlds (Sloane E. as a politician's daughter in Washington, D.C. and Sloane D. as a girl from a difficult part of Philadelphia) and figure out a way to make them understand one another.
There is a bit of romance for each Sloane which, thankfully, doesn't take over the book. I'm all for a summer romance, but I thought the friendship between the girls and their own journey's was more important than a basic love story. The camp element for both girls was interesting especially with the obvious research that the author did on the worlds of figure skating and ice hockey. I also enjoyed the fact that each girl came to respect the others' passion which is always a sign of respect and maturity. And I can't not mention all the great tidbits that readers get about the city of Montreal and what it has to offer. I have always wanted to visit there and this book only heightened my excitement.
Overall, I thought
Being Sloane Jacobs
was a great summer read with its double heroine element and the mix of friendship, sports, and romance. The storyline was not the most creative, but that didn't matter with the intriguing character development. This is the first book I've read by Lauren Morrill and it will not be my last. Definitely recommended!
I received a free copy of this book from Delacorte via Netgalley in exchange for an honest review.
STEAM LEVEL
Blush
-- Kisses with no/minor touching.
CHALLENGES READ FOR