Happy Thursday, everyone! This is a new feature hosted by Buried Under Romance and Love Saves the World.
What is Throwback Thursday: Historical Romance Edition?
Traditionally, Throwback Thursday celebrates nostalgia, asking participants to post a personal photo or an image from their past -- usually from 5 to 10 years ago. There are a lot of book blogs that also do a book-related Throwback Thursday. Since Tin and Mary C. are unapologetic lovers of historical romances, they've decided to focus on this beloved genre.
Here are the rules:
1. It must be posted on a Thursday.
2. It must be a historical romance novel published before October 2008.
THIS WEEK I AM FEATURING...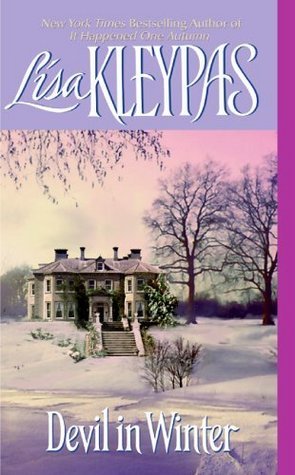 Devil in Winter
by Lisa Kleypas
Originally Published in February 2006

Four young ladies enter London society and band together to each find a husband. Has the third "Wallflower" now met her match?

A Devil's Bargain...Easily the shyest Wallflower, Evangeline Jenner stands to become the wealthiest, once her inheritance comes due. Because she must first escape the clutches of her unscrupulous relatives, Evie has approached the rake Viscount St. Vincent with a most outrageous proposition: marriage!

Sebastian's reputation is so dangerous that thirty seconds alone with him will ruin any maiden's good name. Still, this bewitching chit appeared, unchaperoned, on his doorstep to offer her hand. Certainly an aristocrat with a fine eye for beauty could do far worse.

But Evie's proposal comes with a condition: no lovemaking after their wedding night. She will never become just another of the dashing libertine's callously discarded broken hearts --- which means Sebastian will simply have to work harder at his seductions ... or perhaps surrender his own heart for the very first time in the name of true love.
*************
A great example of how a talented writer can turn a former villain into a hero. Sebastian St. Vincent is definitely a rake who gets his comeuppance when the shy Evie proposes marriage in order to escape her abusive family. St. Vincent needs the money so he takes her up on her offer, but his life turns upside down through his interactions with Evie. His transformation from selfish bad boy to doting husband is realistic while Evie's growth into a strong woman is poignant and beautiful. If you want to see Sebastian at his worst, I recommend Kleypas's
It Happened One Autumn
which is the direct prequel to this book.
"Ah, Evie," she heard him say softly, "I must have a heart, after all…because right now it aches like the devil."
"Only your heart?" she asked ingenuously, making him laugh.
He lowered her to the bed, his eyes sparkling wickedly. "Also a few other things," he conceded. "And as my wife, it's your duty to ease all my aches."